Debt Is Potential Romantic Dealbreaker for 37% of Americans This Valentine's Day — What Are the Most 'Unacceptable' Types?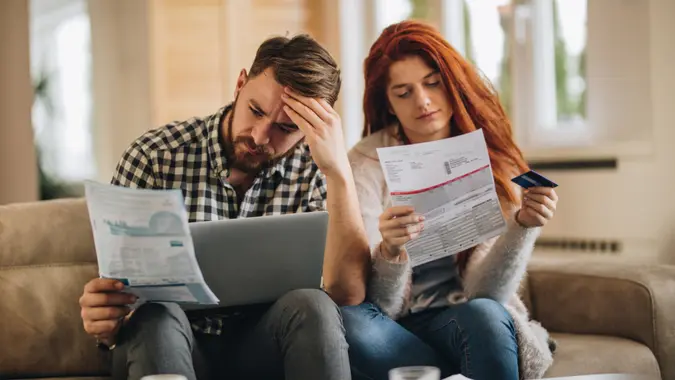 skynesher / Getty Images
Debt can be a relationship killer. But it can also be the cause of a relationship never getting off the ground in the first place.
See: How Much Does It Cost To Rent a Private Jet?
Find: With a Recession Looming, Make These 3 Retirement Moves To Stay On Track
According to a recent Finder poll, 37% of adult Americans would reconsider a romantic relationship due to a partner's debt. In other words, if you are among the many with a significant amount of debt to your name, you might be eliminating yourself from a throng of 97.7 million potential partners.
Luckily, 63% of survey respondents said that debt would not persuade them from pursuing a relationship with someone, but results varied across types of "unacceptable" debt — and by sex, age group and even location within the United States.
Of the 2,112 U.S. adults asked household finance questions between Oct. 4-19, 2022, 46% stated that debts owed to friends and family would stop them from beginning a romantic relationship with someone. Payday loans are apparently red flags in budding romances and have the lowest threshold amount of debt deemed "acceptable," at $1,732.
Make Your Money Work for You
Men More Likely To Consider Debt a Dating Red Flag
Making up the 37% of those who said they would reconsider dating someone holding debt, men edge women slightly, with 38% of male respondents and 36% of female respondents agreeing that debt is something that would cause them to abandon a possible relationship.
Nearly half of Gen Zers, 44%, would not become involved with someone who owes a significant amount of debt. By debt type, the most unacceptable for each generational group are payday loans for baby boomers (66%), owing money to family or friends for Gen X (57%) and credit card debt for both millennials and members of Gen Z (40% and 34%).
The overall unacceptable debt threshold for Gen Zers is $7,863 (compared to older, more likely indebted boomers at $44,164), but each demographic has different breaking points when it comes to a partner owning money.
Again, payday loan debt was afforded less tolerance among boomers and Gen Xers by debt amount ($902 and $1,734, respectively) while Gen Z individuals can forgive up to $1,994 for those owing friends or family money. Millennials have the least resistance to debt incurred by medical bills ($934).
In contrast, the most forgivable types of debt by amount are, not surprisingly, mortgages for baby boomers and Gen X respondents ($163,618 and $130,884), car loans for Gen Zers ($23,272) and business loans for Gen Y survey participants ($29,311).
Make Your Money Work for You
Credit Card Debt and Personal Debt Owed to Friends and Family Deemed Least Acceptable By Many
Finder's data discovered that over two-fifths of respondents (41%) residing in the U.S. Northeast would avoid a relationship with someone in debt, compared to the other end of the spectrum, the West, at 34%.
Credit card debt is the least forgivable to those living in those two regions (West at 50% and Northeast at 37%) but owing money to family or friends is a particularly disappointing debt to those from the Midwest and South (51% and 47%).
For those undeterred by a partner's debt, communication and understanding are fundamental to addressing a couple's debt issue as the relationship moves forward. As Brent Sweitzer — a marriage counselor in Cumming, Georgia — said, per HuffPost: "Debt [in that case] could be a catalyst for connecting at a deeper level and uncovering solutions to problems that each person wouldn't have come up with on their own."
Make Your Money Work for You
Take Our Poll: Do You Have a Second Job or Backup Plan in Case You Are Laid Off?
More: Jaw-Dropping Stats About the State of Debt in America
However, for those who want to get back into 97.7 million promising partners' good books, you should be taking immediate steps to rid yourself of the most "unacceptable" types of debt by:
Cutting Your Spending: There's no perfect way to track your spending, but assessing it on a broader level is important. If you have racked up more "unacceptable" debt than you can accept, download an expense tracker app to help turn things around.
Paying On Time and In Full: According to Forbes, whether your debt is secured (a loan on which you put collateral up), unsecured (based on creditworthiness), revolving (credit cards, home equity lines of credit, etc.) or installment-based (lump sum personal or consolidation loans), always make your payments on time and try to pay at least the minimum amount due.
Talking to Your Creditors: If you are struggling to keep up with payments, reach out to your lender or creditor. They may be able to temporarily reduce payments, develop a repayment plan or refinance your loan. If that fails, consider a credit counseling service or debt relief organization to manage or settle your debt.
More From GOBankingRates
Make Your Money Work for You