9 Financial Red Flags That Can Derail Your Next Relationship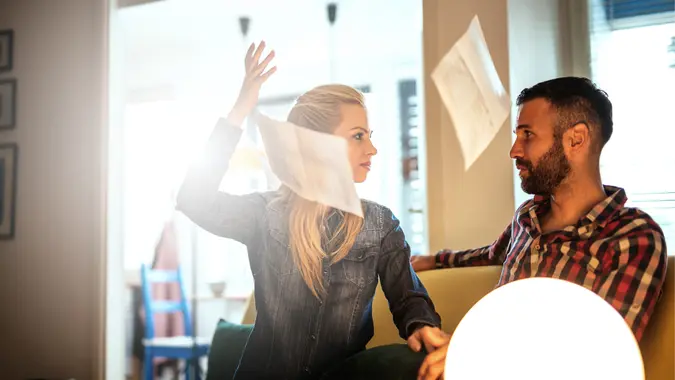 bbernard / Shutterstock.com
Your money behaviors could be a deal breaker for prospective romantic partners. A new Bank of America survey found that 56% of people consider financial red flags when looking for a partner, and this percentage is even higher among millennials (68%) and Gen Z (63%).
So what are some of the money mistakes you're making that could be turning your date off? Here's a look at the most common financial red flags, plus how you can change your behaviors to keep the romance alive.
Top Financial Red Flags in Relationships
According to the Bank of America survey, these are the top financial red flags that could be a deal breaker for a prospective romantic partner:
Regularly missing bill payments or not paying in full: 60%
Consistently forgetting to pay their partner back: 43%
Not budgeting: 41%
Not having an emergency fund: 36%
No long-term savings plan: 35%
Uncomfortable discussing finances: 33%
Never/rarely offering to pick up the tab: 32%
Owning more than three credit cards: 24%
Carrying any credit card debt: 22%
The survey also found that never or rarely offering to pick up the tab was more commonly a red flag for women (42%) than for men (22%).
I'm a Financial Planning Expert: Here Are 5 Things You Should Never Spend Money on If You Want To Be Rich
How To Improve Your Finances — and Chances of Finding Love
If you're guilty of any of the above financial red flags, you could be unwittingly lowering your chances of finding a partner. Fortunately, by making some changes to your money behaviors, you can improve your finances — and possibly your love life.
"There are a few simple ways to develop healthy financial habits and avoid many of the most common red flags for potential romantic partners," said Mary Hines Droesch, head of consumer and small business products at Bank of America.
Make Your Money Work for You
She recommends adopting the following financial behaviors.
Pay Your Bills On Time and In Full Every Month
Missing bill payments or not paying them in full is the No. 1 financial red flag identified by the survey.
"Developing the habit of paying your full balance by the deadline will serve you well in the long run and prevent accruing late fees," Hines Droesch said. "Do your best to live within or below your means to continue on the path toward financial success."
Create a Budget
Not sticking to a budget is a financial red flag for more than 40% of Americans.
"Budgeting is one of the fundamental ways to ensure you're being financially responsible," Hines Droesch said. "Make sure you set up a proper savings plan, as not having one is another red flag for 35% of people. Take a realistic look at where spending has increased so you know where to cut back, and pool the appropriate amount of funds into your savings."
Build an Emergency Fund
"Emergency funds can act as a financial cushion for unforeseen events, including a recession, and for 36% of Americans, not having this fund is a financial red flag," Hines Droesch said.
She recommends saving anywhere from three months to one year's worth of living expenses, depending on what's a realistic goal for you.
"Once you've established a savings rhythm that fits your current lifestyle, continue growing your emergency fund over time with regular contributions," Hines Droesch said. "Don't forget to save in a separate account as a first line of defense to reserve your emergency fund truly for emergencies."
More From GOBankingRates
Make Your Money Work for You