12 Ways Student Debt Hits Everyone's Wallet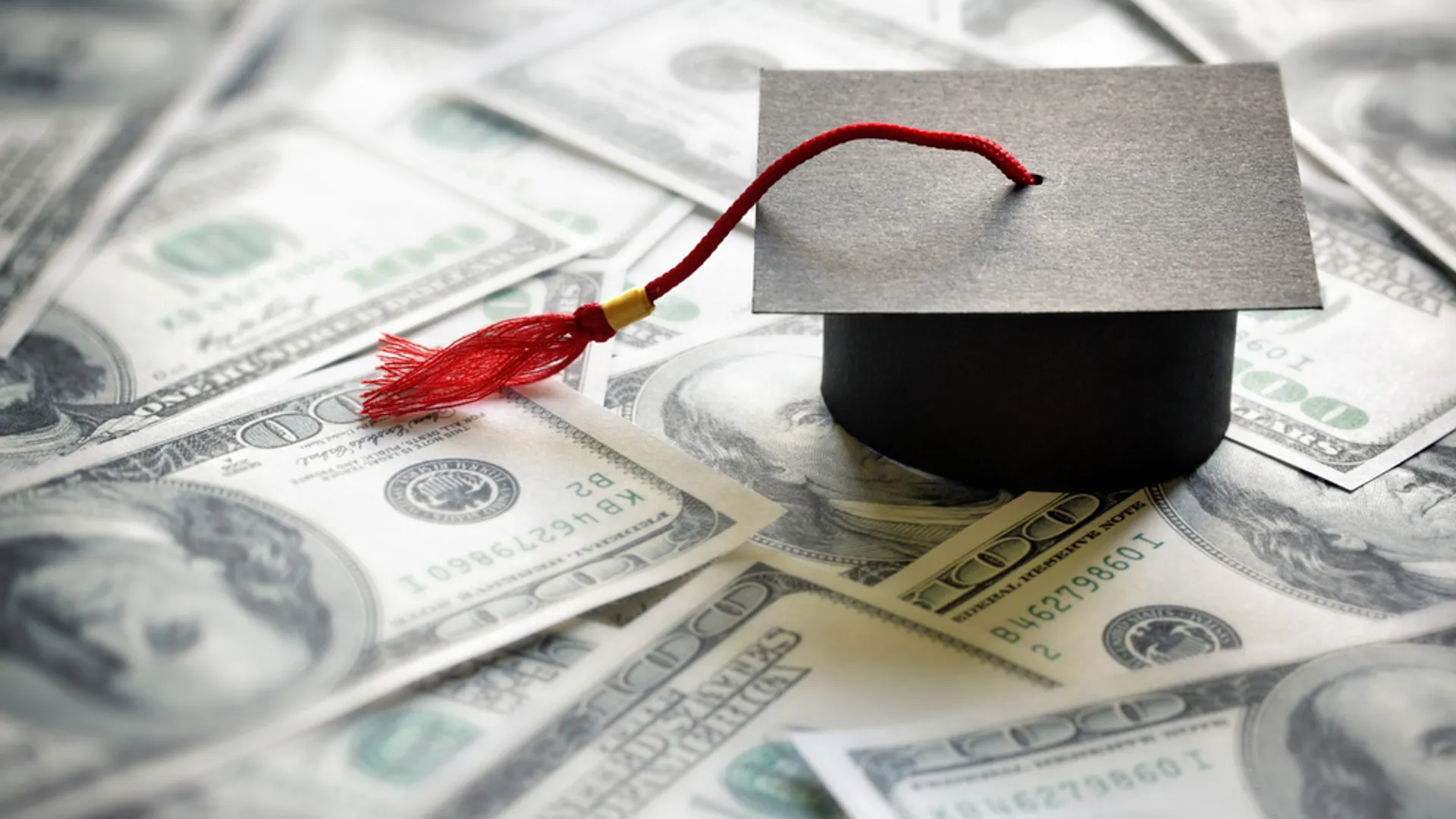 The total student loan debt level in the United States is more than $1.3 trillion, according to the Federal Reserve.
Rising tuition rates will only add to the student debt burden. A GOBankingRates study about American finances on the Trump administration's two-year anniversary found that tuition rates at private four-year universities with tuition and fees of $51,000 or more are continuing to increase.
Education-related debt isn't limited to student loans, however. According to the Federal Reserve, 25 percent of people who have education-related debt carry at least some of their debt on their credit cards, and 6 percent have used a home equity loan or line of credit to pay for education expenses.
And, the impacts of student loans aren't limited to the people with the loans. Here's how student loan debt affects the entire economy.
1. Student Loan Debt Discourages Students from Attending College
The number of students attending college declined every year from 2010 through 2015, according to the National Center for Education Statistics. Meanwhile, another study by the Federal Reserve Bank of San Francisco found that the additional income earned with a college degree, known as the higher education wage premium, has remained constant over that same period, decreasing the financial motivation for students to continue their education through college and beyond.
2. Student Loan Debt Increases Wealth Inequality
College grads who spend their 20s, 30s and even longer repaying student loan debt often struggle to build their own wealth, which increases wealth inequality. The average student loan debt of $53,000 for a dual-headed household with bachelor's degrees from four-year universities lowers the couple's net worth over the course of their lifetimes by almost $208,000, according to a study by Demos.
Follow these strategies to pay off student loans faster.
Make Your Money Work for You
3. Student Loan Debt Forces Graduates to Live With Parents
The burden of student loan debt makes living rent-free with parents much more appealing after college. Almost 40 percent of students either expected to move back home or did move back home to live with their parents after graduation, according to the TD Ameritrade Young Money Survey from 2017. Parents are spending thousands of dollars a year supporting their adult children.
4. Student Loan Debt Delays Homeownership
Students who dream of owning a home someday face a conundrum. Having a college education increases homeownership, according to the Federal Reserve Bank of New York, and can even mitigate the impact your economic background has on your chances of home ownership.
But the news isn't all good. A lack of student loan relief lowers the rates of homeownership across all educational levels, and high levels of debt lower homeownership rates even more. A joint study by the National Association of Realtors and American Student Assistance found that homeownership is delayed because of student debt — by about seven years, typically.
5. Student Loan Debt Means a Weaker Market for Starter Homes
Student loan debt hasn't just affected the ability of recent graduates to purchase homes. It also has affected the ability of those in starter homes to upgrade. The delay in millennials buying homes has caused the entry-level home market to experience low demand, according to the National Association of Realtors and American Student Assistance study. That makes it harder for existing homeowners to sell their current homes and upgrade, especially if the homeowners are still paying off student loan debt of their own.
6. Student Loan Debt Keeps People in the Workforce Longer
The average Social Security check for retired workers is less than $1,400 per month, according to the Social Security Administration. That can only buy so much even if you aren't saddled with student loan debt, and those with student loan debt might have to work longer to pay the debt down. In 2015 about 2.8 million people over 60 were still paying student loan debt and owed an average of $23,500, according to the Consumer Finance Protection Bureau.
Make Your Money Work for You
7. Student Loan Debt Reduces Overall Spending
When borrowers can't find student loan debt relief, it limits the amount they can spend on consumer goods. In a 2015 report titled "Life Delayed: The Impact of Student Debt on the Daily Lives of Young Americans," American Student Assistance reported that more than one-third of respondents had a hard time purchasing necessities because of their student loan debt. More than half struggled with larger purchases such as buying a new car.
8. Student Loan Debt Impairs Ability to Start New Businesses
When you graduate with student loan debt, the financial pressures hinder your ability to start a new business. More than half of those surveyed in ASA's "Life Delayed" report said that student loan debt was either the deciding factor or had a considerable impact on their career field choices. Of those who wanted to start a small business, 61 percent of those surveyed said their student loans affected their ability to start their own company.
9. Student Loan Debt Delays Marriage and Kids
Starting a family can be expensive, and student loans are pushing back the age at which graduates get married and have kids. When the ASA completed its "Life Delayed" report in 2015, more than 20 percent of respondents put off getting married because of student loan debt. Almost 30 percent of respondents said they put off starting a family because of debt.
10. Student Loan Debt Reduces Retirement Savings
According to a GOBankingRates study on retirement savings, almost 60 percent of respondents said they had less than $1,000 in retirement savings in 2017. That's actually an improvement over the almost 70 percent of people who reported less than $1,000 in retirement savings the previous year.
Although student loans aren't the sole factor for the lack of retirement savings, it is much harder to save when you're paying off debt every month. In its report, American Student Assistance noted that more than 60 percent of survey respondents said student loan debt had delayed them from saving for retirement.
Make Your Money Work for You
11. Student Loan Debt Harms Parents, Too
Students aren't the only ones bearing the load of higher education costs. In 2015 almost 2.2 million parents over age 50 were repaying loans they had taken out to pay for their children's education, according to a report from American Student Assistance. Parents also take on financial responsibility when cosigning for a child's student loans because if a child can't repay the debt, the responsibility falls on the parents. Going into default on student loans has serious repercussions, too.
More than 70 percent of people age 60 and older who still owe student loan debt reported that the debt was used to pay for their children's or grandchildren's education rather than for their own or their spouse's education, according to the CFPB.
12. Student Loan Debt Affects Healthcare Spending