What Older Americans Can Do To Fight Debt Collection Problems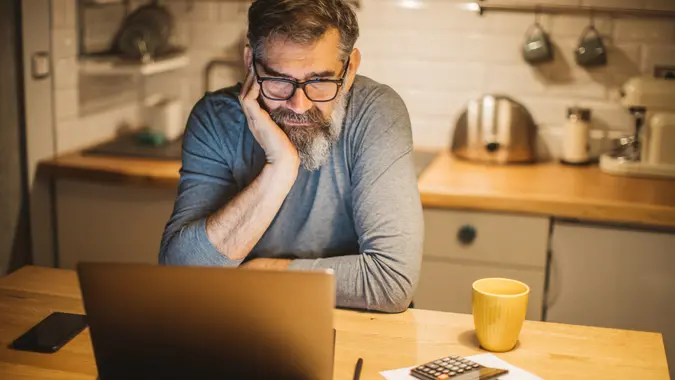 svetikd / Getty Images
Your golden years are supposed to be a time to relax and enjoy life. However, if you're like many Americans, you're stressed about debt.
Older Americans — aged 50 and up — carried the burden of nearly half the total debt in 2020, according to the U.S. Government Accountability Office. The Social Security Administration cites the normal retirement age at 67 years old, but this can be difficult for many people to achieve amid money issues.
Find Out: 10 Credit Score Myths You Need To Stop Believing
See: 19 Ways To Tackle Your Budget and Manage Your Debt
If you're dealing with debt collection problems, Sean Fox, president and chief revenue officer of Freedom Debt Relief in San Mateo, California, said it's important to figure out if you're being contacted for a legitimate debt.
"Most companies will eventually send any delinquent debt to collections, regardless of (the) amount  — generally anything over a couple hundred dollars — but some hold them 'in-house' much longer than others," he said. "Since most collection agencies are paid a percentage of what they collect, there is no up-front or out-of-pocket expense."
Make Your Money Work for You
Fox said the only major downside companies face by referring an account to collections is the risk of alienating customers. He recommended visiting the Federal Trade Commission — which enforces the Fair Debt Collection Practices Act — website to learn the legal limits of debt collection.
Read More: Here's How Much Debt Americans Will Have Due To the Coronavirus, by State
He said it's also advisable to handle any disputes — i.e., invalid claims — in writing.
"If the agency continues to call or send collection notices, the consumer can file complaints with his (or) her state's attorney general's office and with the FTC," Fox said. "Also, the consumer can dispute the account with the major credit bureaus — Experian, Equifax, TransUnion — and see if the item is being reported."
Fox said if you notify the collection agency in writing to stop calling, they are required by the FDCPA to honor your request.
When communicating with debt collectors, he said you're not obligated to respond immediately. He noted that you can also ask them to call you back at another time.
Stay on Top: This Easy Trick Will Improve Your Credit Score and Avoid Late Payments
"If you're still working, and they contact you at your job – or another location – you can formally request they not call you there," he said. "You also can write to request they cease and desist from contacting you at all – though this does not eliminate any debt you owe."
Make Your Money Work for You
The courts will only play a role in the collection process if a creditor refers the account to a lawyer licensed to practice law in your state, Fox said. They would then need to file a lawsuit against you for the balance of the debt.
Fox advised arranging payment whenever possible.
"Original creditors can often be easier with which to deal — and less intimidating — for the consumer," he said. "Once the creditor sends the matter to a collection agency, the agency is fairly limited in what it can do — i.e., call and send letters requesting payment."
If you're able to arrange for at least some payment, he said you'll need to get in touch with the collector directly to work out an arrangement.
Learn: 30 Ways To Dig Yourself Out of Debt
Managing Your Debt
"Carefully evaluate if there is a way for you to pay down the debt on your own," Fox said. "With the help of a good — but simple — budget, can you see if there's an amount you can dedicate to debt every month?"
Make Your Money Work for You
He recommended using the avalanche or snowball plan to pay your debt down.
"If you have credit card accounts with high interest rates, a personal loan from an independent lender may offer rates much lower than those credit cards," Fox said. "You can consolidate your debts and pay them off with the personal loan, which has a strict schedule for repayment."
If you're carrying credit card debt — but still have good credit — he said you could try to get a balance transfer to a low- or zero-interest credit card
"Because the promotional interest rate will expire, usually in six to 12 months, you must be (able to) pay off the balance in full before then," he said. "In addition, fees can be high, so make sure to read the fine print to calculate the balance-transfer fee, and make sure the fees do not outweigh the savings gained from the transfer."
Find Out: How To Save Money During COVID-19
See: Tips To Keep Your Finances in Order Without Sacrificing What You Want

He said you could also consider debt settlement.
"For a person having difficulty making even minimum payments, and who has suffered a financial hardship — such as job loss, major medical expense, divorce, death of a loved one — this might be an option," Fox said. "Companies that offer debt settlement are regulated by the Federal Trade Commission, and work on an individual's behalf to lower principal balances."
Alternately, he said you could also opt for debt management — i.e., credit counseling — if you think you could benefit from a slightly lower interest rate on your credit cards.
"Debt management plans employed by credit counseling agencies lower the rate, and therefore the monthly payment," he said. "Programs generally take about five years."
Combating debt collection can feel like an uphill battle, but you can do it. Find a strategy that fits your unique situation and stick with it to make your debt problem a thing of the past.
More From GOBankingRates
Last updated: June 11, 2021
Make Your Money Work for You