How Rich Are Johnny Depp, Will Smith and More of the Most-Searched Names of 2022?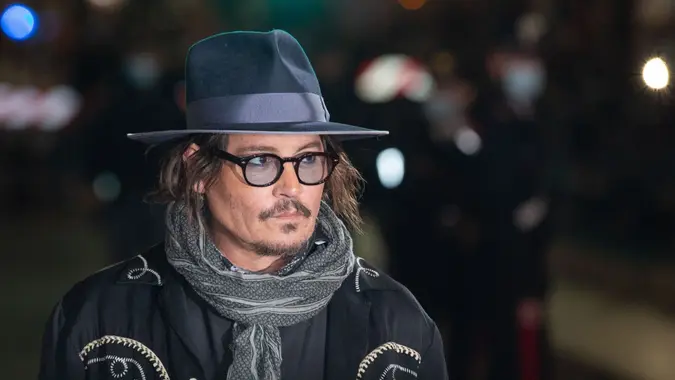 Matteo Nardone/Pacific Press/Shutterstock / Matteo Nardone/Pacific Press/Shutterstock
Google's Year in Search has been released and highlights 2022's top trends. The list includes notable names, actors, athletes and influential figures that users searched for, curious to learn more about them, their net worth and why they were trending in the news.
Here are the top 10 most-searched major names of 2022 and the net worth of each individual.
1. Johnny Depp
The most-searched person of 2022 was actor Johnny Depp.
Depp, the star of 95 movies including the blockbuster 'Pirates of the Caribbean' franchise, won a defamation lawsuit against his ex-wife, actress Amber Heard, this year. As reported by NBC News, Depp was awarded $10 million in compensatory damages and $5 million in punitive damages by the trial's jury. As of 2022, Johnny Depp has an estimated net worth of somewhere between $100 million and $150 million.
2. Will Smith
Will Smith received an Oscar for Best Actor in "King Richard" at the 94th Academy Awards, but his win was overshadowed by an earlier confrontation with comedian and actor Chris Rock. Rock, presenting an award for the Best Documentary category, made a joke about Smith's wife Jada Pinkett Smith and Smith walked up on the stage and slapped Rock in the face.
"The Slap" quickly became a global news story. Smith has since apologized, but the Academy has banned Smith from attending the Academy Awards for the next 10 years. Smith has an estimated net worth of $350 million, according to various sites like Celebrity Net Worth.
Make Your Money Work Better for You
3. Amber Heard
As mentioned above, Heard lost a defamation lawsuit against her ex-husband Depp in 2022. Heard was sued by Depp in 2019 over an op-ed written by Heard for The Washington Post, which Depp alleged contained defamatory statements about domestic abuse. In an interview with NBC, Heard said she did not blame the jury for believing Depp.
Following the trail, Heard's net worth is estimated to have dropped from the $6-8 million range all the way down to $500,000.
4. Vladimir Putin 
Vladimir Putin, president of Russia, made global news in February 2022 for launching an invasion in Ukraine. According to the Wilson Center, the war is still ongoing with 70,000 Russian soldiers deceased, tens of thousands of Ukrainians killed and one-fourth of the Ukraine population displaced.
Putin has an estimated net worth of anywhere from $70 billion to $200 billion, but according to Forbes, how rich he actually may be is a "mystery no one can solve."
5. Chris Rock
As you know, Rock was publicly assaulted by Smith on the evening of the 94th Academy Awards after cracking a joke about Jada Pinkett.
Rock chose not to file a police report with the LAPD over the incident and has since received an apology from Smith. Rock has an estimated net worth of $60 million.
6. Novak Djokovic
Professional tennis player Novak Djokovic was barred from entering Australia in January and defending his Australian Open title amid a vaccine exemption. After losing an appeal against his visa cancellation, Djokovic was deported and no longer eligible to compete for his 21st Grand Slam title. However, the ban has since been overturned.
Make Your Money Work Better for You
Djokovic has an estimated net worth of $220 million.
7. Anna Sorokin (Delvey)
Con artist Anna Sorokin (Delvey) was released from jail in 2022 after more than three years. Sorokin, who used a false persona as a wealthy German heiress to defraud banks and hotels out of thousands of dollars, is also the subject of the hit Netflix series "Inventing Anna." =
Women's Health Magazine reported that Sorokin (Delvey) has an estimated $22,000 to her name after paying back legal fees.
8. Andrew Tate 
Internet personality and former professional kickboxer Andrew Tate was banned from several prominent social media websites, including Instagram, Meta, TikTok and YouTube, in 2022. Tate, according to a spokesperson for Meta, violated company policies on dangerous organizations and individuals. Tate's ban from Meta is permanent.
Tate has an estimated net worth of $20 million, according to Celebrity Net Worth, but Tate himself has claimed to be worth more than $700 million.
9. Rishi Sunak
Since October 2022, Rishi Sunak has served as the Prime Minister of the United Kingdom. He was preceded by Liz Truss, who resigned from the role in October 2022.
Sunak and his tech heiress wife, Akshata Murty, are worth an estimated $844 million, according to CNBC.
10. Simon Leviev
Conman Simon Leviev, whose real name is Shimon Hayut, is the subject of Netflix's docuseries "The Tinder Swindler." Hayut was sued in 2022 for impersonating a real member of the Leviev family and has since been banned from Tinder and Hinge dating apps.
The International Business Times reported Hayut's net worth is between $500,000 and $1 million.
Make Your Money Work Better for You
More From GOBankingRates