How Rich are Peyton Manning, Michael Jordan And 16 More Incredibly Wealthy Retired Athletes?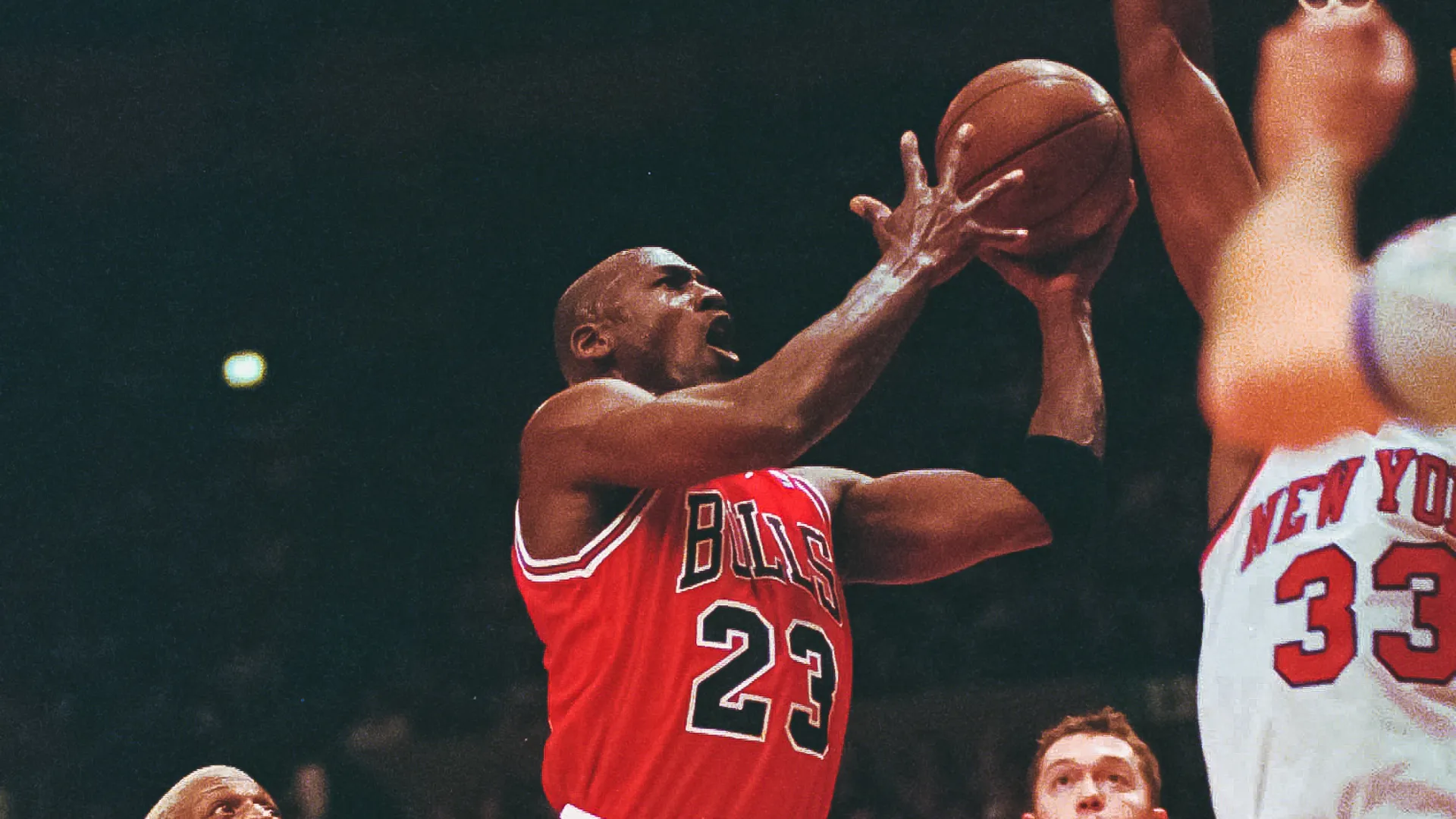 George Foreman: $300 Million
Heavyweight champion George Foreman retired at the age of 45 with a 76-5 career record. And it's not just boxing that made him rich — Foreman has brought in millions with his "Lean Mean Grilling Machine," which has sold over 100 million units worldwide. He has also been a spokesperson for Meineke Car Care Centers and launched several businesses, including a line of environmentally safe cleaning products, a line of personal care products, a prescription shoe for diabetics and a restaurant franchise called UFood Grille. He has also written 10 books and is a preacher.
Dale Earnhardt Jr.: $300 Million
Stock-car racing is in Dale Earnhardt Jr.'s blood as the third generation of his family to compete in the sport. He boasts 26 career victories, including two Daytona 500 wins. Since retiring, he joined NBC Sports Group as a NASCAR analyst, and he still drives in one race per year for the NASCAR XFinity Series. He was inducted into the NASCAR Hall of Fame in January.
Make Your Money Work for You
Peyton Manning: $300 Million
Two-time Super Bowl winner Peyton Manning was enshrined into the Pro Football Hall of Fame in 2021. A five-time NFL Most Valuable Player, Manning has left his mark in Indianapolis and Denver, the cities where he played, especially through his philanthropy. His PeyBack Foundation has provided more than $14 million to help disadvantaged youth, and he raises money and is an ambassador for the Peyton Manning Children's Hospital in Indiana. He's a fixture on television, hosting "Peyton's Places" and the "Monday Night Football MegaCast" with his brother, Eli, for ESPN. He's also a popular endorser, making commercials for companies such as Nationwide, Gatorade and Buick through the years.
Hakeem Olajuwon: $300 Million
Hakeem Olajuwon was part of the University of Houston's legendary "Phi Slama Jama" men's basketball teams in the early 1980s, and then he continued his career professionally in the city. He played 17 of his 18 NBA seasons with the Rockets, helping them to two NBA titles and crafting a legacy of two NBA championships, one league MVP award, 12-time All-NBA honors and selection to the Hall of Fame. He built his post-career fortune in real estate, buying and selling properties in areas that are ripe for continuing development.
Alex Rodriguez: $350 Million
Over the course of his 22-year professional baseball career, Alex Rodriguez hit the most grand slams in MLB history, was named MVP three times and an All-Star 14 times and won the 2009 World Series with the New York Yankees. He's also the founder of A-Rod Corp, a fully integrated investment firm, and works as a sports analyst for various networks. In 2021, he and business partner Marc Lore completed the first phase of their $1.5 billion purchase of the NBA's Minnesota Timberwolves and the WNBA's Minnesota Lynx. Under terms of the deal, Rodriguez and Lore are expected to take controlling interest of the clubs in 2023.
Make Your Money Work for You
Jack Nicklaus: $400 Million
Jack Nicklaus won 18 Majors during his pro golf career and has since focused his attention on his golf course design company, Nicklaus Design. The company has developed over 425 courses in 45 countries. Nicklaus also sponsors The Memorial tournament on the PGA Tour each year.
Shaquille O'Neal: $400 Million
The NBA's No. 8 scorer of all time with 28,596 points, Shaquille O'Neal has made money through licensing deals, endorsement deals and his Shaq/Dunkman shoe lines. He's also made investments in a number of fast-food restaurants, including Auntie Anne's Pretzels, Papa John's Krispy Kreme and Five Guys.He is an analyst on "Inside The NBA" and hosts a podcast called "The Big Podcast with Shaq."
Greg Norman: $400 Million
Known as the "Great White Shark," Greg Norman has won more than 90 tournaments around the world, including two Open Championships. He's also a successful entrepreneur with businesses that include a golf course design company, an international real estate collection, award-winning wine, a line of golf-inspired apparel and an investment division. He is the CEO of LIV Golf Investments, formed in 2021 to boost pro golf in Asia and other regions with high-value tournaments to rival the PGA Tour.
Vinnie Johnson: $400 Million
He won two championship rings during his time in the NBA, but Vinnie Johnson gained his biggest success after retiring from the sport. The former Detroit Pistons guard — known as "The Microwave" — founded Piston Automotive in 1995. The company is a major supplier for international automotive brands, including Ford Motor Company and General Motors Co.
Make Your Money Work for You
David Beckham: $450 Million
British soccer star David Beckham won 10 league titles during his 21-year career. His salary was $5.3 million during his final year and he has also earned millions from commercial endorsement deals with Adidas, Coty, H&M, Sainsbury's, Samsung, Breitling and more, Forbes reported. Although he no longer plays soccer professionally, Beckham hasn't left the sport completely. He is a co-owner of Miami's new soccer team, Inter Miami CF.
Floyd Mayweather, Jr: $450 Million
Undefeated boxing legend Floyd Mayweather Jr. came out of retirement for an exhibition fight against Jake Paul, a social media star turned boxer, in June 2021 and earned millions of dollars – though the exact amount wasn't disclosed. That just added to his stance as a multimillionaire. That just added to his stance as a multimillionaire.
For his final fight in 2017 against Conor McGregor, the fighter made a record $275 million, according to Forbes. That year he made an additional $10 million from endorsements, appearances and memorabilia  — topping Forbes' annual list of the world's highest-paid athletes that year. 
Roger Staubach: $600 Million
Roger Staubach, aka "Roger The Dodger," played for the Dallas Cowboys for 11 years, during which he was selected to six Pro Bowls. He was named the NFL Players Association Most Valuable Player in 1971, and he led his team to two Super Bowl victories and was the Most Valuable Player in Super Bowl VI. In 2019, he partnered with the Cowboys to develop a luxury high-rise apartment on the site of the team's world headquarters and practice facility in Frisco, Texas, Forbes reported.
Junior Bridgeman: $600 Million
Junior Bridgeman was the No. 8 overall selection in the 1975 NBA Draft and enjoyed a 12-year career – 10 of them with the Milwaukee Bucks – in which he averaged 13.6 points over 849 games. His greatest feat has come post-basketball career, however. He parlayed his investment into his first Wendy's franchise into an empire that includes 263 Wendy's and 123 Chili's restaurants and a Coca-Cola bottling and distribution center, he told the 21st Century Business Forum in December. Last year, he also bought Jet and Ebony magazines.
Make Your Money Work for You
Michael Schumacher: $600 Million
German racecar driver Michael Schumacher won the Formula One World Drivers' Championship seven times — tied with Lewis Hamilton for the most in history. He is currently rehabbing privately after suffering a traumatic brain injury in a skiing accident.
Magic Johnson: $600 Million
Magic Johnson retired with five NBA championships under his belt. He reportedly made more than $100 million from his 2010 sales of 105 Starbucks franchises and his 4.5% stake in the Los Angeles Lakers, Forbes reported. Johnson is currently chairman and CEO of Magic Johnson Enterprises, an investment conglomerate valued at an estimated $1 billion, according to Sports Illustrated, and he is part-owner of the Los Angeles Dodgers.
Dwayne 'The Rock' Johnson: $800 Million
Although he played college football at the University of Miami before making it big in professional wrestling, Dwayne "The Rock" Johnson has made his big bucks as an actor. He topped Forbes' list of highest-paid actors for 2020 with $87.5 million in earnings for the year, making $23.5 million for the Netflix film "Red Notice", Forbes reported. He also got paid $700,000 per episode for HBO's "Ballers" and seven-figure royalties for his line of clothing, shoes and headphones with Under Armour, Forbes reported.
Johnson is also a part-owner of the XFL football league. "Young Rock", a biographical comedy show about his growing up, is on NBC.
Ion Țiriac: $1.2 Billion
Ion Țiriac also known as the 'Brașov Bulldozer', has built a name for himself both as an athlete on the tennis courts and ice hockey fields — but he's arguably been most outstanding in the world of business. Heading Tiriac Group, which has interests in the auto retail, financial, real estate and aviation sectors, Țiriac has become a bona fide billionaire.  His world-famous motorcycle and car collection features over 30 brands including one of a kind Rolls-Royce and Aston Martin models. Tiriac also is president of the Romanian Tennis Association.
Michael Jordan: $2.2 Billion
Possibly the NBA's greatest player of all time, Michael Jordan earned $90 million in salary during his career and another $1.4 billion from corporate partners, Forbes reported. He has sponsorship deals with Nike, Hanes, Gatorade and Upper Deck. He is the majority owner of the Charlotte Hornets of the NBA, and in 2020, he teamed with three-time Daytona 500 winner Denny Hamlin to launch a NASCAR team, 23XI Racing.
More From GOBankingRates
George Malone contributed to the reporting for this article. 

BEFORE YOU GO
See Today's Best
Banking Offers