Budgeting Tips for Couples Who Want to Save Money

Here's how unmarried couples can work on saving money together and splitting bills — without fighting.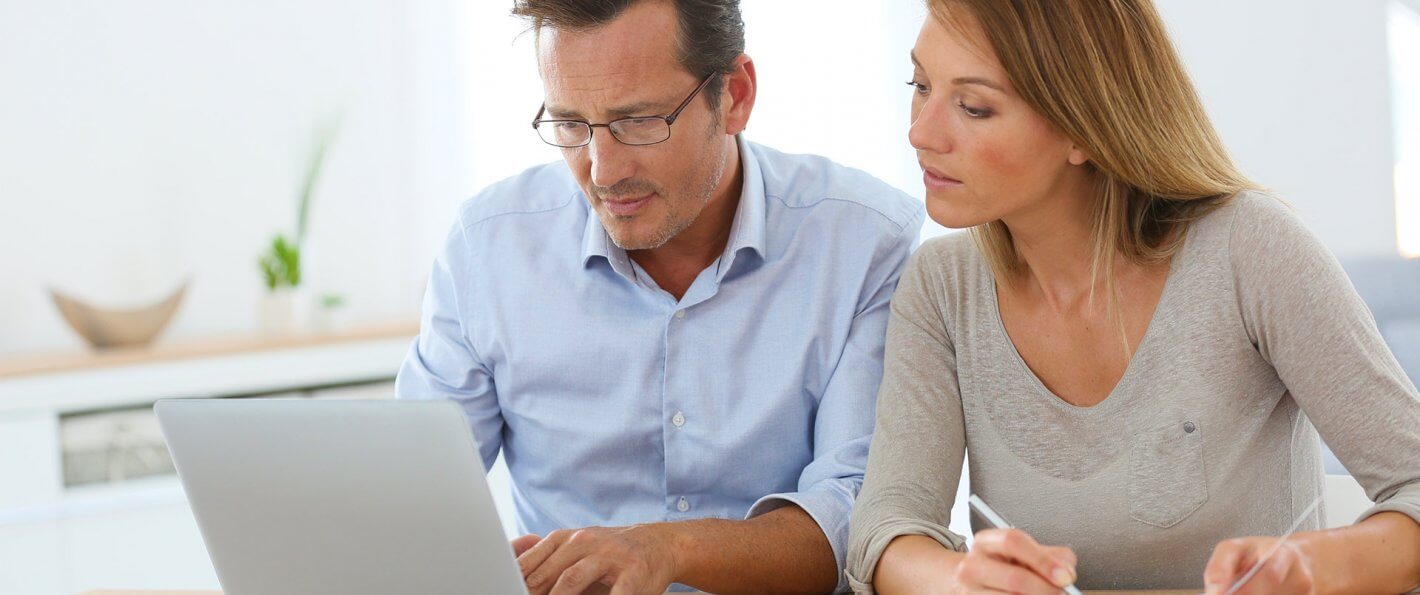 Moving in with your significant other is an exciting step that comes with all kinds of benefits and compromises — including working out the household budget. On one hand, you'll be splitting the bills so you'll be saving money on rent, but on the other you have to explain why you bought another pair of sneakers when the car needs new tires. Budgeting is a problem many couples face.
Because the way you spend money directly affects your partner's financial well-being and vice versa, it's important to come up with a financial plan as soon as possible and figure out how to split finances in a relationship.
Talking about finances is not easy for many people, including millennials. A recent poll stated that people ages 25 to 34 who are married or living with a partner have not talked about long-term financial goals, according to the American Institute of CPAs and the Ad Council. The survey also found that of the couples polled, just 42 percent have discussed their financial goals together.
Related: How Successful Couples Manage Their Money
Significant Others Are Not Roommates
Moving in with a significant other is completely different from sharing space with a stranger or acquaintance. Typically you split bills down the middle with a roommate, but splitting bills with your boyfriend or girlfriends usually isn't the same.
When you have a roommate, you often put your name on food in the fridge so the grocery budget isn't meddled with, and if he doesn't pay rent on time, you can kick him out and find someone else. However, if your significant other loses his job, you probably won't end the relationship — you'll just have to step up and shoulder the burden or dip into an emergency savings account.
It's crucial in a relationship to communicate about your household budget and respect each other's goals. Coming up with an agreement on how to share expenses when living together is often as simple as carving out time to talk about it. If you can find a way to create a budget that takes into account shared goals that make both of you happy — like saving for a house or a fun trip — it will probably be much easier to stick to those goals.
Find Out: Can I Claim My Boyfriend or Girlfriend on My Taxes?
The Most Effective Budgeting Tips for Couples
Working out an effective budget that you and your partner can get behind is a huge step toward attaining united bliss. Figuring out how to split bills with your boyfriend or girlfriend can clear up ambiguity and make it easier to talk about finances in the future. Fifty-six percent of unhappy couples cited financial issues as the problem, according to a study by Money Management International, a nonprofit, credit counseling agency. Here are a couple tips on how to avoid financial issues as a couple.
1. Sharing Expenses When One Person Makes More Money
Sharing expenses in a relationship is an important topic, especially when one person earns more than the other. In this instance, splitting expenses down the middle can leave the lower-income partner financially strained — and resentful.
Forty-eight percent of baby boomers and just 28 percent of millennials said being stingy with money is a deal breaker. For some, a partner who makes more but doesn't contribute more might come off as stingy, but others might not be bothered by this arrangement, according to a recent poll conducted by Time's website Money.
The important thing in this situation is to communicate your feelings openly and honestly. Discuss how you will split the bills and contribute to household expenses.
2. Committing to Your Financial Future Together
Once you have an idea of how you'll pay bills, it's time to talk about tomorrow. Figure out what you want your bank account to look like, where you want to live — if you're renting, do you want to buy a house? — and how much debt you have. Creating a strategy together is a smart way to unify your future goals and start working toward them in a practical way.
Many free or low-cost budgeting tools are available to help you create a budgeting strategy. Apps like Fudget and LearnVest help you keep track of your spending and financial goals, which can make budgeting a whole lot easier.
Remember That Time Is Money
In addition to putting money toward living expenses, your significant other can take on additional tasks to contribute his equal share. Doing chores and other household duties in place of contributing money toward bills might be a compromise couples are willing to make when the income disparity is large or when one person spends more time away from home than the other because of work.
The average cost for an individual to clean a house for two hours is between $50 and $70, according to the site HomeAdvisor. You might want to consider having your partner do that in lieu of contributing cash. This agreement might not work out for all couples, but for some it can mean a rebalancing of contributing to the household.
Saving Money Together
A major reason to create a household budget is to set aside money for your goals, and that's where the fun begins. You and your partner can dream up a list of goals and create a strategy to accomplish them, whether it's buying a new car or starting a family.
A good savings plan should include long- and short-term goals. An example of a short-term goal is planning to take a $1,200 vacation in the next year, which means you would need to save $100 a month. Long-term goals include saving for retirement, a house or college tuition, which are big-ticket items that require more money and more saving discipline.
One popular technique for saving and budgeting is the envelope system, which involves putting cash in envelopes designated for different types of spending, such as clothing or food. Once the money is gone, it's gone.
Don't Let Money Problems Become Relationship Problems
Figuring out how to handle money can cause stress in a marriage. Of adults from age 25 to 34 who are married or living with a partner, 88 percent cite financial decisions as a source of tension in their relationship, according to the survey by the AICPA and the Ad Council.
The most important thing you can do to make sure money doesn't take a toll on your relationship is to communicate openly and honestly about your feelings. Remember, your relationship with money is based on a lifetime of experience — which might be very different from your partner's experience. It's important to acknowledge and respect those differences in order to have healthy discussions.
Set aside time to go over your budget, evaluate your spending and savings and discuss the next steps to move closer to your goals. If you end up in the red one month, simply reevaluate your financial situation and make some changes. Money matters shouldn't be something you fear in a relationship, but something that helps you create a stronger bond by working as a team and facing them together.