How To Budget on $15 Per Hour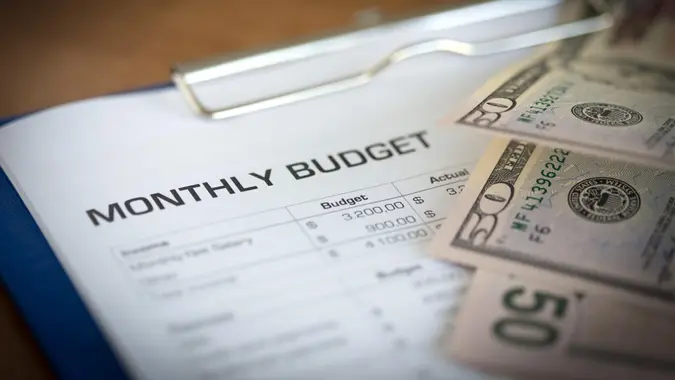 cnythzl / Getty Images/iStockphoto
The federal minimum wage has been $7.25 an hour since 2009, and there have been calls around the country to raise it to $15 an hour. While the $7.25 federal minimum wage remains, California has adopted a $15 minimum wage (for large employers) and Washington, D.C., has a $15.20 minimum. Several cities on the West Coast also have adopted a $15 minimum wage.
While the federal government still hasn't increased the minimum wage at that level, it likely will increase it at some point. In the meantime, more and more cities and states are adopting minimum wages of $15 or more. As more people have jobs that pay at least $15 an hour, we wanted to give you the best tips for budgeting on that wage.
Look Back: Here's What the US Minimum Wage Was the Year You Were Born Compare: 14 Countries That Have a Higher Minimum Wage Than the US
Tips for budgeting on $15 per hour
Although $15 is more than twice the current federal minimum wage, that $15 an hour works out to earnings of just over $31,000 per year — and that's before taxes. Hence, these tips involve sticking the basics, cutting costs and building your savings.
Set up budget percentages
The first thing to do is set up your budget percentages. When earning $15 an hour, you will have to prioritize the essentials, such as housing.
Make Your Money Work for You
"A $15 federal minimum wage is a significant step forward for many Americans, yet that means that for many, you need to be just as careful (if not more so) with your budgeting strategy," said Kari Lorz, a certified financial education instructor and founder of MoneyfortheMamas.com.
As Lorz pointed out, experts such as Jean Chatzky have laid out suggested budgets for someone earning $15 an hour. For example:
Housing: 35%
Savings: 10%
Transportation: 15%
Debt: 15%
Other Living Expenses: 25% (vacation, eating out, clothing, etc.)
While these are just sample percentages, notice that 75% goes to essentials — housing, transportation, savings. If you don't have debt, you can divide that between savings and other expenses.
Pay Raises: $15 Minimum Wage Coming in 2022 to These States
Commit to saving a percentage of your income
As noted above, it's important to save, even when earning $15 an hour. In fact, Guadalupe Sanchez, founder of Budgeting in Blue, said saving should be a priority.
"Never think about saving what's left over after you've paid your bills and other expenses," Sanchez said. "If you have to start with a small percentage such as 5% or less because you have credit, car or student loan debt, that's OK."
Make Your Money Work for You
One common strategy is to gradually increase your savings from one year to the next as your income increases. Whatever you do, it's important to prioritize saving, no matter how much or how little.
Adjust tax withholdings
Tax withholdings aren't always the first thing people consider when thinking about budgeting, but taxes can make a significant difference in how much money you have available.
"One quick step I would take if earning $15 an hour would be to have my tax person do an estimated tax liability for the current year and adjust my withholdings accordingly on a W4 form with my employer at once," said Amy Rose Herrick of The Secret Profits.
Herrick said it doesn't benefit you to have wages withheld.
"If you do get a refund because of over-withholding, you lived without it for over a year already. Drop it in a Roth IRA," Herrick said.
Consider a city with a lower cost of living
A bump to $15 an hour is a step in the right direction, but your annual earnings are still relatively low with this wage. Hence, Siva Mahesh, CEO and personal finance expert at Dreamshala, recommends cutting your costs by cutting ties with the expensive city you currently call home.
Make Your Money Work for You
"If you allocate 30% of your monthly take-home pay for housing, why not move to a more affordable housing market or learn to do maintenance and repairs independently instead?" Mahesh said.
Jake Hill, CEO of DebtHammer, agrees: "Bigger cities will always be more difficult to live in when making minimum wage or a smaller salary, so to get the most out of your money, living in smaller cities or more rural areas can be a lot easier."
Cities where you can live on $15 an hour
Relocating isn't easy, and it isn't an option for everyone. However, if you can move to a less expensive city, it can be one of the best ways to reduce your cost of living. That's because most Americans spend the most on housing — as we said above, housing is about 35% of your budget when making $15 an hour. If you work 160 hours per month, that means you should spend $840 (or less) on rent or a mortgage. Below are a few cities where that can work.
Des Moines, Iowa
Erik Wright, founder of New Horizon Home Buyers, suggested Des Moines as a city that works well for $15 earners. The average rent in Des Moines is $770 for a one-bedroom apartment or $584 for a studio.
Muskogee, Oklahoma
Muskogee, Oklahoma, is an affordable city about an hour southeast of Tulsa. Mahesh suggested this city, and the average rent for a one-bedroom is just $576. Studios are $543 on average.
Richmond, Indiana
Another city suggested by Mahesh, Richmond, Indiana, lies on the eastern border of the state. Rent is very affordable in Richmond; you can find a one-bedroom for an average of $562 and a studio for $490.
More From GOBankingRates
Make Your Money Work for You