7 Places to Retire That Are Just Like Tropical Vacations But Way Cheaper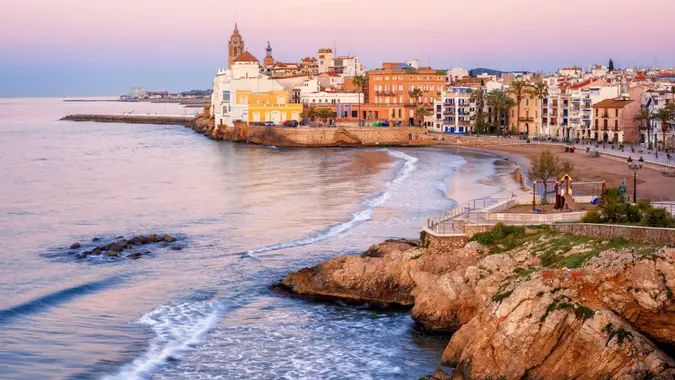 Xantana / Getty Images/iStockphoto
Retirement should be a time of relaxation and enjoyment, a long-term holiday where the days are marked by pleasure, not pressure.
While the white sandy beaches of the Bahamas or the Maldives may beckon, their cost of living can dampen the idyllic dream. Fortunately, there are locales around the globe that offer the same laid-back, tropical lifestyle at a fraction of the cost.
1. Tagaytay, Philippines
Overlooking a stunning lake and an active volcano, Tagaytay is a cool escape from the tropical heat. The cost of living is low, healthcare is affordable and English is widely spoken. With a serene environment and a comfortable climate, retirees can enjoy a lush, tropical setting without the high costs typically associated with such locales.
2. Penang, Malaysia
Penang is an island that offers modern amenities, historical charm, and a mix of cultures. It is known for having some of the best street food in the world. The Malaysia My Second Home (MM2H) program also makes it easy for foreigners to retire here, providing a 10-year visa with financial requirements that are accessible for many.
3. Las Terrenas, Dominican Republic
Once a sleepy fishing village, Las Terrenas is now a cosmopolitan town with a stunning coastline and a considerable expat community. With affordable real estate and living costs, retirees can indulge in fresh seafood, vibrant street life, and a variety of water sports.
4. Puerto Viejo, Costa Rica
Costa Rica's Caribbean coast is less developed than its Pacific counterpart, and Puerto Viejo is a hidden gem with pristine beaches, a laid-back lifestyle, and a lower cost of living. With a friendly local community and an emphasis on conservation, it's a tropical paradise for nature lovers.
Are You Retirement Ready?
5. Loja, Ecuador
Loja offers a temperate climate year-round and a tranquil setting amidst the Andes mountains. While not coastal, it has a lush, green environment that mimics a tropical atmosphere. Ecuador's retiree benefits, including discounts on flights, public transport, and utilities, make it an even more attractive destination.
6. Hoi An, Vietnam
This UNESCO World Heritage site offers a blend of history, culture, and beach life. The cost of living in Vietnam is remarkably low, and Hoi An, with its charming old town and nearby beaches, provides an idyllic setting for retirees looking for a tropical lifestyle.
7. Merida, Mexico
Located on the Yucatan Peninsula, Merida is a colonial city with a warm climate, rich Mayan and colonial heritage, and a bustling cultural scene. The cost of living is low, healthcare is high quality, and the Gulf of Mexico's beaches are just a short drive away.
Why These Places Offer More for Less:
Lower Costs of Living: These countries have economies that make your retirement savings go further.
Healthcare: Many of these destinations offer affordable healthcare with high-quality services.
Real Estate: Real estate in these areas is typically a fraction of the cost compared to traditional tropical destinations.
Cultural Richness: Each of these places offers a unique cultural experience, adding to the richness of life without a financial premium.
Expatriate Communities: With established expat communities, integration is easier, and there's a network for support and friendship.
Things to Consider When Retiring Abroad:
Residency and Visas: Check the requirements and ease of gaining residency or long-term visas.
Accessibility: Consider how easy it is to travel back to your home country or have visitors.
Language Barrier: While this can be an enriching aspect of a new culture, it's also practical to consider the language spoken and your willingness to learn it.
Climate: Make sure the climate suits your preferences year-round, not just during vacation times.
Infrastructure: Look into the local infrastructure, including internet connectivity, transportation, and utilities.
Are You Retirement Ready?
Retirement doesn't have to mean giving up on the dream of a tropical vacation lifestyle. With careful consideration and planning, you can retire to a place that offers all the beauty and relaxation of a luxury holiday at a surprisingly affordable cost. Whether you're dreaming of Southeast Asian culture or Caribbean beats, there's a slice of paradise waiting for you.
Editor's note: This article was produced via automated technology and then fine-tuned and verified for accuracy by a member of GOBankingRates' editorial team.
More From GOBankingRates