Planning To Retire Soon? It May Be Time To Make a 'Happy Plan'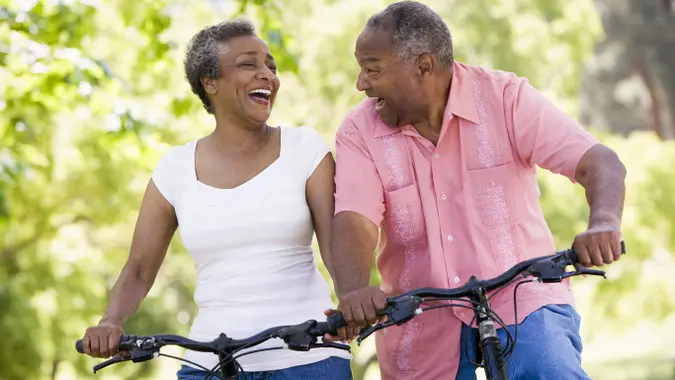 Monkey Business Images / Shutterstock.com
With the near extinction of pension plans, many of us will not be able to have a "dream" retirement with no money worries at all, but that doesn't mean you can't have a happy one. Parade contributor Paula Spencer Scott proposed the idea of creating a "happy plan" for soon-to-be retirees — a plan that accounts for the three big contentment-makers in retirement: money, health and relationships. Of course, the ideal for how these three play out will vary from person to person, but when it comes to money, these are the things you need to consider and the actions you should take to be sure you'll be happy in retirement.
Read: Jaw-Dropping Stats About the State of Retirement in AmericaSee: Here's Exactly How Much Savings You Need To Retire In Your State
Tie Up Any Financial Loose Ends
"Be honest with yourself about what your concerns are going into retirement and make sure that you adequately address them so that they aren't a constant source of stress," said Brandon Renfro, a professor and financial planner specializing in retirement income planning. "For example, many retirees have a strong desire to have their house paid off before retirement. It's not always the most mathematically sound decision, but if it allows you to relax and enjoy your retirement then it may be worth doing."
Be Aware: The Downsides of Retirement That Nobody Talks About
In general, it's best to pay off any debts you have before retiring.
Are You Retirement Ready?
"That might mean delaying retirement for a couple of years, but you'll be glad you did," said Howard Dvorkin, CPA and chairman of Debt.com. "If you retire with debt, you'll have to use your limited savings and Social Security benefits to pay it off. You worked hard and paid into Social Security for years to have a safety net for yourself — not your creditors. Paying off debt could also help you avoid taking out Social Security benefits right away. You could start drawing them at 62, but there's a catch. They'll increase in value each year you don't take them out. Your patience can literally pay off, but only if you save your money. That's easier to do without debt dragging you down."
Find Out: 14 Key Signs You Will Run Out of Money in Retirement
Helpful: Suze Orman, Warren Buffett and Other Money Experts Weigh In on How To Best Set Yourself Up for Retirement
Eliminate the Fear of Running Out of Money
"Another common fear is that you'll run out of money in retirement," Renfro said. "There are ways to protect against that such as maximizing Social Security or allowing for small adjustments to your annual spending."
Another way to mitigate this fear is to buy annuities.
"Annuities remove that worry altogether," said Herman Brodie, founder and owner at Prospecta Limited and a researcher at the Investments & Wealth Institute. "One study, which examined the role of annuities and wealth on both retirement satisfaction and measures of depression, found that annuities from pensions increased retirement satisfaction and reduced the number of depression symptoms."
Are You Retirement Ready?
See: How Long $500K Will Last in Retirement in Each State
Purchase Life Insurance
"Many people feel they don't need insurance as they approach retirement. They have enough savings, maybe even a pension, to live on. So why?" said Paula Brancato, a financial planner with Barnum Financial Group. "If you have a spouse or anyone you care about, you may want to be sure they have something when you are gone, regardless of how much you need. Knowing your family is taken care of, you can then spend more freely in retirement, even take on new financial risks, like opening the business you've always wanted. Life insurance, famously, pays for end-of-life expenses. Even if you feel you have enough money to do this, life insurance funds can be available within 14 days. Most investment accounts require four to six weeks to port funds over to your heirs."
Be Aware: 30 Greatest Threats to Your Retirement
Downsize
Not only will downsizing save you money and help your funds to last longer in retirement, but it may actually make you happier depending on the lifestyle you prefer.
"The kids are out of the nest. Do you really need a large expensive home with all the accompanying work and expenses?" Brancato said. "Do you have to own a home, or do you want something more fluid and mobile, like renting or even an RV?"
Check Out: Hidden Obstacles That Keep People From Retirement
Move To a City or State With Lower Taxes
Lowering your taxes allows for more funds to be put toward living the lifestyle you want.
Are You Retirement Ready?
"The fastest, most efficient way to lower your taxes is to move from a high-tax city or state to one with lower taxes," Brancato said. "You must consider all taxes, including income, property, sales tax, death, inheritance taxes and so on, and you must actually reside in the location you choose for at least six months a year."
See: 30 Reasons It's Hard To Retire at 65
Build In a Buffer
You should create a financial plan for retirement that accounts for how much money you will need each month and where that money will come from, including a clear-cut withdrawal strategy to avoid running out of money, said Olivia Keys, manager of coaching and advising at SmartPath Financial.
To mitigate for any potential worries, you should also build a buffer into this financial plan that would cover any expenses outside of the anticipated monthly expenses.
"Accidents happen, medical costs are unexpected, tax rates go up… so plan for a 10% buffer on your cost of living if you have the ability to do so," said Chantel Bonneau, wealth management advisor at Northwestern Mutual.
Are You Doomed To Work Forever? What You Can Do If Your Social Security Isn't Enough
Meet With a Financial Planner
You don't have to come up with a "happy plan" on your own.
"Consult a certified financial planner and create a financial plan before you retire," Brancato said. "Work with your planner and accountant to consolidate accounts, consider postponing benefits, deduct taxes from your IRA or pension as you withdraw, and plan for income. If you start early enough, you may even be able to create a largely tax-free income stream in retirement with Roths, life insurance, Roth conversions and other simple, flexible options, but you need to put most such plans in place well before your retirement date."
Are You Retirement Ready?
More From GOBankingRates
Last updated: June 28, 2021