Real Estate Agents: Here's Where We'd Retire If We Had $1 Million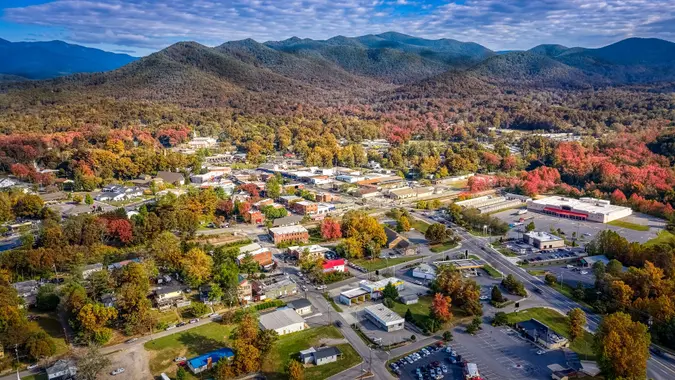 rodclementphotography / iStock.com
Figuring out where to retire is a major decision, one that could very well have a lifelong impact. If you're like most people, you'll want to find a spot that suits your interests and needs when it comes to things like climate, taxes, accessible healthcare, safety and community amenities.
Of course, the cost of living is another key factor to consider when making your decision. Even if you have $1 million, which admittedly doesn't go quite as far as it once did, there are still certain financial considerations to make.
The good news is that you don't have to make this decision right now — unless you're on the verge of retirement, that is. Instead, try to picture yourself in your ideal retirement location now with the money you need. You can always change your mind later.
To that end, GOBankingRates spoke with several real estate agents to see where they would retire now if they had a $1 million nest egg. These were their top choices and their reasons.
Laguna Woods (Orange County, California)
"If I were considering retirement on a budget of under $1 million right now, my top choice would be the Laguna Woods community in Orange County, California," said Beatrice de Jong, real estate broker at The Beverly Hills Estates.
Are You Retirement Ready?
"Having facilitated multiple home purchases in this area, I know Laguna Woods is a vast community comprising over 6,000 homes for people aged 55-plus, ranging from condominiums to single-family houses," she continued. "The homes come in various sizes and price ranges, with current listings starting from $299,000 and going up to over $1 million."
Laguna Woods stands out for other reasons as well. This includes its resort-style living experience, vast community options, picturesque aesthetic and more.
"Having spent my childhood in Southern California, I appreciate the proximity to friends and family," de Jong added. "The sunny weather, easy access to the beach and the convenience of having the freeway nearby for visitors make it an ideal choice for the lifestyle I envision during my golden years."
Fort Collins or Grand Junction, Colorado
Brett Johnson, an active real estate investor, licensed real estate agent and owner of Cash For House Pro, suggested two Colorado locations as ideal retirement destinations: Fort Collins and Grand Junction.
"When it comes to seeking affordable yet desirable cities to retire in, Fort Collins emerges as a standout choice," he said. "With its charming Old Town, vibrant cultural scene and proximity to outdoor adventures, Fort Collins offers a high quality of life without the exorbitant price tag. The city's affordability, coupled with a strong sense of community and educational opportunities, makes it an ideal haven for those seeking a balanced lifestyle."
Are You Retirement Ready?
Johnson's second choice, Grand Junction, stands out for its affordability and opportunities for retirees.
"Known for its breathtaking landscapes, outdoor recreational opportunities and a cost of living below the national average, Grand Junction embodies the perfect blend of affordability and an enviable quality of life," Johnson said. "The city's welcoming atmosphere, thriving local economy and diverse cultural offerings make it an underrated yet exceptional choice for those looking to make the most of their retirement funds."
Asheville, North Carolina
Teddi Schill, a licensed real estate broker and founder of Portland Area Home Group, said Asheville is a top choice if she had $1 million and were retiring right now.
"Asheville is a vibrant mountain town with a thriving arts and culture scene," Schill said. "It's also relatively affordable, with a median home price of $380,000. Plus, the cost of living is below the national average."
Schill said she would choose Asheville because it offers "a great combination of affordability, quality of life and access to healthcare."
The city also has a thriving economy, which is appealing to those hoping to stretch their retirement savings.
San Diego and Bali, Indonesia
Molly Haines, a real estate broker and owner of Cash Home Buyers, said she'd like to split her retirement across two locations: Bali and San Diego.
"San Diego offers a wonderful climate, beautiful coastal views and a variety of recreational activities, making it an ideal place for retirement," Haines said. "Bali, on the other hand, provides a lower cost of living, a unique cultural experience, and an opportunity to stretch the retirement budget further.
Are You Retirement Ready?
"By splitting my time between these two locations, I could enjoy the best of both worlds, blending a comfortable lifestyle in San Diego with the financial benefits of living in Bali. This strategy allows for a balanced approach to retirement while maintaining financial security and a high quality of life."
Tuscany, Italy
If the split between San Diego and Bali didn't work out, Haines said she would choose to retire in Tuscany with $1 million instead.
"Tuscany, Italy, is like stepping into a beautiful painting with its rolling hills, vineyards and charming old towns," Haines said. "The whole region feels like it's soaked in history and culture. And let's not forget about the amazing food and wine. The weather is just perfect, too — not too hot, not too cold. It's the kind of place where you can really kick back and enjoy retirement."
From a financial standpoint, Tuscany also could be a good option for those interested in purchasing real estate.
"The property market in certain parts of Tuscany has shown steady appreciation over the years," Haines said, "potentially providing a good return on investment for retirees looking to secure their financial future."