2024 COLA Forecast: New Info About How Much Social Security Benefits Could Increase Next Year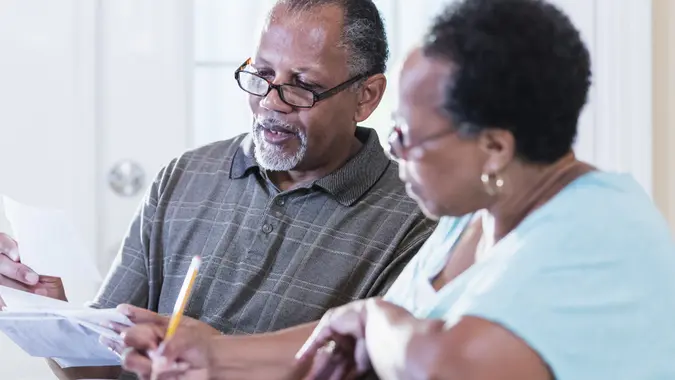 kali9 / iStock.com
Unless the U.S. government's September 2023 inflation report drops some kind of unforeseen surprise, you can expect the 2024 Social Security cost-of-living adjustment (COLA) to be somewhere in the neighborhood of 3.2%. That estimate is based on the latest Consumer Price Index readings from the Department of Labor.
Labor Department data show that the CPI Index for Urban Wage Earners and Clerical Workers (CPI-W) rose 3.4% in August, up from 2.6% in July, The Motley Fool reported. The CPI-W is the index used to calculate annual Social Security adjustments.
CPI-W changes for July, August and September are added together and averaged, then compared with the Q3 average from a year earlier. The percentage difference is the amount of the COLA, which would be payable in Social Security checks beginning in January 2024.
The higher CPI-W reading in August caused The Senior Citizens League (TSCL), a non-partisan seniors advocacy group, to raise its 2024 COLA estimate to 3.2% from earlier projections of 3.0%.
A COLA of 3.2% would raise the average monthly retiree benefit by about $59. That's a huge drop from this year's 8.7% COLA, which pushed the average monthly check up by about $146. The COLA for 2022 was 5.9%. The official 2024 cost-of-living adjustment is expected to be announced on Oct. 12, when the September inflation numbers come out.
As Motley Fool noted, there is a "silver lining" to a 3.2% COLA in that it falls below the 3.3% COLA the Social Security Board of Trustees used as a baseline assumption in its latest analysis of the Social Security trust fund's financial health.
Are You Retirement Ready?
That fund — officially known as the Old Age and Survivors Insurance (OASI) Trust Fund — is expected to run out of money in about a decade. When it does, Social Security will have to be funded solely by payroll taxes, which currently cover about 77% of benefits.
A typical newly retired dual-income couple could face a benefit cut of $17,400 when the OASI becomes insolvent, according to estimates from the nonprofit Committee for a Responsible Federal Budget.
A bigger-than-expected COLA in 2024 could accelerate the insolvency timeline, according to The Motley Fool, but a COLA of 3.2% might not have that effect. It would also be the smallest COLA since 2021, though still above the 2.6% COLA average over the last decade.
How would a 3.2% COLA impact Social Security checks? Here's how the average benefit paid to different groups would change in 2024, according to Social Security Administration data cited by Motley Fool:
Retired workers: $1,899.16 (an increase of $58.89 a month from 2023)
Spouses: $918.08 ($28.47 more)
Survivors: $1,501.02 ($46.54 more)
Disabled workers: $1,534.41 ($47.58 more)
More From GOBankingRates
Are You Retirement Ready?