Social Security Math: Are There Advantages To Claiming ASAP?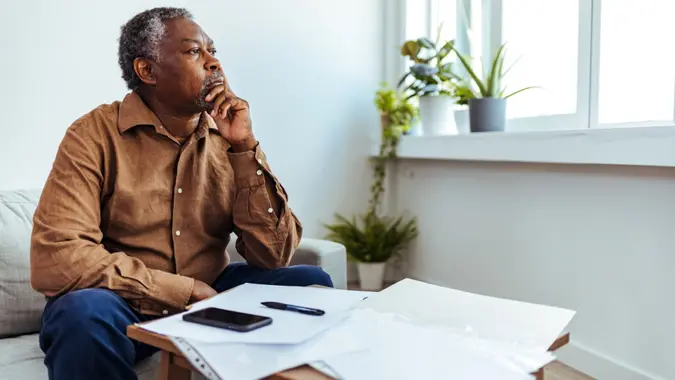 ljubaphoto / Getty Images
Although you can start to collect Social Security at age 62, your benefits will increase every year you choose to delay claiming them up until age 70. But are there potential advantages to claiming early, particularly if you invest your Social Security income?
Good To Know: 6 Types of Retirement Income That Aren't Taxable
See: 5 Things You Must Do When Your Savings Reach $50,000
Here's a look at the math to see if claiming early will pay off.
Investment Returns vs. Social Security Income Increases
Life After Work Zone crunched the numbers to see if claiming your benefit early and investing it would net you more money than if you had waited until the full retirement age (67) or the age at which you receive the maximum benefit (70). It turns out that if you live into your 80s, this gamble does not pay off — even if you invest aggressively and net 7% returns.
If you invest aggressively, you hit a break-even point at age 80 if you start collecting at 67 instead of age 62, and a break-even point at age 83 if you start collecting at age 70 instead of age 62. At those points, you'll be stuck with a lower monthly payment than if you had waited until 67 or 70 to start collecting. And the ages you would break even are obviously lower if your investment return is less than 7%.
Given this math, it's clear that this is a gamble that usually doesn't pay off, especially considering that about 1 out of every 3 65-year-olds today will live until at least age 90, and 1 out of 7 will live until at least age 95, according to the Social Security Administration.
Take Our Poll: Are You Struggling To Keep Up With Your Utility Bills?
When It Might Still Make Sense To Claim Benefits Early
Although there isn't a financial benefit to claiming early (assuming you outlive the break-even points), there are some reasons you may still want to claim your Social Security benefits ASAP:
You are suffering from a terminal or serious illness/have a shorter life expectancy.
You need to pay down debt.
You're unable to work anymore.
You're working part time and earning less than the limit to collect full benefits ($19,560 in 2022).
No one else is relying on your benefits.
You already have 35 high-earning years.
You expect your investments to grow at a rate higher than 8% per year.
You want to start a business.
More From GOBankingRates