Most Affordable States That Don't Tax Social Security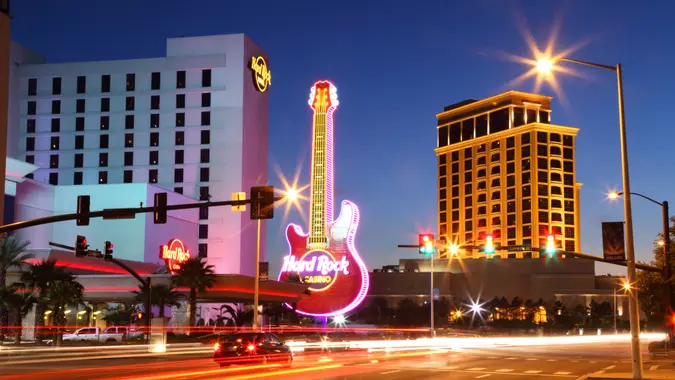 DenisTangneyJr / Getty Images
A sizable chunk of every paycheck you earn never makes it to your bank account because your employer withholds FICA contributions, which fund Social Security and Medicare. Even though you supported the programs through your payroll taxes during your entire working life, you're not necessarily done paying into the system.
The federal government taxes Social Security benefits when you retire if your overall income passes a certain threshold — and depending on where you live, you might even have to pay a third time. That's because some states levy their own tax on Social Security benefits.
If you're looking for an affordable lifestyle in retirement, the trick is to settle down in a state that keeps its hands off your benefits. Luckily, that's most of the country. Just 11 states tax Social Security, meaning 39 plus the District of Columbia do not.
But many of them are prohibitively expensive — you could lose more of your monthly payments to high living costs even where no tax exists.
The following is a look at the 10 most affordable states in America that offer the best of both worlds — a low cost of living and no Social Security tax. 
Are You Retirement Ready?
With the Cost-of-Living Index, Lower is Better
The cost-of-living index tracks a baseline score of 100, which represents the national average. If a state has a score of 90, for example, its residents pay 10% less than the average American for the six categories that account for most spending: housing, transportation, utilities, groceries, healthcare and miscellaneous expenses. 
To identify the cheapest states, GOBankingRates used cost-of-living data from the Missouri Economic Research and Information Center and cross-referenced it against the list of states that don't tax Social Security.
It's important to note that nine states tax neither Social Security nor income. Although none of them are among the 10 with the lowest cost of living, they might be worth a look:
Alaska
Florida
Nevada
New Hampshire
South Dakota
Tennessee
Texas
Washington
Wyoming 
Ohio
Cost-of-living index: 91.9
Five of the six categories are barely below the national average in Ohio. But the Buckeye State makes the list thanks to its forgiving housing cost, which at 75.3, is more affordable by nearly a quarter. 
Are You Retirement Ready?
Arkansas
Cost-of-living index: 90.6
The two big draws in Arkansas are housing and healthcare, which score 77.9 and 82, respectively. The four other categories are in the 90s, close to the national average. 
Tennessee
Cost-of-living index: 90.2
Luckily for Volunteer State residents, Tennessee's only two sub-90 categories are also the two most important; housing and healthcare score 81.7 and 89.9.
West Virginia
In West Virginia, transportation is a pricey 111.2 and healthcare is above average at 101.8. No other state on this list has two categories that cost more than the baseline 100. But the state earns its keep through its rock-bottom housing prices — at just 68.8, only one state is cheaper. 
Indiana
Cost-of-living index: 89.9
Utilities cost an above-average 104 in Indiana. But the state compensates for high energy costs with housing, which scores a low 77.4. The four other categories are in the mid-to-low 90s. 
Iowa
Cost-of-living index: 89.2
At an even 100, healthcare costs in Iowa are on par with the national average. Everything else is close to the baseline — except housing, which scores an impressively low 71.5. 
Georgia
Cost-of-living index: 88.6
All six categories are lower than average in Georgia. Transportation is under 90, but just barely. The real selling point is housing, which scores a low 75.6. 
Are You Retirement Ready?
Alabama
Cost-of-living index: 88.1
Boasting the list's No. 3 lowest housing costs is Alabama, which scores an impressive 69.6 in that category. On the other end of the spectrum are utility costs, which score just above average at 100.7. 
Oklahoma
Cost-of-living index: 85.8
Transportation, healthcare and miscellaneous expenses all score just above 90 in Oklahoma. However, its ultra-low 70.2 score in the housing category earns the state the No. 2 spot.  
Mississippi
Mississippians pay less than 68 cents on the dollar — 67.4, to be exact — for housing. That makes it the most affordable state in that category, not just on this list, but in all 50 states in America. Everything else is in the 90s except for utilities, which at 89 isn't far behind.
More From GOBankingRates
Are You Retirement Ready?