Mike Pence Tells Fox News that Social Security Should Be Privatized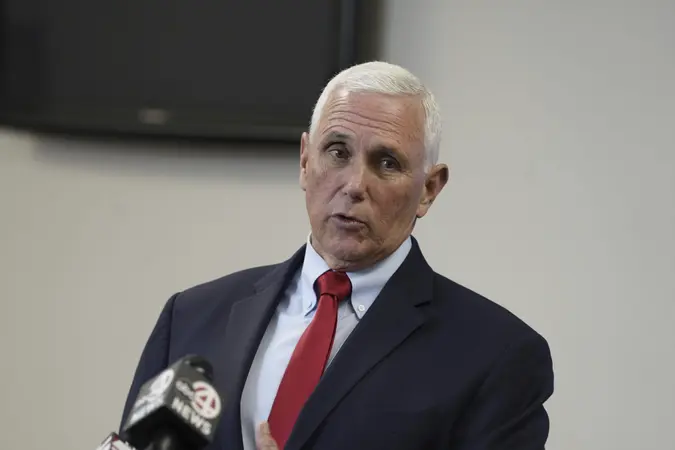 Meg Kinnard/AP/Shutterstock / Meg Kinnard/AP/Shutterstock
Among the suggestions making the rounds during the debate over Social Security is to either privatize the program or at least reform it in a way that it acts more like an investment plan. Among those advocating for privatization is former Vice President and potential 2024 presidential candidate Mike Pence, who recently said he wants to reform Social Security by instituting private savings accounts for recipients.
During a speech at the National Association of Wholesaler-Distributors summit earlier this year, Pence proposed giving younger Americans "the ability to take a portion of their Social Security withholdings and put that into a private savings account." Pence shared a similar sentiment in a recent Fox News interview.
Social Security has become a political lightning rod during the current debt-ceiling negotiations because the program's Old-Age and Survivors Insurance Trust Fund is expected to run out of money by the middle of next decade.
While most Democrats oppose efforts to privatize or otherwise change the basic structure of Social Security, some Republicans advocate reforms that would prop up the program while also giving future Social Security beneficiaries more control over their retirement funds.
The latter sentiment was echoed in a Wall Street Journal column published this week and written by M. Todd Henderson, a law professor at the University of Chicago and visiting fellow at the Hoover Institution.
In the column, Henderson said Democrats' "dogged attachment to government-run investing undermines the goal of helping workers save for retirement." He also noted that although Social Security has helped reduce poverty among seniors, it is "inefficient" in helping those who need it the most.
Are You Retirement Ready?
"Social Security creates two economic castes: a rich one that invests outside the system and a poor one dependent on the program," Henderson wrote. "Social Security returns … are meager, at best. One must live a longer-than-expected life to have even a coin-flip chance of getting more money out of the program than one paid in."
He suggests letting workers invest in U.S. companies by giving them an individual retirement account at birth — similar to a 401(k), but with more protections. The account could be funded through a "small seed investment" from the government. Current wage taxes would then fund the accounts to ensure that everyone is saving for retirement.
To insulate from risk, investments would be limited to a "small set of broad market indexes." Henderson also advocates setting up a "modest" government insurance program to help smooth out market volatility, especially for low-income workers.
"The upshot of investing Americans' futures in the stock market is not only that it would yield better returns, but that it would also alleviate Democrats' concerns about the alleged wedge between capital and labor," Henderson wrote.
These kinds of ideas have been floated before, and every time they have failed. That's mainly because Social Security advocates say private plans carry too much risk — and they've rallied most lawmakers to their side.
A recent article on the Truthout website claimed that privatization "could be devastating for people with low incomes" who have fewer financial resources to contribute to retirement accounts.
A 2021 paper from the National Committee to Preserve Social Security & Medicare (NCPSSM) went even further, saying that privatization results in "huge cuts in Social Security benefits," with no guarantee that private investment can replace lost benefits.
Are You Retirement Ready?
The NCPSSM further claims that even though Social Security faces financial challenges with the eventual depletion of the OASI fund, the program will still be able to provide millions of retirees with a "sound, stable retirement … It may require some modest adjustments over a period of time, but it does not face an insurmountable crisis requiring major structural changes."
More From GOBankingRates