Biden Assures Retirees Their Social Security Won't Be Affected by Debt Ceiling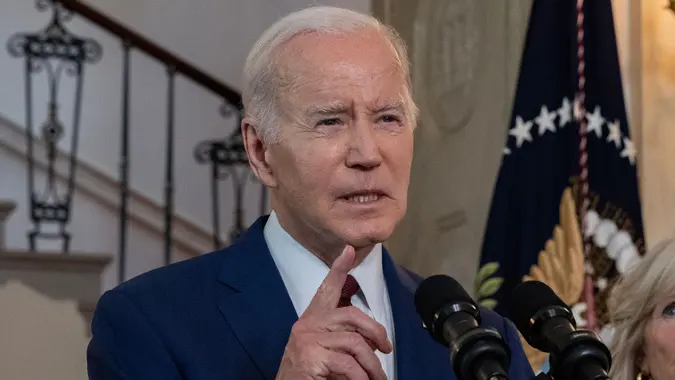 Ron Sachs / UPI / Shutterstock.com
The way Social Security payments are scheduled, the oldest beneficiaries and those with disabilities are always paid first each month. The next payment date for these beneficiaries is June 2. That also happens to be the day after the U.S. government could go into default if lawmakers don't reach a debt ceiling agreement — meaning those June 2 payments might not be paid on time.
The total amount of Social Security benefits due to be paid on June 2 is about $25 billion. Later payments of roughly the same amount are due to be sent on June 14, June 21 and June 28.
If there's a reason to worry about how the debt ceiling crisis might impact Social Security payments, it has to do with those dates. As CNN reported earlier this week, if the impasse is not resolved before June 2, Social Security benefits could be delayed, along with Medicare payments and paychecks to federal workers and the military.
Are You Retirement Ready?
For many Social Security beneficiaries, any delay in payments would cause major financial problems — especially those with less than $2,000 in assets who are eligible for Supplemental Security Income (SSI) payments.
"There's no fallback if these checks are late," Kathleen Romig, director of Social Security and disability policy at the Center on Budget and Policy Priorities (CBPP), told The Washington Post. "These are people who are literally not allowed to have emergency savings."
One of those people is Nora Jean Stone, a 74-year-old SSI and Social Security beneficiary who shares a one-bedroom rent-controlled apartment in San Francisco with her disabled son. Stone told the WaPo she has saved just enough money to make it through a month if her SSI and Social Security payments are not sent next week.
"Being poor, you're always walking on eggshells," she said. "There are constantly unnecessary obstacles in your way, and now the debt ceiling is one more of them."
About four in 10 Social Security beneficiaries depend on the program for at least half of their monthly income, according to an April report from the CBPP. Social Security provides at least 90% of income for one in seven beneficiaries.
"It's going to cause a huge amount of hardship if Social Security checks are delayed at all," Alicia Munnell, director of the Center for Retirement Research at Boston College, told the WaPo. "When you're living in a cash-strapped situation, timing really makes a lot of difference. People are waiting for their checks to buy groceries, to fill prescriptions. They get to the end of the month and are out of cash."
Are You Retirement Ready?
If a default does happen, there's a chance that the government will prioritize funding some programs — including Social Security — over others. Nobody knows exactly what will happen because the U.S. has never before defaulted on its debt.
"Right now, we have to remain optimistic that a deal is going to be struck," Rachel Snyderman, the senior associate director of economic policy at the Bipartisan Policy Center, told ABC News. "But this goes to show that there is a significant cost to brinkmanship over the debt limit, and the confusion and the concern these episodes inflict is not helpful to American taxpayers who don't have the luxury of choosing which bills they get to pay and don't at the end of the month."
Her organization recently projected a "heightened risk" for default between June 2 and June 13. If the U.S. Treasury Department can keep financing the government through June 15, expected quarterly tax receipts will give the government more financial breathing room before a default happens, experts say.
Meanwhile, lawmakers are working to prevent a default. President Joe Biden and U.S. House Speaker Kevin McCarthy (R-Calif.) have been negotiating a deal over the last couple of weeks. The two sides reportedly have made progress, though no agreement had been struck as of Thursday, May 25.
Are You Retirement Ready?
Biden spent part of Thursday trying to reassure Americans that benefits for veterans and Social Security recipients would not be impacted by the looming threat of a default, The Hill reported.
Take Our Poll: Are You Planning To Buy or Sell a House This Year?
"I've made clear time and again defaulting on our national debt is not an option," Biden said in remarks from the Rose Garden.
More From GOBankingRates