Will Your Social Security Check Be Late If the US Treasury Delays Payments?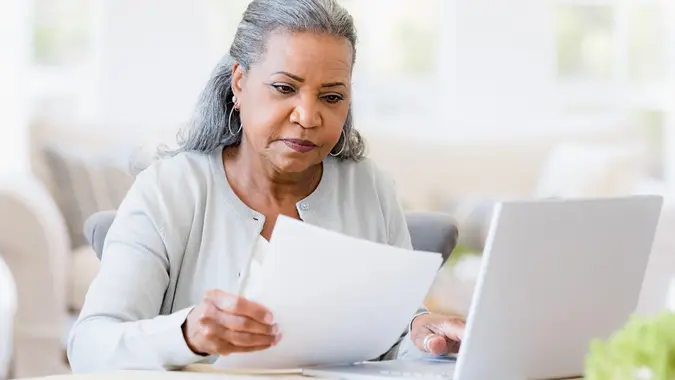 SDI Productions / iStock.com
With negotiations over the U.S. debt limit at a standstill only a week away from a potential government default, federal agencies have been asked if they can delay upcoming payments. Whether those delays will impact Social Security payments is unknown, though some senior advocates continue to worry that payments will be late if the debt ceiling isn't raised soon.
The U.S. Treasury Department has asked federal agencies whether they can make upcoming payments at a later date, The Washington Post reported on Tuesday, citing two people familiar with the matter. The requests are designed to preserve cash and avoid a default, which could happen as soon as June 1, according to Treasury Secretary Janet Yellen.
To forestall the "X date" as long as possible, Treasury officials want to know how flexible some agencies are about delaying payments scheduled before early June, one of the sources told the WaPo. The other source said the Treasury Department has not asked federal agencies to postpone payments beyond their due dates.
Are You Retirement Ready?
The WaPo article only mentions Social Security once, and that was in reference to the program's trust fund. Among the ideas being floated is that bonds held by the Social Security Trust Fund or Highway Trust Fund could be sold, which would raise "tens of billions of dollars immediately" to be used to pay for certain government programs. Once the debt ceiling standoff ends, the trust funds would then be repaid.
There was no specific mention of Social Security benefits being delayed should federal agencies postpone upcoming payments. However, the massive retirement program could be vulnerable should the government go into default.
As CNN reported, the first round of Social Security payments in June are slated to be paid on June 2, totaling about $25 billion. Later payments of roughly the same amount are due to be sent on June 14, June 21 and June 28.
Those dates could be important should lawmakers fail to reach a debt-ceiling agreement in the next week or so. According to the latest estimate from the Bipartisan Policy Center, the government could run out of money between June 2 and 13 if the limit isn't raised.
Are You Retirement Ready?
Theoretically, this means Social Security payments due to paid on or after those dates could be delayed. A lot depends on how and whether government officials prioritize certain programs. But it's still a worrying thought to the millions of Social Security recipients who depend on the program to fund living expenses.
Max Richtman, CEO of the National Committee to Preserve Social Security and Medicare, told CNN that he's been spreading the word to Social Security beneficiaries that they should set aside money now to prepare for a delay in their June payments. But that's not a realistic option for recipients who need Social Security checks to pay essential bills.
"A lot of people in Washington are not that in tune with what this could mean," Richtman said. "If you depend on your Social Security for most of your living expenses, you're not going to be able to pay your rent, buy your food, pay your utilities, the basics … pay out-of-pocket health care costs that may come up."
Meanwhile, the looming default date prompted Fitch Ratings to place the United States' triple-A status on "rating watch negative" this week, CNBC reported.
Are You Retirement Ready?
"The brinkmanship over the debt ceiling, failure of the U.S. authorities to meaningfully tackle medium-term fiscal challenges that will lead to rising budget deficits and a growing debt burden signal downside risks to U.S. creditworthiness," Fitch said in a report.
Take Our Poll: Who Has Given You the Best Money Advice You Have Ever Received?
As of Wednesday, President Joe Biden and U.S. House Speaker Kevin McCarthy had still not reached agreement on a debt ceiling bill, though McCarthy told reporters that negotiations over raising the debt limit are progressing toward a deal even amid disagreements over spending, CNBC reported.
More From GOBankingRates
Are You Retirement Ready?