Social Security Faces 'Death Panel' To Discuss Cuts to Program — What's the Worst Case Scenario for Your Future Finances?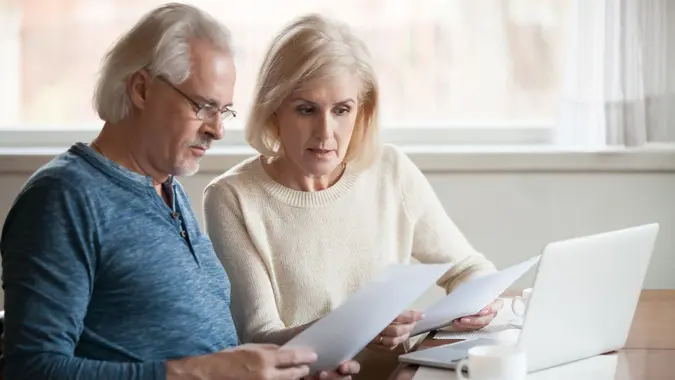 fizkes / iStock.com
A U.S. House Budget Committee resolution released on Tuesday got considerable pushback from Social Security advocates, who warned that a "closed-door commission" of lawmakers wants to slash Social Security and Medicare benefits. One critic called the commission a "death panel" in reference to White House comments made earlier this year.
The 81-page resolution proposes a bipartisan debt commission that could end up recommending cuts to Social Security and Medicare, according to a Tuesday blog on the ThinkAdvisor site. The resolution was released by House Budget Committee Chairman Jodey Arrington (R-Texas).
In a statement shared with GOBankingRates, Nancy Altman, president of the nonprofit Social Security Works, offered a harsh assessment of the GOP-led commission and its motives.
"The White House has accurately labeled a commission as a 'death panel' for Social Security," Altman said. "The only reason to make changes to Social Security via a closed-door, fast-track commission is to cut benefits. Rep. Arrington and his fellow Republicans understand this, which is why their budget would create just such a commission."
The death panel comment Altman referred to was made back in February by White House spokesperson Andrew Bates. As Bloomberg reported at the time, Bates was reacting to a panel set up by Republicans to examine Social Security and Medicare solvency as part of debt-limit negotiations.
Are You Retirement Ready?
"The American people want more jobs and lower costs, not a death panel for Medicare and Social Security," Bates said. "With the president poised to announce new plans to keep making our economy work from the bottom up and the middle out — not the top down — House Republicans are dead-set on the opposite."
Many leading Republicans, including House Speaker Kevin McCarthy of California, have said they have no interest in cutting Social Security benefits. That's the case even as they come up against another government shutdown deadline, this one scheduled for Sept. 30.
Arrington himself said Medicare and Social Security cuts are not part of the GOP's long-term budget resolution because they are "very politically sensitive," Politico reported last week.
"Medicare benefits and Social Security — we don't address that in our long-term budget resolution," Arrington told Politico.
Even so, many Social Security recipients are concerned about a passage in the resolution that specifically mentions "entitlement spending such as Social Security and Medicare" as among the main drivers of the country's "significant debt crisis."
For Americans who depend on Social Security to fund a large part of their retirement, the prospect of lawmakers cutting benefits is probably the last thing they want to hear.
Many recipients already fear having their payments reduced when Social Security's Old-Age and Survivors Insurance (OASI) Trust Fund runs out of money, which is expected to happen in about a decade. When it does, Social Security will have to be funded solely by payroll taxes — and those only cover 77% of current benefits.
Are You Retirement Ready?
According to a recent report from the nonprofit Committee for a Responsible Federal Budget (CRFB), some newly retired couples could face a cut of more than $17,000 a year when the OASI is depleted.
The worst-case scenario is that lawmakers will cut benefits even further — something Altman believes could happen unless Democrats prevent it.
"Republicans desperately want Democrats to provide cover for Social Security cuts, which are rightfully unpopular with voters of all parties," she said. "This is why their budget calls for a 'bipartisan' commission. Democrats should refuse to cooperate. Instead, they should continue to work to protect and expand Social Security through regular Congressional order."
More From GOBankingRates