Social Security 2023: How Recipients Should Prepare for Potential Debt Ceiling Problems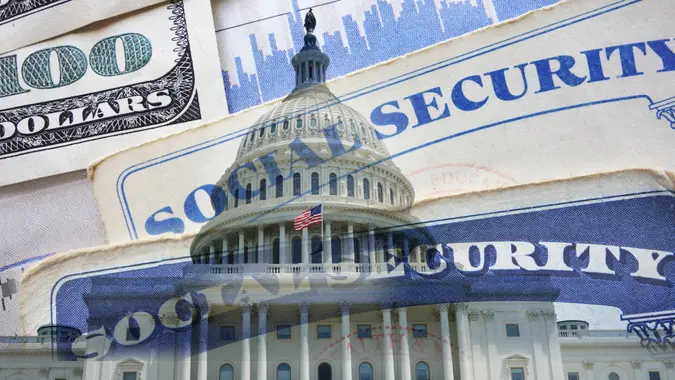 zimmytws / Getty Images/iStockphoto
For years, seniors have been bombarded with news reports highlighting how the Social Security Trust Fund will expire sometime in the 2030s. But a much more immediate threat is now on the horizon. If the U.S. government can't hammer out its current stalemate regarding the debt ceiling, the Treasury Department might not have the money to pay the country's obligations — including Social Security. If a deal is reached before June 1, Social Security payments will likely go out as planned. However, that deadline is approaching rapidly, with the government now only having just a few days to figure things out. Although a deal may be reached, that's far from a certainty. Given the situation, here are some steps that Social Security recipients should prepare for what may come next. 
What Exactly Is the Debt Ceiling?
The debt ceiling represents the maximum amount of money that the U.S. can borrow. The limit is specified by law. As the U.S. finances most of its payments through borrowing, the debt limit is critical, as when it is reached, it means the country can no longer pay all of its bills. Although the comparison isn't perfect, it might help if you think of the debt ceiling like the limit on your credit card. Once you've borrowed the maximum, your issuer will cut you off and you won't be able to spend any more.  
Are You Retirement Ready?
One thing to note is that raising the debt ceiling doesn't provide Congress with a blank check to incur new spending. The debt limit is used to cover payments that Congress has already authorized.
Check Out: Experts Propose Tax Cap as Social Security Solution — Which Americans Would Be Most Affected?
What Will Happen to Social Security Payments If No Deal Is Reached?
The consequences to Social Security recipients and indeed the economy as a whole will be devastating if no deal is reached. Depending on the day of the month you were born — and a few other variables — your next payment is due to arrive either June 2, June 14, June 21 or June 28. Each of these payments will cost the U.S. government about $25 billion. While Social Security payments are paid in large part by payroll taxes, the actual process of paying them out is a bit more complicated. The bottom line is that if a debt limit deal isn't reached, Social Security payments — and many others — may be delayed or reduced. 
The catastrophic consequences of this situation would begin with a big economic hit for a wide swath of Americans. According to data from the National Committee To Preserve Social Security and Medicare, nearly two-thirds of Americans rely on Social Security for half of their income. Even worse, for about 40% of Americans, Social Security represents at least 90% of their income. Without these payments, many Americans will struggle to buy groceries and keep the lights on.
Does the Treasury Have Any Other Options?
While the U.S. Treasury technically might have a few moves up its sleeves, none of the options are very attractive, and some are not feasible. One option would be for Congress to designate additional borrowing used to pay Social Security payments as not subject to the debt limit. But the political stalemate in Washington makes it unlikely for this to occur. Another option would be to prioritize payments to Social Security recipients. But in addition to this meaning that certain essential government obligations would remain unfunded, in the words of Congressional Budget Office director Phillip Swagel, "it would be technologically challenging."
Are You Retirement Ready?
How Can Social Security Recipients Prepare?
In light of these potential consequences, Social Security recipients should protect their cash as much as possible. For the time being, as much as you can, conserve your money by spending as little as possible. Depending on your lifestyle, this could mean completely shutting down discretionary expenses, such as eating out, going to the movies or taking a vacation. You'll also want to look at cutting out whatever services you can for the time being, from downgrading or suspending your streaming subscriptions to turning off your thermostat as much as possible. Another option is to talk with your creditors about getting even a 30-day grace period to make your payments, which is often granted without any penalties.
Although none of these are good long-term solutions, it's likely that even if no debt ceiling agreement is reached by June 1, the situation will resolve itself shortly thereafter. In that case, any of your delayed payments should be reinstated relatively quickly. 
More From GOBankingRates
Are You Retirement Ready?
Are You Retirement Ready?