Social Security, SNAP Benefits Likely Among First Casualties If Debt Ceiling Leads to Default, Experts Warn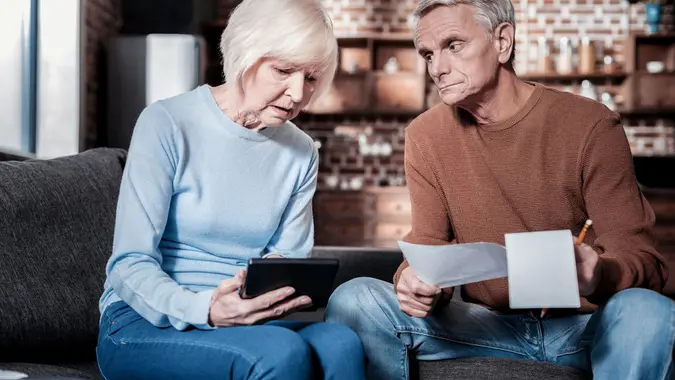 Zinkevych / Getty Images/iStockphoto
Despite hopeful signs that U.S. lawmakers are moving closer to a debt-ceiling agreement, there still was no agreement as of Monday, May 22. If none is reached over the next week-and-a-half, the U.S. government could default on its debts — and programs like Social Security and food stamps might face spending cuts, according to a new analysis from the Bipartisan Policy Center.
The analysis, updated on May 23, determined that a default could impact federal spending in numerous areas, ranging from veterans' benefits and Medicare/Medicaid to tax refunds, education programs and federal salaries. The BPC also found that there might not be enough money to fully fund Social Security and food stamps, formally known as the Supplemental Nutrition Assistance Program (SNAP).
The BPC analyzed select federal government transactions scheduled to begin on June 1, 2023 — the date Treasury Secretary Janet Yellen warned that the government might run out of money. These programs were selected because they could be among the first at risk in the event of a default.
Are You Retirement Ready?
For example, an estimated $25 billion in Social Security benefits are scheduled for four different dates in June — June 2, June 14, June 21 and June 28 — totaling $100 billion for the month. Also in June, $1 billion in SNAP benefits are scheduled for both June 12 and June 20, for a monthly total of $2 billion.
The BPC noted that "these are select transactions chosen for illustrative purposes given their magnitude and are not exhaustive of all cash flows on a particular day." They are based on "daily Treasury statements, subject to significant uncertainty and variability of cash flows" to determine which federal programs are the most vulnerable.
The BPC does not state that these programs will face cuts in the event of a default — only that they could.
"Realistically, on a day-to-day basis, fulfilling all payments for important and popular programs (e.g., Social Security, Medicare, Medicaid, defense, military active duty pay) would quickly become impossible," the BPC report said, adding that "the reality would inevitably be chaotic." That reality would likely include the following:
Unfair results, unanswered questions
Treasury picking winners and losers
Public uproar
Financial market uncertainty
Are You Retirement Ready?
As The Washington Post noted, the U.S. has never defaulted on its debt, so it's impossible to say exactly what will happen.
However, experts contacted by The WaPo said the Treasury Department "may not have legal authority" — or even the technical ability — to "pick and choose" which payments it wants to make, or to prioritize certain bills over others. Attempts to do so would likely be challenged in court.
"The Treasury faces three requirements: to make payments to contractors, states, and individuals; to honor the debt; and to observe the debt limit," Robert Cumby, an economist at Georgetown University, told The WaPo. "Once the debt limit is breached, it is impossible to do all three."
Given the stakes, it's not surprising that leading U.S. lawmakers are scrambling to work out a deal on the debt ceiling. President Joe Biden met with House Speaker Kevin McCarthy (R-Calif.) on Monday to resume negotiations, but those talks did not end in an agreement, Reuters reported.
Take Our Poll: Are You Concerned About the Safety of Your Money in Your Bank Accounts?
The two sides vowed to keep meeting. At issue is whether a bill to raise the debt limit should include spending cuts — something most Republicans support but most Democrats oppose.
Are You Retirement Ready?
More From GOBankingRates
Are You Retirement Ready?