Social Security Increases in 2024 Could Be So Low It Will Shock Seniors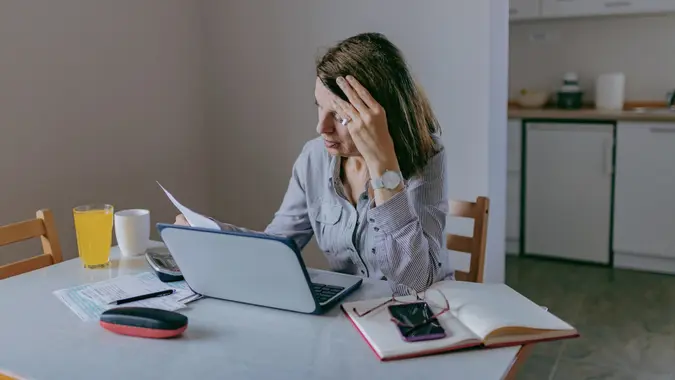 PredragImages / Getty Images/iStockphoto
Despite everyday costs remaining high, a declining inflation rate is good news to many Americans who are finally regaining their purchasing power. However, those who rely on Social Security benefits may be adversely affected by inflation's steady slide with a much smaller cost-of-living adjustment (COLA) increase for 2024.
According to a forecast from the Senior Citizens League, the COLA for 2024 could be 3%. This estimate is far below the four-decade high of an 8.7% COLA in 2023, but optimistically slightly higher than the nonprofit senior group's 2024 COLA prediction of a 2.7% increase released last month.
The aim of COLA is to assure the more than 65 million Americans who receive Social Security and Supplemental Security Income (SSI) benefits that their purchasing power will not be destroyed by inflation.
However, because COLA is determined in October of the prior year to when it's implemented, wild inflation hikes, like what we experienced in the first half of 2022, can significantly cut the purchasing power of those on Social Security.
With consumer prices remaining stubbornly high, the gradual decrease in inflation since June 2022 helps Americans only so much. Seniors are going to have to rely on smaller raises in average monthly benefits when 2024 starts.   
Before seasonal adjustment, the Consumer Price Index for All Urban Consumers (CPI-U) increased 3.0% over the last 12 months, putting the current inflation rate of 3% at its lowest level since March 2021.
Despite this, many price indexes are still high and rising and with the 5.9% COLA for 2022 falling far behind inflation levels last year, many seniors are still struggling to pay for gas, groceries, utilities and more this year.
Are You Retirement Ready?
According to the Social Security Administration (SSA), the cost-of-living adjustment is based on the percentage increase in the Consumer Price Index for Urban Wage Earners and Clerical Workers (CPI-W) during the third quarter of the current year divided by the third quarter CPI-W of the previous year. If there is no resulting increase, there will be no increase in next year's COLA.
There is no danger of a 0% COLA, but a 3% COLA would raise the average monthly benefit of $1,837.29 for June by only $55.12, to $1,892.41, per The Motley Fool. Using average monthly payments for June, spouses, survivors and disabled workers would get an extra $26.79, $43.56 and $44.59 respectively.
These extra monthly benefits won't go far if inflation rises again in 2024, if consumer prices for everyday products continue to surge and if Medicare Part B premiums sap more from beneficiaries' Social Security payments than expected.   
Medicare Part B premiums for 2024 have yet to be announced, but in March 2023, the Medicare Trustees annual report projected monthly Part B premiums to increase $9.90, from $164.90 in 2023 to $174.80 in 2024. The risk is that Part B premiums exceed the amount that COLA increases, which may significantly impact Social Security beneficiaries, especially those with the lowest monthly benefits.
Of course, a perfect storm of inflation, COLA and Medicare Part B premiums could produce a fortunate combination for those collecting Social Security benefits in 2024, as it did during the first half of 2023, when the CPI-W increased by 4.5%, 4.2% less than the 8.7% COLA.
Are You Retirement Ready?
However, given the economic realities American have been dealing with over the past few years and the potential of unpredictable costs driving up Medicare Plan B premium, many experts and advocates, including the Senior Citizens League, are thinking the financial challenges facing seniors receiving Social Security benefits will continue in 2024.
More From GOBankingRates