What You Need To Know About Social Security if You Remarry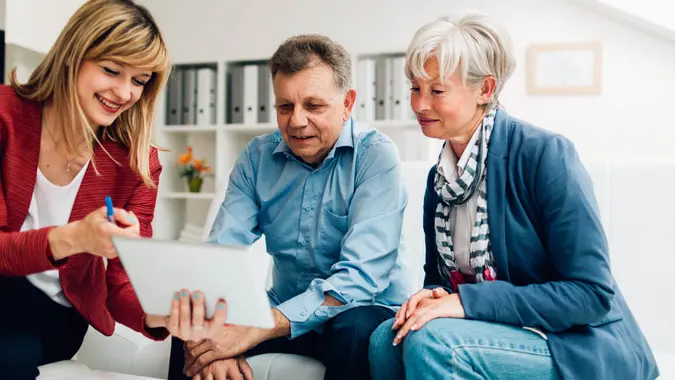 vgajic / Getty Images
Social Security is more than just a retirement income plan. In addition to disability and children's benefits, Social Security also pays spousal and survivor benefits.
Advice: 9 Bills You Should Never Put on Autopay
More: 6 Household Staples That Are a Waste of Money
However, the math behind these benefits, which can be a bit confusing on its own, takes on an extra layer of complexity if you divorce and then remarry. Although you'll likely want to speak with a tax advisor or the Social Security Administration directly if this applies to you, here are the broad strokes about Social Security benefits you should know if you remarry.
What Are Spousal Benefits?
When you file for Social Security benefits, you're always entitled to the highest benefit allowable. As a spouse, you're entitled to the higher of your own benefit, based on your previous work record, or up to 50% of that of your spouse.
This spousal benefit has no impact on the primary beneficiary's payout. In other words, if your spouse is entitled to a $2,000 monthly benefit, you may qualify for up to $1,000 in spousal benefits yourself, even if you never worked a day in your life. Combined, you would receive up to $3,000 as a couple.
One of the most interesting provisions of the spousal benefit is that it applies even if you are divorced, as long as you were married for at least 10 years and you are at least age 62, which is the minimum age you can file for retirement benefits.
As you'll see below, however, the rules for spousal benefits change if you get remarried.
Take Our Poll: Do You Think Student Loan Debt Should Be Forgiven?
What Are Survivor Benefits?
If your spouse is entitled to Social Security retirement benefits and passes away, you are entitled to survivor benefits as a widow or widower. You can claim these benefits as early as age 60, in which case you'll receive 71% of the deceased's benefit.
If you wait until full retirement age, which for those born in 1960 or later is 67, then you'll be entitled to 100% of the deceased's benefit. As with spousal benefits, you are still entitled to survivor benefits on your ex-spouse's record as long as you were married for at least 10 years. If you still live with your spouse, you may also be eligible for a one-time $255 death benefit.
As the survivor benefit is typically higher than the spousal benefit, you can switch your claim if your spouse passes away after you begin receiving your spousal benefits. As with spousal benefits, the rules for survivor's benefits can also change if you remarry.
How Remarriage Affects Your Benefits
If you choose to get remarried, your Social Security benefits will change. For starters, as soon as you remarry, you are no longer entitled to the spousal benefits of your ex-spouse. Rather, you will be attached to the benefits structure of your new spouse. The same is true regarding your survivor's benefits, which also vanish once you remarry. 
However, one important thing to note is that if you remarry at age 60 or later, you can still claim survivor's benefits based on your ex-spouse's record. And if you remarry before age 60 but that marriage later ends in divorce, you may once again become entitled to survivor's benefits based on your original deceased spouse's earnings record.
Social Security Claiming Strategies for Ex-Spouses
If you will ultimately qualify for retirement benefits based on your own work record, one strategy is to claim survivor's benefits at age 60 and then wait until age 70 to switch those benefits to your own retirement benefits. By waiting until age 70, your own retirement benefit will grow by 8% per year from age 67 to age 70, but in the meantime you'll be drawing survivor's benefits while you wait for those credits to kick in.
Bear in mind, however, that this only applies if you were still married to the now-deceased spouse or if you got remarried after age 60.
Time-related strategies can also enhance your benefits. For example, if you're considering divorce after eight or nine years of marriage, holding off until the 10-year cutoff can make you eligible for spousal benefits. Similarly, if you get divorced but can wait to remarry until age 60, you'll keep your eligibility for survivor's benefits based on your former spouse's work record.
More From GOBankingRates