Apple Bank for Savings Review: Top Rates for CDs and Savings
GOBankingRates Score
Apple Bank
Our Take: Apple Bank for Savings is a bank holding company with the biggest advantage being their competitive interest rates it offers on certificates of deposit. It also boasts an impressive roster of banking products and a strong regional presence in the New York City area.
Rates
Customer Service
Breadth of Products
Locations
How did we calculate this?
Pros
Wide branch and ATM availability in and around New York
High CD rates compared with other banks
Can open accounts by phone, mail or in-branch
Cons
No option to open accounts online
High minimum balance required to avoid fees and earn the highest APY
About Apple Bank
Apple Bank for Savings, or Apple Bank for short, opened its doors in 1863 as Haarlem Savings Bank. In 1983, the bank merged with Central Savings Bank to form Apple Bank. It remains a popular neighborhood bank best known for its variety of products and high CD rates. In fact, GOBankingRates has ranked it as one of the Best Money Market Accounts of 2021 in its annual rankings.
Apple Bank Products
Apple Bank for Savings offers many of the same products and services you'll find at other financial institutions. In addition to deposit accounts, the bank offers loans, retirement savings and insurance. Here's an overview:
Product
Features
Checking Accounts

Nominal maintenance fees that can be waived
Free online banking and mobile bill pay
Mobile remote deposit available

Savings Accounts

Competitive interest rates
Interest compounds daily
Automatic savings plans available

CDs

Competitive interest rates
Terms range from 32 days to 10 years
Interest compounds daily

Money Market Accounts

Unlimited deposits and withdrawals at Apple Bank branches and ATMs
Write up to six checks per month
Competitive interest rates

Credit Cards

Variety of cards available
Online account access

Retirement

Traditional and Roth IRAs
SEP and QRP plans available

Insurance
Apple Bank for Savings offers a full range of traditional banking products as well as insurance and retirement accounts. Keep reading to learn more.
Apple Bank Checking Accounts
Apple Bank has five different checking accounts that come with a standard collection of freebies. You get a free first order of personalized checks, an Apple Bank Visa debit card and online banking capabilities.
Features
Minimum opening deposit ranges from $10 to $100
APY of 0.01% for interest-earning accounts
No minimum balance requirement for free, basic and student checking
Can waive maintenance fees for GoldValue NOW and Grand Yield NOW accounts
Free transactions at Apple Bank ATMs
Pros:
Multiple checking account types to suit any customer
Interest-bearing options
Totally free checking account options
Cons:
High non-Apple ATM fees for most accounts
High minimums to avoid fees on some accounts
Apple Bank Savings Accounts
Apple Bank for Savings' customers get access to five different savings accounts that can assist in building wealth. Some of the yields are quite high for savings accounts.
Features
Minimum opening deposits range from $1 to $2,500
Accounts earn interest with balances as low as $5
Tiered interest rates with select accounts
Can link some accounts to checking for a Visa debit card and access to online and mobile banking
Pros:
No checking account required
High yields on some accounts
Interest compounds daily
Cons:
High balance requirement to avoid fees on some accounts
High minimum balance to earn interest on best-yielding accounts
Apple Bank Money Market Accounts
Apple Bank for Savings offers two types of personal money market accounts: the Treasury Bill Indexed Money Market account and the Apple Bank Money Market account. The accounts are 100% liquid and allow for unlimited deposits and withdrawals at any Apple Bank branch or ATM. GOBankingRates has ranked it as one of the Best Money Market Accounts of 2021.
Features
Minimum opening deposit of $100 or $10,000
A maintenance fee of $10 applies to accounts that don't meet minimum balance requirements
Tiered interest rates
APY ranges between 0.05% and 0.40% depending on the account and balance
Pros:
100% liquid
Competitive yields
No checking account required
Cons:
High minimums to open
High minimums to avoid $10 monthly fee
Apple Bank CD Accounts
Apple Bank for Savings offers CDs that range from as little as 32 days to as much as 10 years. Yields are high compared with other banks. All CDs come with early withdrawal penalties.
Features
Minimum deposit of $1,000
APY of 0.25% to

0.01%

Terms from 32 days to 10 years
Pros:
Highly competitive interest rates
Interest compounds daily
Cons:
High withdrawal penalties
Banking Experience
Banking with Apple Bank for Savings is easiest if you live in New York near one of its branches. If you don't live in New York, you can open an account by mail or use online banking.
Customer Service
Apple Bank's CustomerLine call center is open from 8 a.m. until 8 p.m. EST, Monday through Friday. The line is also available on weekends from 8 a.m. until 2 p.m. The direct number for this line is 914-902-2775.
Accessibility and Branch Availability
Apple Bank has around 80 physical branches in the Greater New York area. Contact the branch directly for the most current information about hours and availability. Hours are subject to change due to inclement weather and COVID-19 restrictions.
Phone service at branches is typically available from 9 a.m. until 3 p.m., Monday through Friday.
Mobile and Digital Experience
Apple Bank for Savings has a mobile app for Apple and Android devices. The app has a customer rating of 4.4. out of 5 on the App Store and a rating of 4.5 out of 5 on the Google Play Store.
The app offers several security features to protect your information. It doesn't save user IDs and passwords. It also times out automatically if you stop using the app before logging out.
Convenience
You can open an Apple Bank account by visiting a physical branch. You'll need to provide your Social Security number or Tax Identification number along with your driver's license or passport and one other form of identification.
If you cannot visit a physical branch, you can open an account by mail. Download the account opening forms for the account you want to open. Next, send the completed form, signature card and a check for the opening deposit to the address included in the packet.
Key Information
Apple Bank Fees
Most Apple Bank for Savings deposit accounts come with monthly maintenance fees, though some can be avoided by meeting minimum balance requirements. There are also fees for using non-Apple ATM transactions. Here's more:
Monthly maintenance fees: $3-$10
NSF fee: $35
Non-Apple ATM transaction: $2
Next-day processing funds transfer of outbound transactions: $8.95
Many of these fees are easy to avoid if you don't use the services. You can avoid the maintenance fee on select accounts by meeting minimum balances.
Apple Bank vs. Competitors
Before deciding on a bank, it's always a good idea to see how it stacks up against the rest of the field. Here's a quick look at how Apple Bank for Savings compares with competitors:
| Bank | Best For |
| --- | --- |
| Apple Bank for Savings | New York residents who want competitive interest rates on savings products and a full lineup of products |
| Chase | Customers who want the convenience of nationwide branches |
| TD Bank | East coast customers who frequently use ATMs |
Apple Bank for Savings vs. Chase
Apple Bank for Savings offers higher interest rates on savings accounts and certificates of deposit than large national banks like Chase. However, Chase is a better choice for customers who don't live in New York and prefer having access to a physical branch.
Apple Bank for Savings vs. TD Bank
Apple Bank for Savings is a good option if you want the level of customer service that comes with a regional bank. If you use ATMs a lot, consider a bank like TD Bank, which boasts a larger ATM network and ATM fee rebates.
Is Apple Bank Good?
Apple Bank is a great bank for those looking for competitive CD rates. The bank offers savings and money market accounts that pay comparatively high yields as well. While New Yorkers might have a convenience advantage because of their proximity to branches, out-of-towners can also take advantage of what Apple Bank has to offer thanks to its online and mail-in options.
Apple Bank provides a full range of products and services, and it's easy to get started by filling out a form online or visiting a branch in person.
Editor's Favorite

Apple Bank's Youth Savings account is an excellent savings vehicle for younger folks. They can open an account for as little as $1 and start earning an impressive 3% APY when the balance hits $5. With no monthly maintenance fees and high APY, these accounts let young customers grow their money even faster.
Apple Bank FAQ
Here are answers to some of Apple Bank's more commonly asked questions.
Is Apple Bank FDIC insured?

Yes, Apple Bank is a member of the FDIC, and deposits are insured up to the maximum allowable limits.

How many branches does Apple Bank have?

Apple Bank for Savings has about 80 branches in greater New York. This includes Manhattan, Brooklyn, Staten Island, Bronx, Queens, Westchester, Suffolk, Nassau and Rockland.

Does Apple Bank have Quick Pay?

Yes, Apple Bank offers Quick Pay as part of its Bill Pay Service. Quick Pay is a streamlined service that lets you make payments quickly and see pending and processing payments.

Who owns Apple Bank for Savings?

Apple Financial Holdings owns 100% of Apple Bank.

Does Apple Bank offer free money for signing up for an account?

Apple Bank does occasionally offer free money for people who sign up for an account, but it is not currently advertising one. However, you can earn some extra cash if you sign up for a BONUS Savings account. With this account, you get a 0.25% interest bonus each year on your one-year anniversary as long as you have a minimum balance of $2,500.
This article has been updated with additional reporting since its original publication.
Rates are subject to change; unless otherwise noted, rates are updated periodically. All other information on accounts is accurate as of Dec. 17, 2020.
This content is not provided by Apple Bank. Any opinions, analyses, reviews or recommendations expressed in this article are those of the author alone and have not been reviewed, approved or otherwise endorsed by Apple Bank.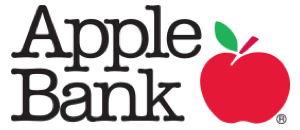 Take Advantage of our Best Offer(s)