Apple Bank CD Rates for March 2023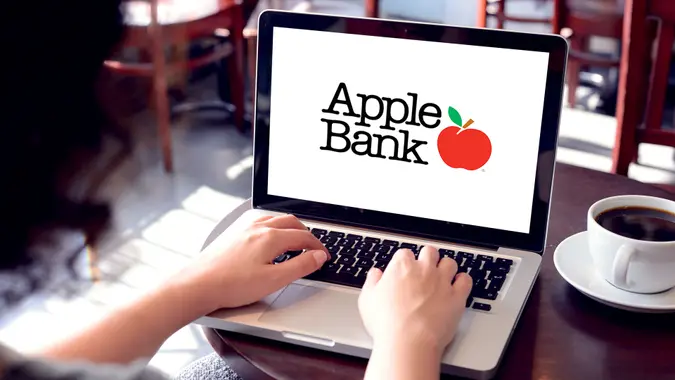 hocus-focus / Getty Images/iStockphoto
Savers looking to take advantage of recently raised interest rates are wise to look into a certificate of deposit, or CD. These deposit accounts typically provide a higher interest rate than a traditional savings account, in exchange for the depositor's commitment to leave the money invested for a specific period of time, known as the term.
What Are the CD Rates at Apple Bank?
The key to successfully investing in CDs is to find the highest possible interest rate and to choose a term during which you think rates will not increase significantly. So where can you find the highest CD rates? Rates change all the time, but Apple Bank typically has good rates, so it's a good place to start.
Apple Bank offers 10 terms between three months and five years.
| Term | APY |
| --- | --- |
| 3 months | |
| 6 months | |
| 9 months | |
| 1 year | |
| 15 months | |
| 18 months | |
| 2 years | |
| 3 years | |
| 4 years | |
| 5 years | |
Minimum Opening Balance
There's a $1,000 minimum balance required to open a CD at Apple Bank.
Early Withdrawal Penalty
As with most CDs, Apple Bank charges a penalty if you withdraw your funds before the term is up.
At Apple Bank, the early withdrawal penalty is $50 plus 1% of the withdrawal amount if the term is less than a year, or $50 plus 3% of the withdrawal amount if the term is a year or longer.
For example: Suppose you deposit $1,000 in a 9-month CD but withdraw the funds after six months. You'll pay a penalty of $50 plus 1% of the $1,000 you withdrew, or $60. Or, if you deposit $10,000 in a 3-year CD and withdraw the funds after two years, you'd pay a $350 penalty — that's $50 plus 3% of the amount you withdrew.
When choosing the term for your Apple Bank CD, make sure you will be able to keep the funds in the account until the end of the term to avoid paying a penalty that could wipe out your interest — or more.
Some Things To Know About CDs
Before you buy a CD, there are a few things you should know.
You're Committing to the Term
If you buy a CD and you withdraw the money before the term is up, you will pay a penalty. Most banks charge a penalty that is equal to a certain number of months of interest — usually three months, six months or more, depending on the term of the CD. Some banks, like Apple Bank, have different terms for their penalties, so make sure you read the fine print.
If you're interested in buying a CD but don't want to worry about the early withdrawal penalty, look into a no-penalty CD — though you can't currently get one at Apple Bank.
Your Interest Rate Won't Change
The idea behind a CD is that the interest rate is fixed for the term of the certificate. If interest rates rise, your rate stays the same. By the same token, if rates fall, you'll still get the higher rate.
One way to take advantage of changing rates while still enjoying the security of CDs is to create a CD ladder. To do this, purchase several CDs of varying terms. When each CD becomes due, you can roll the money into a longer-term CD. You'll then have a CD maturing each year, which you can withdraw or reinvest at the current interest rate.
Your CD May Automatically Renew
When your CD matures, you can either take the money out or it will automatically renew for the same term, at the current rate. If you don't want your CD to renew, you need to withdraw the money within 10 calendar days after the maturity date, so make sure you keep track of your maturity date.
Special Conditions for IRA CDs
There are some special considerations if your CD account is an IRA. In the year you turn 70½, and each year after that, you can withdraw up to 20% of the principal in the CD, in accordance with Internal Revenue Service reporting regulations.
How To Open a CD at Apple Bank
You can open a CD account at an Apple Bank branch or online. To open an account, you'll need your personal information, including your name, address, social security number, email address and mobile phone number. You'll also need a driver's license or passport or other government-issued ID.
If you want to go to a branch, you can make an appointment online ahead of time so someone will be ready to help you when you get to the branch. Apple Bank branches are located in New York — in Manhattan, Brooklyn, the Bronx, Queens, Staten Island, Westchester, Suffolk, Nassau and Rockland — and New Jersey.
Final Take
Choosing the right CD is an important decision, as your choice can affect the amount of money your savings will earn, sometimes for years to come. With consistently high rates and a variety of terms, Apple Bank is certainly worth a look when comparing certificates of deposit.
FAQ
Here are the answers to some common questions about CD rates.
Who has the highest paying CD right now?

The bank that offers the highest paying CD varies depending on which term you're looking at, but Popular Direct, First Internet Bank and Synchrony Bank are among those offering high rates across the board.

Who has the highest 12-month CD rate?

One of the best 12-month CD rates you can get right now is from Popular Direct.

Can you get 6% on a CD?

No, there are currently no financial institutions in the U.S. that offer 6% APY on a CD.
Rates are subject to change; unless otherwise noted, rates are updated periodically. All other information on accounts is accurate as of Feb. 28, 2023.
Editorial Note: This content is not provided by any entity covered in this article. Any opinions, analyses, reviews, ratings or recommendations expressed in this article are those of the author alone and have not been reviewed, approved or otherwise endorsed by any entity named in this article.