Citizens Bank CD Rates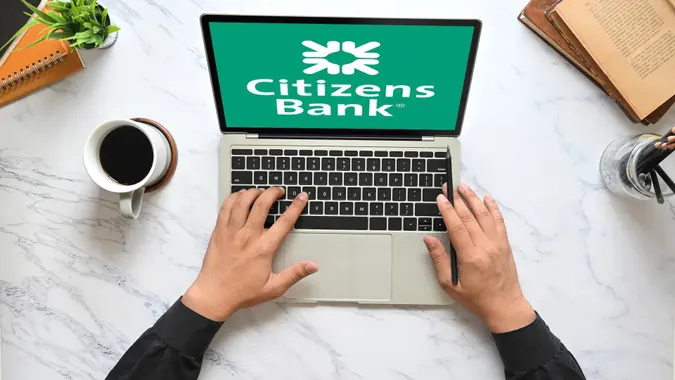 PrathanChorruangsak / Getty Images/iStockphoto
Citizens Bank operates about 1,100 branches in 14 eastern states and Washington, D.C., but its limited geography doesn't mean it's not a major financial institution. In fact, the Rhode Island-based bank is one of the oldest and largest in the U.S., boasting $226.7 billion in assets as of the end of 2022. Its integrated experience includes a full range of banking products, mobile and online banking and a 24/7 customer contact center, and Citizens Bank serves clients ranging from individuals to large corporations.
In addition, Citizens Bank offers certificates of deposit. Use the chart below to review the CD rates you'll find at Citizens, then dive deep and decide if this bank offers the best CD option for you.
What Are the Current CD Rates at Citizens Bank?
Citizens Bank's CD rates are lower than what you will find at some traditional brick-and-mortar banks and especially online banks as you shop around for rates. If you want to open your account online, you have just one option. Opening anything other than the 14-month CD will require a trip to your local branch. Here is a quick look at the different CD term lengths the bank offers and the rate you can expect with each:
| Type | Terms | Rate | Minimum Deposit |
| --- | --- | --- | --- |
| Online-Only 14-Month CD | 14 months | APY | $1,000 |
| Standard CD | 3-60 months | 0.03% APY | $1,000 |
Who Are Citizens Bank CDs Best For?
Citizens Bank CDs are best for those who already bank at Citizens Bank because of convenience. However, an existing bank relationship is not a requirement to open the online-only 14-month CD.
Here are the pros and cons of Citizens Bank CDs.
Pros
Brick-and-mortar locations
Online and mobile banking
Cons
Low standard CD rates
Scant information on website; branch visit required for more details
Branches limited to 14 states and Washington, D.C.
$1,000 minimum deposit
Early withdrawal penalties
Who Might Want To Open a Citizens Bank CD?
The online-only 14-month CD strikes a good balance between interest and accessibility. It could be an excellent addition if you're looking to ladder your CDs across multiple banks.
A Citizens Bank CD might be a good fit for funds you'll need in a year or two down the road if you live in the service area for Citizens Bank and you prefer in-person interactions. These CDs could also be a good fit if you are retiring soon or are already retired and you don't want to deal with market risk. You might also prefer supporting and working with a regional bank. With Citizens, you can visit a branch and get to know the people who handle your money.
Who Might Want To Pass on Citizens Bank's CD Options?
Anyone strictly looking for the best CD rates might want to pass on Citizens Bank. Many online-only banks offer higher CD rates.
Also, if you have a simple question — such as "What is the 15-month CD rate at Citizens Bank?" — you won't find answers on the website.
Another reason to pass is if you think you'll need your money sooner rather than later, as all Citizens Bank CDs have early withdrawal penalties.
Those saving for the long term might want to explore different options as well. Even though it's tempting to pull money out of the market in a time of volatility, when you have a significant amount of time before you need your funds, it makes sense to consider investments like stocks or mutual funds. As with any financial decision, consult an experienced professional if you need advice.
How To Open a Citizens Bank CD
You can go to the Citizens Bank website to open a 14-month CD. To open a Citizens Bank CD with another term length, you can visit a branch. Here's what you'll need to apply:
Your Social Security number
A government-issued ID
Current contact information
A check to pay the opening deposit
Only U.S. citizens and resident aliens who are at least 18 may apply.
Jami Farkas contributed to the reporting for this article.
Rates are subject to change; unless otherwise noted, rates are updated periodically. All other information on accounts is accurate as of March 22, 2023.
Editorial Note: This content is not provided by any entity covered in this article. Any opinions, analyses, reviews, ratings or recommendations expressed in this article are those of the author alone and have not been reviewed, approved or otherwise endorsed by any entity named in this article.