Can You Have Too Many Checking Accounts?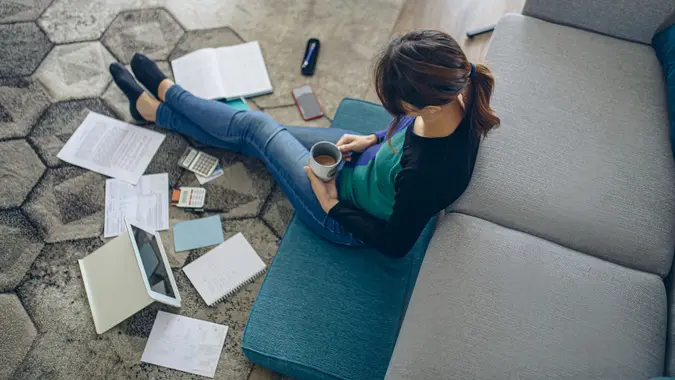 Milan_Jovic / iStock.com
If you need and can manage multiple accounts, more than one checking account might be appropriate for you and your family's finances.
See the List: GOBankingRates' Best Banks of 2023
More: Here's How Much Americans Have in Their Savings Accounts in 2023
A checking account provides you easy access to your money for making payments by either writing checks or, the more popular method, by using a debit card. According to a recent GOBankingRates survey, 91% of Americans currently have a checking account. And 56% of Americans are willing to have multiple accounts across different banks.
If you're thinking about opening multiple checking accounts, consider these pros and cons. Whether you choose to have one checking account or several, look for a free checking account with no minimum balance. 
Pros of Having Multiple Checking Accounts
Keep Business and Personal Finances Separate
If you own a small business or are self-employed, multiple checking accounts lets you separate personal funds and payments from business transactions. If you operate as a sole proprietor, separate accounts provide useful records should your business when tax season rolls around or if you are audited by the IRS. If you shop around for a new checking account, you'll find free business checking accounts so you don't accrue extra expenses.
Earn Perks With A New Checking Account
Help You Manage Your Family Finances
Couples could benefit by establishing a joint checking account which permits either partner access to the funds. This would ensure that money is available to pay for and manage the household expenses while eliminating the need for either couple to pay for these expenses from their personal accounts. This can be a helpful tip, especially if you have just moved in with your significant other and are figuring out how to manage all your shared living costs.
Live Richer Podcast: Scamdemic – Don't Fall Victim to These Money Scams
Help You Establish Credit
While checking accounts don't contribute directly to your credit history, credit applications that request information about your bank accounts do. If you have more than one checking account, it won't be viewed by creditors as having too many bank accounts. Instead, it demonstrates to potential lenders that you have money management skills, according to Wells Fargo.
Don't Lower Your Credit Score
Unlike too many credit cards, multiple checking accounts don't directly affect your FICO score or your ability to obtain credit. This is true, even if you don't handle them responsibly and end up overdrawing or having other problems. In terms of affecting your credit score, this means you can't have too many bank accounts.
Earn Perks With A New Checking Account
Cons of Having Multiple Checking Accounts
More Accounts To Balance
You must reconcile your checking account each month, comparing the checks, debits, and other financial transactions against the available balance to make sure everything is correct. It takes more time to do this if you manage multiple accounts. Using personal financial software could help reduce the burden.
Higher Chance of Overdrawing an Account
Overdrawing your checking account costs money, even if you have overdraft protection. The check will either be returned to the payee, incurring a fee for you, or you'll pay overdraft protection fees. It can be a costly nightmare when it all adds up. When you manage multiple accounts, you have more balances to monitor, which raises the chance of accidentally using the wrong account. Too many returned checks could cause the bank to close your account, an outcome you want to avoid if possible.
Negative Impact From a Bad Debit History
If you have trouble handling multiple checking accounts, your history of returned checks and closed banks accounts will show up on check verification services and consumer reporting agencies like ChexSystems. A bad history could result in stores refusing to accept your checks and other banks declining your application for a new checking account.
Earn Perks With A New Checking Account
Greater Risk of Becoming a Fraud Victim
In 2021, the Javelin Identity Fraud Report found that "losses involving identity fraud scams–involving direct contact with victims by criminals–totaled $28 billion and affected 27 million consumers in the United States." Carefully checking your bank account statements for items such as unrecognized payments and checks that are out of sequence helps you detect fraud early. This consumes more time if you have multiple checking accounts which can be a big hassle if you have personal and business accounts.
Can You Really Have Too Many Checking Accounts?
Only you can decide if multiple checking accounts, or just one, is the right choice for you. Carefully consider these pros and cons, and then determine if maintaining more than one checking account is suitable for you.
More From GOBankingRates
Barb Nefer contributed to the reporting for this article.
Earn Perks With A New Checking Account