Idaho Central Credit Union Review: Affordable Banking for Idaho and Washington Residents
GOBankingRates Score
Idaho Central Credit Union
Quick Take:
While some credit unions make becoming a member somewhat difficult, anyone who lives or works in Idaho or Washington can join Idaho Central Credit Union and access its wide range of products for low fees.
This
Idaho Central Credit Union review
provides all the info you need to decide if the financial institution is right for you. 
Community Presence
Digital Banking
Customer Service
Fees
How did we calculate this?
Pros
Easy to join

Wide variety of deposit accounts, as well as credit cards and loans

Competitive rates on loans and savings
Cons
Membership limited to people living in Idaho, Washington and Eastern Oregon
Overview of Idaho Central Credit Union
Idaho Central Credit Union is on the list of the GOBankingRates Top 100 Banks of 2022. The credit union is headquartered in Chubbuck, Idaho and became state-chartered in 1940. There are 40 branches in the state serving 500,000 Washington and Idaho members. Besides branch ATMs, members can make withdrawals at 30,000 CO-OP machines.
Idaho Central Credit Union Product Details
Here are more details on the top bank account categories from Idaho Central Credit Union.
Idaho Central Credit Union Checking Accounts
ICCU's checking accounts break down into Free checking or Money Market checking. Free checking is the basic, fee-free option with no account minimums. [x] The Money Market account is ideal for higher-balance holders looking to earn some interest.
Money Market checking earns 0.05% to 0.10% APY depending on your balance and comes with a free safety deposit box. Either checking account includes free ATM withdrawals and deposits at 30,000 ATM locations. However, Money Market checking customers should maintain a balance of $2,500 or they'll be charged a $10 monthly fee.
Idaho Central Credit Union Savings Accounts
Idaho Central Credit Union's savings accounts are comprehensive with five accounts for youth and adult account holders. There are no fees or minimums for Central Cents, Youth or Choice accounts. Share and Secondary savings accounts have a $300 minimum balance if you'd like to earn interest. You can earn 0.05% to 0.15% APY based on your balance. To access the highest yield, open the Choice savings account and maintain at least $1,500.
There aren't monthly service fees associated with the savings accounts. However, federal law limits withdrawals to six per month, with excess ones charged at $2 each.
Idaho Central Credit Union Money Market Account
A money market account combines the interest-earning power of a savings account with a bill-paying feature you'd find in most checking accounts. ICCU's Money Market savings comes with free checks and six free withdrawals per month. It has a higher balance requirement of $2,500 to avoid the $15 monthly fee but you'll earn 0.10% to 0.15% APY, starting at balances of $2,500.
Idaho Central Credit Union CD Accounts
Idaho Central Credit Union offers CDs to lock in a guaranteed interest rate for a term of three to sixty months. You can earn between 0.05% and 0.45% APY on a standard CD.
To get the highest CD rates, commit to the longest term you can or choose the promotional term of 6, 12, 24 or 60 months for special rates of 0.20% to 0.70%. You can start with a $500 minimum for all terms and make one additional deposit within the first 60 days.
Best Features of Idaho Central Credit Union
See how GOBankingrates evaluated the top features from Idaho Central Credit Union.
Community Presence
What sets Idaho Central Credit Union apart is its strong community presence. 40 branches serve 500,000 Washington and Idaho members.
Digital Banking
Digital banking with ICCU is also solid, with a robust mobile banking app available and a user-friendly website.
Customer Service
The credit union's combination of low fees, physical branches and strong digital tools make for a solid customer experience.
Fees
Idaho Credit Union's fees are comparatively low. Overdraft fees are $24.94 while most banks average around $35.
Editor's Favorite

Idaho Central Credit Union's Free Checking account offers everything you've come to expect, including a Visa debit card, free direct deposits and online bill pay without the hassle of fees or bank minimums.
Banking Experience
The typical Idaho Central Credit Union review from a member mentions the functional, user-friendly mobile app and the personal service received at a branch. Banks are rarely strong in both digital and in-person banking, but ICCU seems to do both well. Here's more.
Customer Service
You have options when you need help or have questions about ICCU products or services. Here's what to do:
Call 1-800-456-5067 weekdays from 7 a.m. to 7 p.m. MST or Saturdays 8 a.m. to 4 p.m. MST.
Request a video chat.
Visit a local branch.
Use the live chat feature.
Submit a question through the website.
Log in to your account online or use the mobile app contact feature.
Accessibility and Branch Availability
ICCU has 40 branches across the Treasure Valley, Magic Valley, Eastern Idaho and North Idaho. Besides branch ATMs, members can make withdrawals at 30,000 CO-OP machines.
Mobile and Digital Experience
ICCU Bank's digital experience is highly rated with users awarding it 4.9 out of 5 stars on Google Play and 4.9 out of 5 stars on the Apple Store. Mobile app features include account management, fund transfers, mobile check deposits and bill payments.
Convenience and Ease of Use
The mobile banking app doesn't provide groundbreaking services but does the basics reliably and well. In addition, the online platform is simple to use and navigate, making ICCU's digital presence a positive selling point.
How To Open an Account
You may open an account at a local branch or online. First, you'll need to become a member by showing you live and/or work in Idaho or Washington state and pay the $5 membership fee. [x] Then you'll need: [x]
A photo ID
Social Security number
Two years of address and employment history
An external bank account and routing number for the first deposit
Fees
Just like other financial institutions, ICCU's accounts may come with additional fees. They include:
Out-of-Network ATM Fees: $1.50, after the first six
Cashier's Check Fee: $4
Wire Transfer (Incoming): $15
Wire Transfer (Outgoing): $20 domestic, $40 international
NSF/Overdraft Fee: $24.94
Idaho Central Credit Union vs. Competitors
ICCU has several competitors in its geographic area. Here's how they compare:
| Credit Union or Bank | Best For |
| --- | --- |
| Idaho Central Credit Union | Idaho and Washington residents in search of high interest rate banking for low fees |
| Connections Credit Union | A smaller banking experience |
| Bank of Idaho | East Idaho residents |
| D.L. Evans Bank | Customers new to banking |
ICCU vs. Connections Credit Union
ICCU and Connections both serve the Idaho area, but Connections has a smaller presence than ICCU's wide network of ATMs and branches, with just 11 physical locations. However, the fewer branches provide an opportunity to get to know your banker, which may come in handy when you need a loan or help.
ICCU vs. Bank of Idaho
Residents in the eastern part of Idaho may want to look at Bank of Idaho as an alternative to ICCU. Besides the convenience of having nine branches in the area, Bank of Idaho adds wealth management services, which ICCU does not offer.
ICCU vs. D.L. Evans Bank
D.L. Evans Bank is a homegrown bank that has been providing banking services to Idaho customers since 1904. Although it's not a credit union like ICCU, it attempts to stay competitive with its Free Community checking account with no fees and a $100 minimum balance. 
Final Take
Idaho Central Credit Union provides quality, low-cost banking and competitive APYs on your balances if you live in Idaho or Washington. You'll have access to over 30,000 ATMs through the CO-OP network. Membership is open to residents of either state, making it simple to join and take advantage of what the credit union has to offer. And best of all, you can open an account online from the comfort of your home.
Idaho Central Credit Union FAQ
Now that you know more about the products and services ICCU has to offer, here are answers to some of the credit union's frequently asked questions.
Does ICCU offer free money for signing up for an account?

ICCU doesn't have any specials at this time for opening a new account, although it occasionally does run promotions. It's best to check back periodically or call customer service and ask for any new account sign-up bonuses.

Does ICCU have free coin-counting machines?

Idaho Central Credit Union

is one of the few financial institutions left that offers account holders free coin counting at select branches. 

Can I get a Visa prepaid card?

ICCU offers prepaid Visa cards for $4.95.

They come with a $3 monthly fee and can be reloaded with $20 to $3,000.

How much does it cost to open a bank account at ICCU?

You must deposit at least $100 to open an account at ICCU. Starter accounts only require a $50 deposit (for anyone under 18 years old).
Rates are subject to change. Information on accounts is accurate as of Jan. 7, 2022.
Editorial Note: This content is not provided by Idaho Central Credit Union. Any opinions, analyses, reviews or recommendations expressed in this article are those of the author alone and have not been reviewed, approved or otherwise endorsed by Idaho Central Credit Union.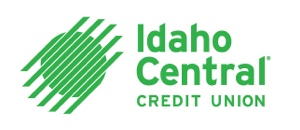 Take Advantage of our Best Offer(s)