Klarna Review: Is It the Right 'Buy Now, Pay Later' Platform for You?
GOBankingRates Score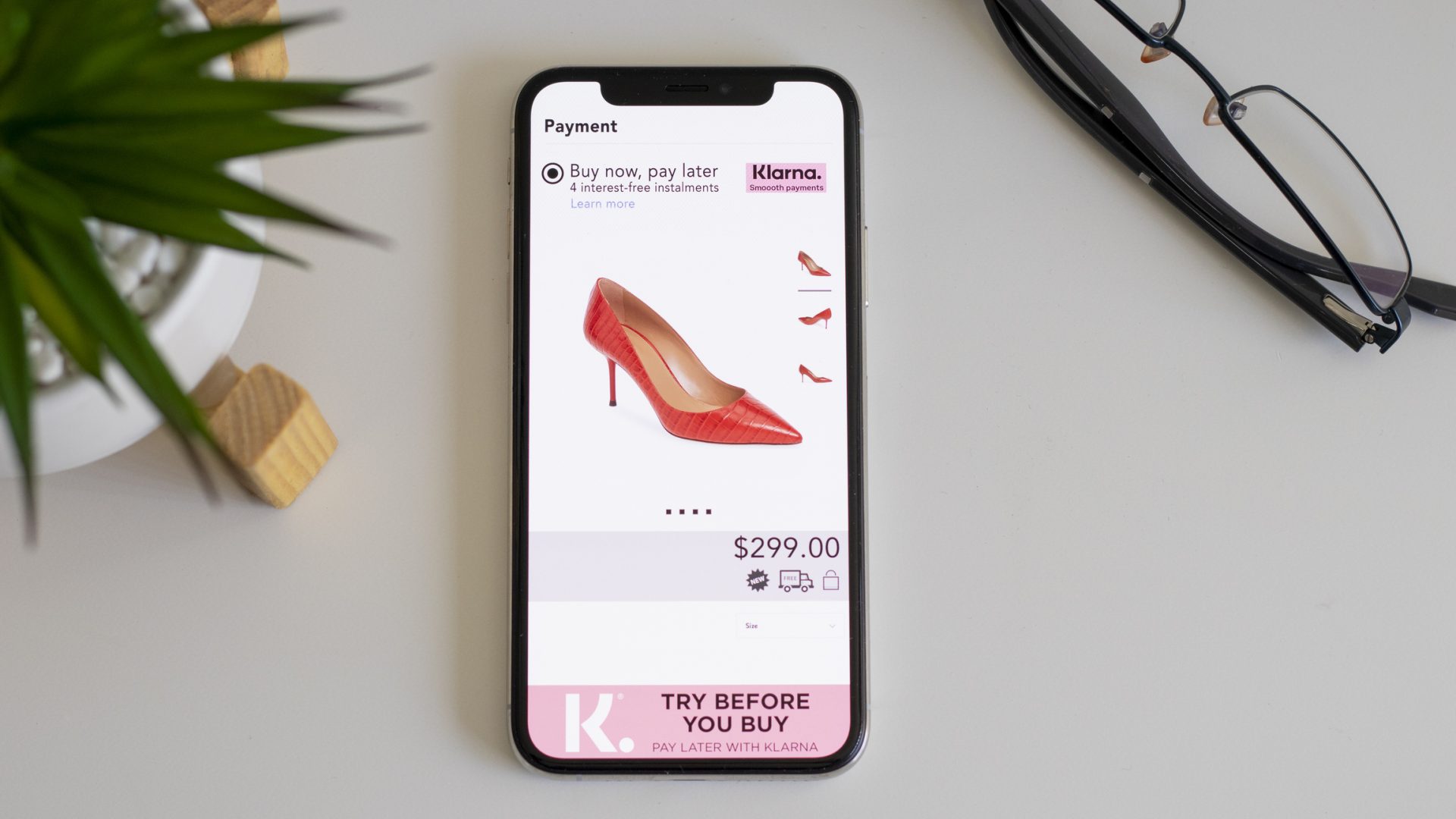 Quick Take: 
It used to be that if you didn't have the funds to pay for something, like a piece of jewelry, you could put it on
layaway
. Every couple of weeks, you would bring the store money and they'd hold on to your item until you caught up to the sticker price and took it home.
A few decades later, the customer's experience is significantly easier thanks to the concept of
"buy now, pay later."
Klarna taps into the desire to shop at all the trendy stores without feeling much or any burn in the wallet for at least a couple of weeks. The following review of Klarna's different features will walk you through how best to use the service.
Fees
Qualification Requirements
Availability of Retailers
Loan Amount
How did we calculate this?
Pros
Shop at major retailers while enjoying flexible, interest-free payment terms
Pay in four installments or pay in 30 days
Get 24/7 chat support in the app
Cons
Payment flexibility can lead to impulse buys
Loyalty rewards expire if they are not redeemed within 90 days after they're unlocked
Klarna Overview
Klarna is a digital shopping platform that allows for flexible payment terms. Users can shop in-store, in-app or online. There are a few payment plans available, so a user can select the one that best fits their needs and preferences, including the option to buy now and pay later.
If you choose the Pay in 4 option, the purchase will be split into four installments. For example, if you're making a $100 purchase, you'll pay the first installment of $25 at the time of purchase and the remaining three installments every two weeks. Pay in 30 Days gives users a full month to try items on at home, interest-free and pay for what they keep. Payment is not required at checkout.
Key Features
Here's a look at some of the features that Klarna offers its users.
Fees
Klarna doesn't charge any annual fee to use the service. Plus, the Pay in 4 and Pay in 30 Days options don't charge any fees or finance charges either. As long as you make a payment on time every two weeks, you can avoid a late fee of $7 with the Pay in 4 option.
Qualification Requirements
To qualify for Klarna, you'll need to sign up for the service. Downloading the app is the simplest way. Once you do, create an account. If you choose to use Klarna for a Pay in 4 purchase, a soft credit check that doesn't affect your credit score will be performed before you get approved.
Availability of Retailers
Klarna's availability is fairly widespread if you typically shop at major retailers. There are over 400 retail partners you can shop with online or in-store. They include major stores such as Nike, Sephora, Wayfair, Saks Fifth Avenue and Shein.
Loan Amount
Klarna doesn't define a preset spending limit. Each purchase is analyzed on an individual basis for approval. For larger loans, Klarna Financing is available through its partnership with FDIC-insured WebBank. It comes with longer payment terms of up to 24 months, with payments due each month, but you'll be assessed finance charges of up to 29.99% APR.
How Klarna Stands Out
Klarna has its own free-to-join loyalty program for frequent shoppers. For every dollar they spend with Klarna, users earn 1 point.Points add up and can be turned into rewards. Members have access to exclusive retail offerings, deals andspecial content. Unique experiences may be added to the mix soon.
For added security, users who know they're going to shop with Klarna can create a one-time card. Each card has a unique identifier, just like a regular credit card would. One-time cards expire after 24 hours, and once used, they follow their own payment plans.
Comparable Buy Now, Pay Later Options
There are other buy now, pay later apps on the market. Here's a look at a couple of alternatives you might consider.
Klarna vs. Zip
Unlike Klarna, which only works with participating retailers, Zip — formerly known as Quadpay — is accepted at any retailer that accepts Visa.However, convenience comes with a fee. You'll need to pay a fee of $1 per installment payment.
Klarna vs. Afterpay
Klarna and Afterpay both work with a list of participating retailers, both online and in-store, and let users pay in four installments. However, unlike Afterpay, Klarna also offers additional payment options to choose from. Afterpay does not charge interest on its four-installment plan, but it does impose a late fee of up to $8 when applicable.
How To Sign Up for Klarna
To get started with Klarna, sign up for an account on the website or download the mobile app via the App Store or Google Play. Once your account is set up, simply elect to pay using Klarna at the participating retailer.
Who Klarna Is Best For
If you like to be on trend but are a work in progress when it comes to knowing what you can afford and sticking to a budget, Klarna can help. Get items to your home, evaluate what works with your wardrobe and current cash flow, and make decisions from there.
Or, for bigger purchases — for example, a parent purchasing a back-to-school wardrobe for multiple children or investing in new furnishings — Klarna's buy now, pay later approach can provide a gentle way to meet the need of the moment with minimal stress.
Final Take
There are times when it's convenient to split up a purchase, especially if your cash flow is tight. Klarna makes it low-cost and easy to do so, as long as you have somewhat decent credit. Each purchase up for consideration will be reviewed individually. And although a credit check is performed first, it's a soft pull in most instances, which won't affect your credit. 
Klarna FAQ
Here are the answers to some commonly asked questions about Klarna.  
Can Klarna be trusted?

If you're concerned about whether Klarna is trustworthy, you may find comfort in knowing that reviews of Klarna are generally favorable. On Trustpilot, it has a score of 4.3 out of 5 and a rating of "excellent," based on reviews from over 154,000 users. It also has ratings of 4.8 out of 5 stars on the App Store, based on over 706,000 user ratings, and 4.5 out of 5 stars on Google Play, based on over 474,000 reviews.

Is there a downside to Klarna?

Using Klarna can be a tempting way to break down purchases into smaller installment payments. You'll have to watch your spending to make sure you're not making purchases you don't need or can't afford simply because you can pay as you go. If you use the Pay in 4 option and miss a payment, you'll be charged

a late fee of $7.

Will Klarna hurt my credit score?

If you choose to use Pay in 4 or Pay in 30 Days, Klarna will perform a soft pull, which will not hurt your credit score

. If you opt to use Klarna Financing, Klarna reserves the right to run a hard credit check, which will surface on your credit report as an inquiry.
Kelli Francis contributed to the reporting for this article.
Information is accurate as of Aug. 19, 2022.
Editorial Note: This content is not provided by any entity covered in this article. Any opinions, analyses, reviews, ratings or recommendations expressed in this article are those of the author alone and have not been reviewed, approved or otherwise endorsed by any entity named in this article.