5 Best Student Bank Accounts for 2022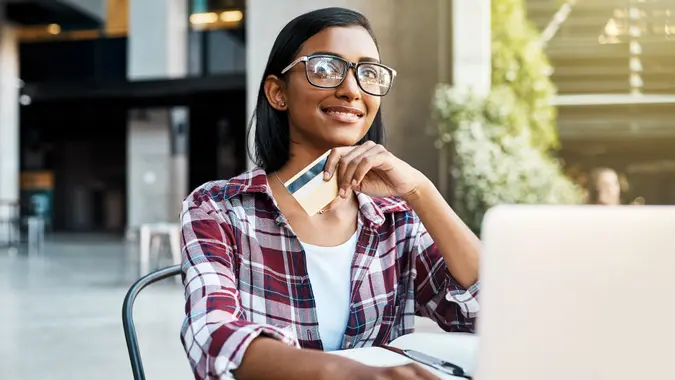 PeopleImages / Getty Images
Although students don't always have much spare cash during their school days, having a bank account is essential. However, many standard accounts tack on fees that could eat away at the balance. This roundup of best student bank accounts helps you find one that's student-friendly and right for you.
Best Student Bank Accounts
The following accounts are ideal for students because they are simple to open and maintain, have no opening balance requirements and feature low or no fees.
1. Best Student Bank Account Overall: USAA Youth Spending Account
Students in search of a feature-packed checking account should take a look at USAA. The credit union provides value-driven banking, insurance and other services to its members. 
Young adults can get started saving for school and grow with USAA with just $25 to open an account. Once a young account holder turns 18, the account is automatically converted into a Classic Checking account. There are no monthly fees to bank with USAA. Plus, the credit union offers access to a network of over 60,000 ATMs nationwide.
Pros:
No monthly maintenance fees
Converts to Classic Checking for adults once a student turns 18
Cons:
Banking with USAA requires affiliation to the military to qualify
2. Best Account for College Students: Chase College Checking Account
Chase offers students many advantages. The bank offers branches and ATMs nationwide, a variety of credit cards and plenty of loan and account options. College students in particular will find Chase College Checking to be a good deal. Designed for students between the age of 17 and 24, there are no monthly maintenance fees as long as you're in college. 
And even if you graduate early or take a break, you can avoid the $6 monthly fee by making at least one monthly electronic deposit or maintaining an average daily balance of $5,000.
Pros:
No monthly maintenance fees for college students
Free financial education available  
Robust mobile app with Autosave feature
Cons:
High minimum balance of $5,000 required if you're no longer in college
College students who are 17 years old can't apply for an account online
3. Best Account for High School Students: Capital One Money Account
Many of the best student bank accounts are convenient for college students but could get costly for a high school student who doesn't receive regular deposits or maintain a sizable minimum balance. Fortunately, the Money account, Capital One's checking account for teens, has no fees or balance/deposit minimums to worry about.
The account is entirely online-based. A debit card is included but most everything happens through the app. Parents can have access to the app to monitor a teen's spending if needed and have more control until the student is ready to manage their own finances.
Pros:
Earns APY 
Account available for teens and kids ages 8 and older
Access to over 70,000 fee-free ATMs
Cons:
Parental monitoring and control may limit a teen's learning opportunity
4. Best Student Bank Account for Avoiding Fees: US Bank Student Checking Account
Many of the best student bank accounts featured on this list don't come with monthly maintenance fees. The trouble is, there are other, more expensive fees students need to watch out for, such as overdraft charges. 
U.S. Bank's student checking account doesn't have monthly maintenance fees or overdraft protection charges. Plus, if you make withdrawals at non-U.S. Bank ATMs, U.S. Bank will not assess charges on the first four of such transactions per month. As for overdraft fees, if you're overdrawn by $50 or less, the charge will be waived. For higher amounts, U.S. Bank gives you an additional grace period to fund the account before a fee kicks in.
Pros:
Offers ways to avoid overdraft fees
May be able to link student ID to account
Free checks
Cons:
Students under 18 require an adult joint account holder
5. Best Student Bank Account With Widespread ATMs: Bank of America Advantage SafeBalance Banking
Many banks typically charge out-of-network ATM fees of $2.50 or more per transaction when you use some other bank's cash machine. The fees can add up, so it's important to consider a bank's ATM network before you apply. 
Bank of America is one of the largest banks in the country and offers 16,000 ATMs at your disposal. Chances are that you'll find a Bank of America branch or ATM wherever you may be. Plus, the bank's student checking account, known as Bank of America Advantage SafeBalance Banking®, doesn't come with monthly fees if you are a student under the age of 25. It also offers help with budgeting, spending and financial literacy in general.
Pros:
Large network of branches and ATMs
Joint account holder not required for those ages 16 and up
Spending and budgeting tool included
Cons:
Doesn't offer the option to write paper checks
Final Take
Setting up a student account before you head off to college is a good idea. You'll learn about money management, budgeting and more while hopefully building up a balance. Most banks offer some type of student or youth bank account. However, they're not all created equally. This roundup of best student bank accounts gives you a good starting place to help you decide which bank may be best for you.
FAQ
Which type of bank account is best for students?

Students should look for a student checking account with no fees. They typically come with an ATM card for withdrawals and a mobile app to manage transactions and make mobile check deposits. 

Is it worth getting a student bank account?

A student bank account is definitely worth it. You'll start building a financial track record. Plus, it's easier to manage your funds held in a bank account with a linked debit card than handling cash.

What are the disadvantages of a student bank account?

Depending on the age of the student, an adult may need to sign on as a joint account holder. Plus, student bank accounts are typically limited to an age range. Once you're no longer a student or you surpass the age limit, you'll likely need to open a different account. 
Rates are subject to change; unless otherwise noted, rates are updated periodically. All other information on accounts is accurate as of Aug. 3, 2022.
The information related to Chase College Checking was collected by GOBankingRates and has not been reviewed or provided by the issuer of this product/card. Product details may vary. Please see the issuer's website for current information. GOBankingRates does not receive commission for this product.
GOBankingRates is a personal finance and consumer interest rate website owned by ConsumerTrack Inc., an online marketing company serving top-tier banks, credit unions and other financial services organizations. Some companies mentioned in this article might be clients of ConsumerTrack Inc., which serves more than 100 national, local and online financial institutions. Rankings and roundups are completely objective, and no institution, client or otherwise, paid for inclusion or specific placement. Any opinions, analyses, reviews or recommendations expressed in this article are those of the author alone and have not been reviewed, approved or otherwise endorsed by the companies included in the article. All fees and rates are subject to change at the issuers' discretion. Some interest rates might be short-term or promotional offers only, and it is possible additional terms and conditions must be met to obtain the interest rates listed. Rates and availability might vary by region. Verify terms and conditions before opening an account.
GOBankingRates bases its assessment of "best" and "top" products on the above-stated parameters to create a baseline for comparison. This assessment is an approximation of "best" and "top" designed to help consumers find products that might be appropriate for them. There could be other options available as well. Consumers should consider various options appropriate for their circumstances.
Editorial Note: This content is not provided by any entity covered in this article. Any opinions, analyses, reviews, ratings or recommendations expressed in this article are those of the author alone and have not been reviewed, approved or otherwise endorsed by any entity named in this article.
Editorial Note: This content is not provided by Chase. Any opinions, analyses, reviews, ratings or recommendations expressed in this article are those of the author alone and have not been reviewed, approved or otherwise endorsed by Chase.