Americans Plan To Save $8,082 in 2023, CouponBirds Survey Shows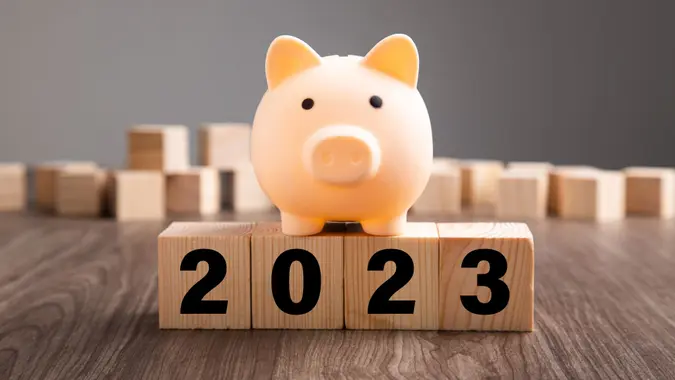 Chee Siong Teh / Getty Images/iStockphoto
When it comes to New Year's resolutions, the first steps are admitting that a change in behavior is important and you are ready to take action. With so many trying to overcome financial hardship and get back on their feet, it would make sense that many started off the new year with the resolution to save more money in 2023.
See: Target, Amazon and 4 More Retailers That Will Reward You for Turning in Your Old Stuff
Read: How To Get Free Gift Cards From Your Everyday Purchases
Find: 10 Best New Items Coming to Dollar Tree in 2023
Surveying 3,500 Americans to find out how much money people plan to save in 2023, CouponBirds found that many people intend to take their finances seriously this year. Saving money was the most popular New Year's resolution (28%), according to the survey, followed by the perennial goals of exercising more (24%) and quitting smoking (20%).
According to the real-time coupon code website, the average American plans on saving $8,082 in 2023 ($673.50 per month) and, by state, Nebraskans aim to save more than residents of any other state ($16,093.70) while North Dakotans plan on saving the least ($1,565.33).
Make Your Money Work for You
How does your new year savings goal compare to the average in your state? And how does your state rank against others in the country? Below are the five states who have set themselves the highest savings goals and the five states with the lowest goals. For full state results, click here.
Five States With the Highest Savings Goals for 2023:
1. Nebraska: $16,093.70.
2. Hawaii: $14,906.25.
3. Connecticut: $13,804.00.
4. Vermont: $12,900.25.
5. Massachusetts: $12,045.73.
Take Our Poll: Are You In Favor of More Inflation Relief in 2023?
More: Stock Up on These 7 Costco Items Now To Save Money Throughout 2023
Five States With the Lowest Savings Goals for 2023:
50. North Dakota: $1,565.33.
49. Maine: $2,147.50.
48. Alaska: $2,441.00.
47. Delaware: $3,502.50.
46. South Dakota: $3,771.00.
More From GOBankingRates
Make Your Money Work for You