Here's How Much of Their Paychecks Americans Are Spending on Themselves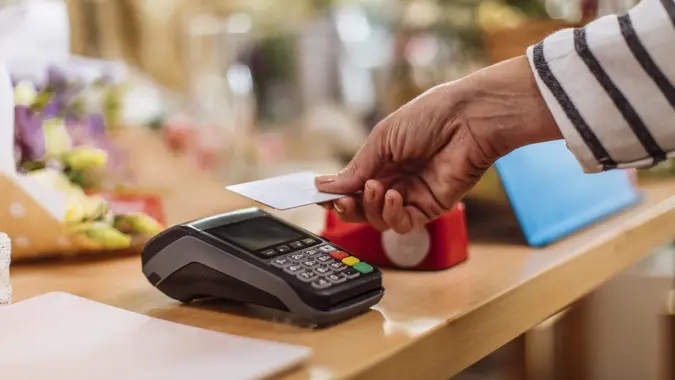 If you feel like you hardly spend any money on yourself, you're not alone.
More than half — 55% — of people spend $200 or less on themselves each paycheck, according to a recent GOBankingRates survey. Many people may be spending at least part of this money shopping at home, as 63% said they spend $200 or less on online purchases each month.
There's likely many reasons for this, as each person has their own unique financial situation. However, there are probably several common threads shared by many people who aren't currently spending much of their paycheck on themselves.
GOBankingRates spoke with several financial experts to get their take on this matter. Here's what they had to say.
Prioritizing Essentials
"The prevailing trend of 55% of people spending $200 or less on themselves each paycheck can be attributed to economic and societal factors," said Bryan Cannon, CFP, CEO and chief portfolio strategist at Cannon Advisors. "Higher living costs due to inflation and stagnant wage growth have led individuals to prioritize essentials, leaving less disposable income for personal spending."
Additionally, he said there's been a renewed focus on savings and debt repayment, as people aim to improve their financial security — particularly in uncertain economic times.
"The continuation of this trend hinges on several factors, including the evolution of the economic landscape and societal values," he said. "Economic pressures, job security concerns and stagnant wages are likely to sustain the emphasis on frugal personal spending."
Make Your Money Work for You
Beyond that, he said the convenience of online shopping and digital spending may also encourage cost-effective consumer habits.
"However, if economic conditions, wage growth or changing societal values prompt a shift in financial priorities, the trend could evolve in the coming years," he said.
Economic Uncertainty and Generational Mindset
"It's quite revealing to see that a majority of Americans are spending $200 or less on themselves each paycheck," said Reagan Bonlie, founder and CEO of NUDGE, a virtual money coach.
He said this conservative spending habit may be attributed to a variety of factors.
"Firstly, the economic uncertainties that have been prevalent in recent years, such as inflation, job market fluctuations and the lingering effects of the COVID-19 pandemic, have likely instilled a sense of financial caution among consumers," he said. "People may be prioritizing savings or paying down debts instead of discretionary spending."
Additionally, he said many people are becoming more financially responsible. "There's a growing awareness and education around financial health and the importance of emergency funds, which could be prompting individuals to allocate less towards non-essential expenditures."
He said several variables will dictate whether this trend continues in 2024.
"If the economy stabilizes and consumer confidence grows, we might see an uptick in personal spending," he said. "However, if economic challenges persist or if there's a cultural shift towards minimalism and frugality, the current pattern may well continue."
Beyond that, he said different generations have different money mindsets.
"For instance, millennials and Gen Z have shown tendencies towards value-based spending, which could keep personal spending in check even as incomes rise," he said.
Make Your Money Work for You
Another factor to consider, he said, is that the personal finance landscape is continuing to evolve with new budgeting and investing tools.
"This accessibility to financial education and resources empowers individuals to make more informed decisions about their spending," he said. "In essence, the continuation of this trend will likely be a reflection of broader economic conditions, cultural shifts and the availability of financial management resources."
He said it will be crucial to monitor these dynamics as we approach 2024, to fully understand the spending habits of Americans.
Low Surplus Income
"Surplus income is tight for a lot of consumers, including those who might typically fall under lower-middle income brackets," said Gates Little, CEO of altLINE at the Southern Bank Company.
Beyond that, he said many people are working to improve their financial health.
"We're also seeing different attempts to combat rising inflation, with many taking a more aggressive approach to saving," he said. "So, in addition to simply needing more of our paycheck to make ends meet, people are also putting more money away in savings by sacrificing most of their disposable income."
Increased Financing
An opposition viewpoint, Scott Bauer, CEO of Prosper Trading Academy, said he's a little skeptical that people are actually spending this little on themselves.
"I would bet that the real number is much higher," he said. "Airports, restaurants, stores, etc., have been packed."
However, he said many consumers might not be paying cash for these splurges.
Make Your Money Work for You
"People are financing things at unbelievable rates these days in order to spend more on expensive things," he said. "Credit card defaults and car loan defaults are at all-time highs right now."
Therefore, he said what happens next could be interesting. "In reality, there is a good chance people are stretching themselves very very thin with their money," he said. "The next few months could unfold in an ugly way as this catches up to people, in my opinion."
Only time will tell if consumers' spending habits hold steady or fluctuate. Since the holidays are just around the corner, this will be especially interesting to watch.
Methodology: GOBankingRates surveyed 1,021 Americans aged 18 and older from across the country between Oct. 12 and Oct. 16, 2023, asking twenty-three different questions: (1) How much did you spend on your pet in the last year?; (2) How much have you spent/are you planning to spend on Halloween this year?; (3) How much money do you spend on kid-related activities in a year?; (4) How much do you spend on average on your monthly utility bills (electric, heat/gas, water)?; (5) What spending/saving habits have you had to change in the last year due to inflation/rising prices? (select all that apply); (6) What was the biggest unexpected expense you had this year?; (7) How much do you currently spend on monthly car payments?; (8) Do you live in a single-income or dual-income household?; (9) In the past year, did you have to take on a side gig because of rising prices/inflation?; (10) How much do you bring home from your side job(s) each month?; (11) How much have your overall expenses gone up in the past year?; (12) What is your top financial priorities to end 2023?; (13) What is the top way you've earned your money/gained wealth?; (14) Have you started financially preparing for 2024?; (15) How much have you spent on home upgrades in 2023?; (16) How will the resumption of student loan repayments affect your budget?; (17) How much do you currently owe in student loans?; (18) How much do you spend on yourself (not including housing, food, etc.) out of each paycheck?; (19) How much do you spend on online purchases per month?; (20) Where do you shop for groceries most often?; (21) Do you shop around for groceries to get better deals?; (22) What are you currently invested in? (Select all that apply); and (23) What is the current value of your stock investments?. GOBankingRates used PureSpectrum's survey platform to conduct the poll.
More From GOBankingRates