How To Budget for Weekend Spending Habits Without Sacrificing Fun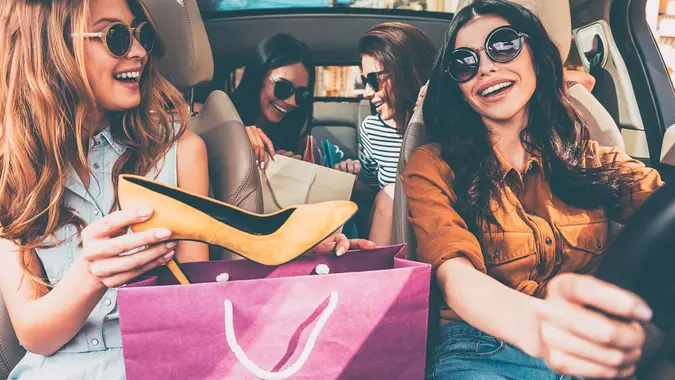 g-stockstudio / Shutterstock.com
When that TGIF feeling sets in, it can be difficult not to throw caution to the wind and get one's weekend spending on pronto. After all, the work week can be stressful; and, with many of us in fear-of-being-laid-off mode, we may be dealing with extra anxiety and possibly putting in even more hours and face time on the job than usual.
Wealthy Millennials Aren't Banking on Stocks: Here's What They're Investing In Instead
Find: 3 Ways Smart People Save Money When Filing Their Taxes
Learn: Here's How Much Americans Have in Their Savings Accounts in 2023
One may think: Why not enjoy the weekends to the fullest and go all out — especially if we just got paid?  Unfortunately, weekend spending can add up fast and land one in trouble, aka, debt. 
"When it comes to weekend expenses, purchases like drinks at night, coffee runs, brunch with friends and miscellaneous add-ons like popcorn and candy at the movies can add up," said Rebecca Gramuglia, consumer expert at TopCashback.com.
How can you budget for weekend fun no matter family size without sacrificing the fun? What are some easy ways to budget for the weekend and its expenses without getting into the red in your bank account?
Make Your Money Work for You
Alternate 'No-Spend' Weekends 
"If you have a few weekends of activities coming up, look to hit the pause button on non-essential expenses surrounding the events," Gramuglia said. "Try implementing a no-spend weekend to give your wallet some rest. And to still have a few fun outings throughout the month, try alternating the no-spend weekends — i.e., go out one weekend, stay in the next."
Do 'No-Spend' Workdays
"If you work a standard 9-5 and you need to save up for big weekend plans, try to do no-spend workdays at least to some degree," said Julie Ramhold, consumer analyst with DealNews.com. "Consider skipping lunch out, for instance, but still feel free to treat yourself to coffee in the morning — especially if you're running late. Unless you're eating off dollar menus, odds are good that your morning coffee cost won't compare to dining out, even for lunch.
"By avoiding unnecessary spending during the week, you'll have more funds to spend on fun during the weekend."
Plan One Epic Weekend Per Month
"If you're finding it hard to save money and do something fun every weekend, consider choosing one big thing to do each month and plan for one weekend to be the 'fun' one," Ramhold said. "This doesn't mean you have to do nothing every other weekend; but, if you keep three out of four of them pretty low key, you'll be able to still do bigger things that may cost more without sacrificing too much and living for that one single weekend every month."
Make Your Money Work for You
Incorporate More Free Things
"If you don't have to pay for every single activity in a weekend, then you'll definitely be able to save overall, which means you can either put those funds into your actual savings or use them for other things you can't get for free," Ramhold said. "For example, look for free brewery, winery or distillery tours as they may offer samplings of their wares afterwards. These tend to be really great ways to check out local products and, if it's free, then you can use your savings for a good meal afterwards."
Plan Ahead
"Even if you don't want to do one big weekend of fun each month, you can still plan in advance," Ramhold said. "Try to make at least tentative plans for what you may want to do at least a month out and then keep it in mind. That way, you'll have a goal to look to and a reminder to not spend frivolously in the weeks leading up to it. Even if your initial plans fall through, you'll still have budgeted for the weekend, so you can try to do something else instead."
Make Your Money Work for You
Use the Right Credit Card 
"Choosing the right credit card can help you save money on everyday purchases," Gramuglia said. "Review the terms of your credit card's program to determine which spending categories give you the most cash back, rewards points or miles per dollar spent — and make sure to use that card when shopping for those items. Depending on the program, you may also be able to apply these rewards toward your bill as a statement credit."
Enlist in Loyalty Programs 
"When it comes to saving money, the retailer's loyalty program is a great place to start," Gramuglia said. "You can score exclusive coupons and discounts simply by entering your phone number or email at checkout, or by using your store card. Some of these programs even offer credit cards as a way to save. For example, Target offers the RedCard program, which automatically applies a 5% discount on eligible items at checkout."
Take Advantage of Cash Back Sites 
"Buying a new outfit for a weekend outing or looking for a deal on a Groupon activity?" Gramuglia said. "Avoid paying full price and use a cash back site."
In addition to Gramuglia's TopCashback, you might try sites such as Capital One Shopping, Swagbucks, Ibotta and Honey.
Tap Your Memberships
"Whether you have a certain credit card or you're part of a membership program, like AAA, you may be able to score discounts on dining, hotels, rental cars and more," Gramuglia said. "For weekend road trips, consider signing up for loyalty programs at gas station chains, like Shell Fuel Rewards and Exxon Mobil Rewards+, to save even more on your fill-ups."
More From GOBankingRates
Make Your Money Work for You