Money Expert Rachel Cruze: You Must Include These 4 Things in Your Budget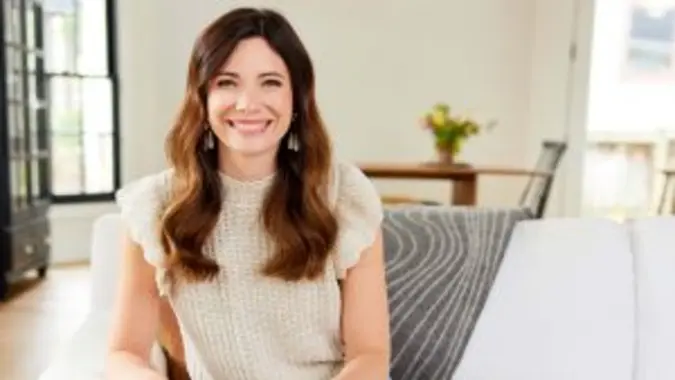 Whether you are cutting costs to get out of debt or saving up for an emergency fund, there are some expenses in your budget that are non-negotiable, according to money expert Rachel Cruze. "No matter how frugal you're trying to be, there are a few categories that should — and kinda have to be — in your budget," she said in the Oct. 30 episode of her podcast, "The Rachel Cruze Show."
Cruze explained the difference between wants and needs. "Needs are necessities that almost everyone has to spend money on every single month," she said. "And wants, well, they're more like kind of fun, luxury purchases." Cruze calls needs your "four walls," which are things you have to have: food, housing, utilities and transportation. "Everything else is a want in life, and they're not necessary to survive."
Here are the four things Cruze said you must include in your budget.
Understanding Wants vs. Needs
To understand why you need to include certain things in your budget and leave others out, it's important to understand the difference between wants and needs.
Cruze said that sometimes the difference between wants and needs is obvious. For example, a new designer bag is obviously a want because you don't have to have it to survive. However, she said that sometimes the lines can be a little bit blurry. For instance, Cruze said that even though food is a part of the four walls, takeout food a luxury. She cautioned that even within the four walls there can be luxuries and you need to be aware of them. 
Make Your Money Work for You
Cruze said it could be very helpful to look at your checking account and look through every line item and ask yourself which purchases you had to have to survive. Then, Cruze said to make the decision to cut those "wants" out for a season.
"What's crazy is if you cut your wants out long enough," she said, "you may not even want them back. The key here is that you want margin back in your budget because you want to be able to be working on getting out of debt. You want to be working on saving up for an emergency fund."
Food
Food is another thing you must include in your budget, but not all food qualifies as a need. 
"Food can be like all over the map," shared Cruze. "We could be talking about eating at home, rice and beans, all the way up to like a nice steak dinner. Cruze said she knows it can be hard because of things like pizza delivery and Chick-fil-A, but restaurants and UberEats don't count as necessities. "So while you're getting out of debt, pull back from going out to eat and takeout and especially, especially food delivery services … you spend so much money on fees doing that."
Cruze said that eating at home is a great place to find margin in your budget. She suggested making meals fun by doing stuff like breakfast for dinner, taco nights and spaghetti.
Make Your Money Work for You
Housing
Housing is another budget necessity and includes what you pay for rent or a mortgage each month. "So when you put together your rent or your mortgage, property taxes, home insurance and HOA fees, we always say a good rule of thumb is that you don't want to spend more than 25% of your take-home pay," said Cruze. She explained that if half or more of your paycheck is being eaten up by housing expenses, you won't have enough money to allocate to the other parts of your budget. 
Cruze added that if your rent or mortgage expenses are excessive, you may need to reevaluate whether you have too much house or you're living in an area that's way too expensive for your income. If so, she said that you may need to change your living situation because your home should be a blessing and not a curse.
Utilities 
Utilities are the third expense you must include in your budget. Cruze said utilities include water, gas, electricity, trash service, phone plan and internet.
"What's key here is that these things are covered," Cruze said. "Again, these things are necessities. Even before you pay your debt, these things need to be covered. You don't want your lights shut off or your water shut off, so take care of those utilities; it's really important. And remember, streaming services do not qualify as necessities."
Transportation
Transportation needs are the final necessary budget expense. They include expenses for your car, public transportation and routine maintenance on your vehicles. "A plane ticket to Disney, sadly, does not count in transportation," said Cruze.
Make Your Money Work for You
"If you have a car, and you have a massive car payment that you can't pay off in 12 months [or] 18 months, or if it's more than half of your annual income, get rid of it … sell it." Cruze said that after you sell your expensive car, get a "beater car" for $8,000, which is better than having a loan for $42,000. She said that if you want to get out of debt, your car is usually the thing you can sell to get ahead.
More From GOBankingRates