10 Reasons Experts Insist You Must Have a Budget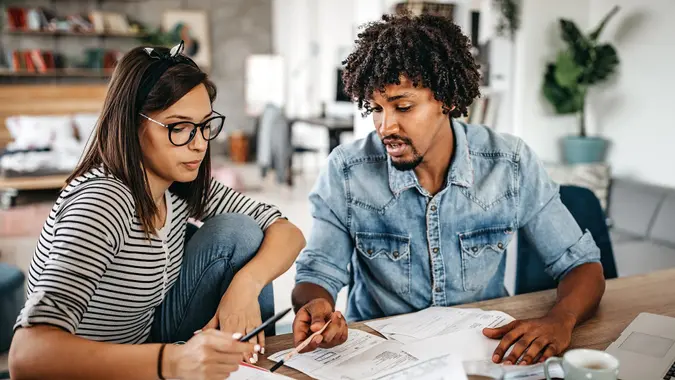 Pekic / Getty Images
It seems as though everyone in the personal finance space is always preaching about the merits of budgeting, but we must take a step back and ask, "Do I really need to budget?" There's just always so much to do. Must we sit down with our smartphones or spreadsheets and every month or even every week tend to our finances?
GOBankingRates reached out to experts and learned that overwhelmingly yes, according to financial experts, we all really must budget — and thoroughly! Here are 10 reasons experts insist you have a budget.
To Take Control
"Money has a strong hold on our emotional health," said Julian Schubach, SVP of wealth management, ODI Financial. "Rather than allow money to continue to be a weight on your shoulders, build a budget to learn about how your money is being allocated. Building a budget will allow you to take back control over your finances and provide a peace of mind as you will have the ability to see areas of overspending and undersaving."
To Reach Your Financial Goals 
"You need to budget to increase your ability to reach your financial goals," said Alissa Krasner Maizes, a licensed attorney, financial planner and founder of Amplify My Wealth. "More likely than not, you have thought about your financially related dreams or goals, such as when you want to become work optional, buy a home or rental property, pay for school or eliminate your debt."
Make Your Money Work for You
To Monitor Your Cash Flow
"According to Finder.com data, 64% say inflation has affected their saving and spending habits," said Laura Adams, MBA, money expert at Finder.com. "Budgeting requires you to watch your income and expenses and make adjustments closely. For instance, if you want to save more but frequently overspend on discretionary expenditures, such as dining out or entertainment, you'll know exactly where to cut back."
To Uncover Areas of Overspending
"We are all guilty of overspending on specific items that we enjoy such as dining out, hobbies and subscription services," Schubach said. "These variable expenses continue to expand over time if not put in check. A budget can help you get a good picture of what you are spending on these items and you can then decide where to cut back and by how much in order to re-allocate those funds either to savings, or other expenses which are more important."
To Understand What You Can Afford
"Many people put themselves in a poor situation when making a large purchase such as when buying a home or a vehicle," Schubach said. "Often, loan providers provide pre-approval for amounts at the very top of your spending capacity. Just because you were approved for a large loan, doesn't mean you should spend that much! Maintaining a budget will provide additional clarity as to what you can afford based on other factors such as variable expenses, and retirement savings contributions not included in the loan provider's calculation. A budget will help you understand the amount that fits best into your current plans, as opposed to simply spending the maximum allowed by the lender."
Make Your Money Work for You
To Pay For Next Year's Holiday Gifts
"Most people start the New Year with a debt hangover from the holidays," Adams said. "Resolve to add holiday gifts to your budget so you can celebrate with no or less credit card debt."
To Plan For Retirement 
"Following a budget allows you to know how much extra income you have to contribute towards retirement," said Carl Grande, the founder and lead advisor of Grand Capital Management. "Most people don't pay their future selves at all, but with a budget you can find out how much you can save/invest each month to your retirement." 
To Eliminate Debt 
"A budget also helps with debt elimination because you can accelerate payments on one debt and continue paying everything else at the minimum payment," Grande said. "It's a term called 'debt snowball,' coined by Dave Ramsey."
Using this process, you would put most of your payment money toward the smallest debt and then only pay the minimums on everything else. This way, you should see small wins sooner than later.
To Combat Financial Stress 
"Creating a budget is important because it can often be a highly-effective tool in helping you to combat financial stress, which is often very difficult to turn off," said Lucia Jensen,  CEO of WeLoans. "And if left unchecked, it can often linger in your thoughts and develop into chronic stress that negatively impacts your health over time."
To Stay Afloat During Tough or Uncertain Times 
"Creating a budget is the most guaranteed way to stay afloat through financial hardship and economical uncertainty," said Andy Kalmon, CEO of Benny. "Without a budget, it is very difficult to fully understand the amount we spend, and how little or how much it detracts from our financial stability. Our consumption as people has increased tenfold in a very short amount of time, and budgeting will help us limit our consumption to a more sustainable amount. People must create a budget if they want to create any sort of blanket for themselves in the future. Having a budget is equally important for low-income earners than high-income earners, but it is extraordinarily more helpful for those with less money who need to spread their savings over a larger threshold."
More From GOBankingRates