Savings Challenge: How to Improve Your Financial Outlook in 7 Days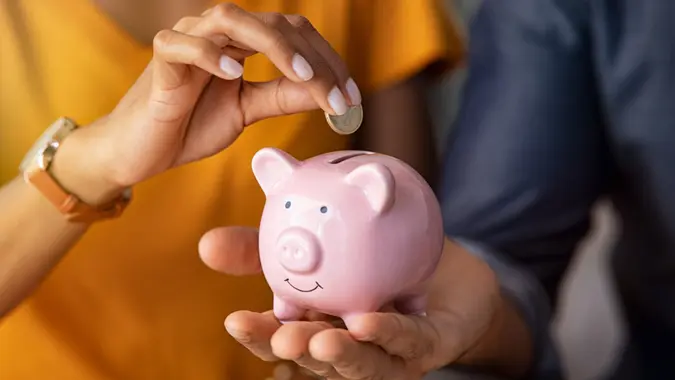 Ridofranz / Getty Images/iStockphoto
Opportunities to save and make money are everywhere. But what's the point of spending money to (maybe) make some back? Some savings "challenges" are scams that require banking information or fees in exchange for the "opportunity" to earn quick cash, while others require you to play games or watch videos endlessly just to make a pittance.
Discover: 10 Best Countries To Live on Just a Social Security Check
More: 7 Best Side Gigs To Earn an Extra $1,000 a Month
Following are savings concepts that are free — or cost very little — and can improve your financial outlook immediately.
Day One: Start a Savings Challenge
Common sense financial advice usually works. If you want to save money, then stop spending it and start saving it. Savings challenges in which you are in control are popular, and all that's asked is for you to be vigilant and organized.
Inspired Budget outlines a lot of unique money-saving challenge options on its site. There, you can find a variety of common weekly savings budgets alongside rarer challenges. For example, in a weather-influenced savings challenge, a saver in Arizona decided to deposit an amount every week into his savings that matched his city's high temperature that day.
Make Your Money Work for You
Day Two: Cancel Your Car Insurance, Or Your Car
One of the bonuses attached to working from home is not having to endure the daily commute. As the pandemic eases and more employees return to the workplace, many people are rethinking their car use, especially given current gas prices.
Car insurance is a necessity but once bought, many drivers stick by their insurer even if they are overpaying. Using a site like EverQuote will provide you with a vast array of insurance options, and can potentially save you hundreds of dollars a year. Don't discount pay-as-you-go insurance, either.
Day Three: Round It Up
If you are still paying for goods and services with cash, used the time-tested system of putting your change away. It will accumulate. Most of today's spenders, however, use cards or phones to buy products and services. The digital equivalent of the money jar is an automatic round-up app that funnels your "change" from purchases into a savings account.
Automatic round-up apps like Acorns (and low-cost robo-advisors like Wealthfront, Stash and Betterment) offer different options and make saving and investing easy. But pay attention to monthly account and balance transfer fees — if you are thrifty to begin with, it might not be worth it.
Make Your Money Work for You
Day Four: Stop Being a Slave to the Grind
Quitting coffee may not be in the cards. However, cutting down on buying coffee at a shop — or switching exclusively to bringing one from home — really can save you hundreds, or thousands, of dollars a year.
The Caffeine Informer's "20 Awesome Benefits of Quitting Caffeine or Coffee" lists numerous pros to cutting down on the bean, but if you've been working from home for the past two years, you may have noticed just how much money can be saved by not buying your coffee from a vendor.
Day Five: Start a Financial Outlook Bootcamp
It may be worthwhile to spend a day to fully assess your current financial situation. Taking cues from the CNBC Select or New York Times' financial 7-day money challenges, sometimes its best to start at your financial base and investigate how you can trim money by evaluating your spending habits. Preparing an emergency fund and redirecting your investment goals and plans can also be wise decisions.
Day Six: Lead a Donation Challenge
With all the worry about finances — and spending and shortages that arose from pandemic living — Americans remain charitable in terms of cash and food donations. According to CNBC, the Bank of America and the Indiana University Lilly Family School of Philanthropy found that 90% of affluent Americans gave to charities in 2020, with 47% giving in direct response to the pandemic.
Make Your Money Work for You
For less wealthy do-gooders, a donation challenge can still provide a decent tax break if you were aiming to be charitable in the first place. Be sure to keep all receipts resulting from eligible donations.
See: POLL: Have You Skipped Any of These Essential Expenses Due to Rising Prices?
Find: Post-COVID Savings Goals Are Nearly on Track for 43% of Americans, but Inflation Could Derail Progress
Day Seven: Invest in the Unconventional
End the week with something outside the box. Savvy investors purchase art to diversify their portfolios, but as The Penny Hoarder reports, patient savers can invest in high-priced works of art too. Masterworks sells partial shares of contemporary artwork, is relatively easy to navigate and has no minimum investment requirement. Not into art? There are loads of fractional ownership opportunities available, from diamonds to collectibles to classic cars and vineyards.
More From GOBankingRates
Make Your Money Work for You