Top 9 Budgeting Tips From Kumiko Love, aka 'The Budget Mom'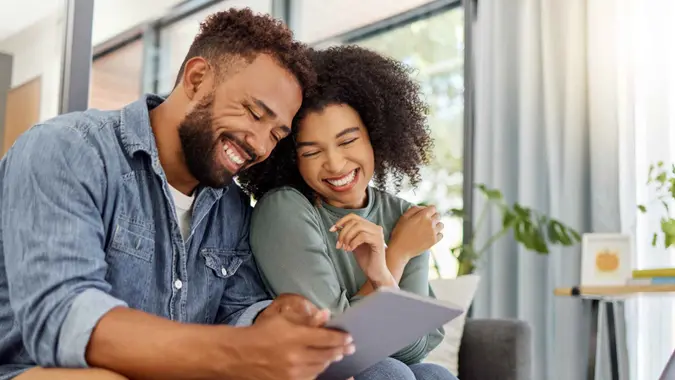 PeopleImages / Getty Images/iStockphoto
Kumiko Love, frequently known as "The Budget Mom," is an Accredited Financial Counselor, best-selling author and successful blogger. But before all of that, she was a self-described "broke rich" girl who knew very little about things like emergency funds, debt management and budgeting. It was only through a lot of practice and trial and error that she turned things around and has become the inspiration she is today.
Now, Love uses her wealth of knowledge and experience to help other women budget and live a life of abundance. She's also established a reputation for herself as someone who can help others turn thought into action — all for the financial betterment of their lives.
With all of that said, here are some of her best budgeting tips from her blog and Instagram page for those aspiring to manage their money better, pay off debt and regain control of their finances.
Make Your Money Work for You
Consistently Track and Evaluate Your Spending
It's almost too easy to spend more than you should and end up wondering where all of your hard-earned money went. That's why Love suggests keeping track of your spending. Not only will this give you a better idea of how much you're spending — and on what — but it'll also help you understand your financial habits.
Love recommended taking a look at your bank statements for the past 3 months to see where your money is going. This is enough time to get an idea of any patterns taking place, but not so much time so as to overwhelm you with information.
While you're at it, ask yourself why you're spending money on certain things. Is it for practical or necessary reasons? Or is it for fun? You might not be able to change everything all at once, but knowing your spending habits can help you budget.
Choose the Right Health Insurance Plan
Health insurance can be confusing, especially if you're unfamiliar with certain terms like "copay" or "deductible." One of Love's tips is to take a moment to review your current plan and then compare it with other plans to see if you're getting the best value for your money.
Make Your Money Work for You
This means looking at your coverage options, any hidden benefits, the available network and premium costs. It also means considering your own health status and making a decision based on your current and anticipated needs.
Do Some 'Spring Cleaning' of Your Finances
On her website, Love has many articles about budgeting and money challenges. One particular article is all about the "Financial Freshness: The Ultimate Spring Cleaning Money Challenge." The point of this challenge is to improve your spending habits, rejuvenate your financial goals and help you achieve financial success. It's designed to be accessible to anyone, no matter who they are or where they're at with their finances.
Each day of this 30-day challenge has you do one major thing, such as making a financial goals checklist, reevaluating your budget limits and checking your credit report. By the end, your finances should be much more organized, and you'll be one step closer to financial wellness.
Pay Off Debts Strategically
Another of Love's tips is to be strategic about how you pay off your debts. There are many debt payoff methods to consider.
One option is to focus on high-interest debts — like credit cards or personal loans — first. Doing this can save you a lot of money in the long run. Plus, once you've paid off one debt, you'll have more money to put toward the next one. This is commonly known as the debt avalanche method.
Make Your Money Work for You
Another option is to put more money toward your largest debt first, regardless of interest rates. Once you've paid off that debt, you can then move on to the next. This is commonly known as the debt snowball method.
As Love noted, the best approach depends on you. Choose the method that best works with your financial situation and helps you achieve your other goals.
Start Price Matching
Price matching can be a game changer when it comes to your budget, as it ensures you always get the lowest price possible when shopping. Love suggested price matching whenever you shop, even if you're buying cheaper items, as this will help you save money.
Every retailer has its own process for price matching. With Target, for example, you'll need to contact their Customer Service team. With Home Depot, simply cross-reference in-store and online prices. If one is lower than the other, inform them during checkout.
Buy Used Items
Buying used items instead of new ones can cut down on your expenses and leave more room in your budget for other things.
Love suggested going the second-hand route on things like vehicles, designer apparel, books, exercise equipment, gift cards, furniture and tools. As long as they're in good condition, you can get a lot of mileage from any of these items without having to pay full price.
Make Your Money Work for You
Use the Cash Envelope Method
One of Love's preferred budgeting methods is the cash envelope method. With this method, you separate your major spending categories — like groceries or clothing — into envelopes. You then put a predetermined amount of cash into each envelope and can only spend that amount each month. If you go over budget, you have to pull money from another envelope to make up for it.
This method works for many reasons. But perhaps the biggest reason is that it limits how much you can spend each month and helps prevent overspending.
Make a Meal Plan for Your Food Budget
Going over-budget on food — whether it's for groceries or dining out — is a common problem. But unfortunately, it's also one that can quickly eat into your available budget.
While using the cash envelope method is one way to help keep you on track when it comes to your food bill, Love also suggested making a meal plan for the week or month. Start by seeing what you already have in your kitchen and make recipes based on what's there.
Make Your Money Work for You
By following a meal plan, you can cut down on food waste and impulse buys at the grocery store.
Adjust Your Budget as Needed
Making a realistic budget can be complex and confusing, especially if prior attempts haven't been all that successful. Many people get overwhelmed when they see their current budget and give up on it.
But it doesn't have to be like that. One of Love's top budgeting tips is to learn when it's time to adjust your budget in a way that works for you. This means monitoring your spending, recognizing the controllable and uncontrollable factors, and reallocating funds according to your needs.
According to Love, budgeting isn't something you only do once, so it's okay to make adjustments over time.
More From GOBankingRates