8 Affordable Used Cars for Middle-Class Families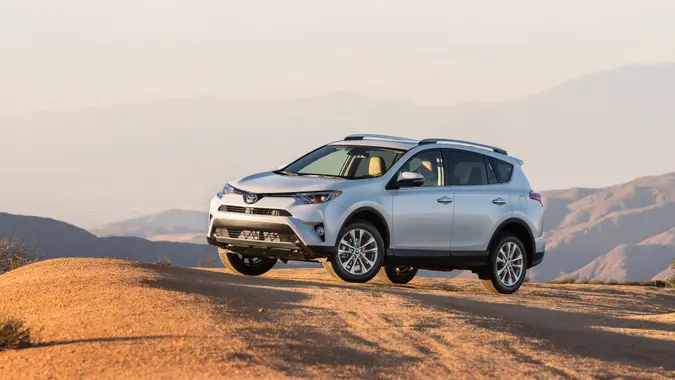 ©Toyota Motor Sales
Having a family can be expensive — between housing, food, clothes and other associated costs, it might seem impossible to be able to provide on a budget. There's another major price tag to think about: transportation. Most middle-class families have a tough time being able to afford one vehicle, let alone multiple. And typically doing so means not dropping a ton of money on a new car, but finding a reliable used one that can last many miles.
"Finding an affordable, reliable used car that meets the needs of a middle-class family can seem challenging. However, there are several good options," said Hank Treadwell, owner of Tire Care 101. "While pricing and MPG can vary based on location and condition, these models are known for their reliability and suitability for family use. Test drives and mechanical inspections are recommended before purchasing any used vehicle. With some research, families can find a safe, reliable used car that fits both their needs and budget."
GOBankingRates reached out to auto experts and enthusiasts like Treadwell to find the top affordable used cars for middle-class families. All prices are based on Kelley Blue Book quotes and can change depending on your area. See which vehicles made the list.
1. 2015 Toyota Sienna
Kelley Blue Book Price: $14,599
Treadwell explains that the Sienna, as well as the Honda Odyssey (to follow), are "both roomy options with reputations for reliability" when it comes to families looking for minivans.
"The 2015 Toyota Sienna and the 2015 Honda Odyssey are both great minivans that have a retail price of under $15,000," added Jacob Carter, owner of Engine Rev Up. "They have a spacious interior, comfortable ride and good reliability. They have an MPG of 18 city/25 highway and 19 city/28 highway, respectively."
Make Your Money Work for You
2. 2015 Honda Odyssey
Kelley Blue Book Price: $13,340
This is the perfect choice of transportation if you have a large family — everyone from grandma to grandkids can fit in the Honda Odyssey. And with a fuel economy of city 19/highway 28/combined 22 MPG, you'll have plenty of cash left over to get everyone something at the drive thru.
"A used Honda Odyssey minivan will serve you well," said Gareth Boyd, experienced automotive writer and editor of Range Rover Fanatic. "They're practically indestructible, have spacious interiors and come with modern amenities even in older models. You'll see plenty still on the road from the early 2010s."
3. 2018 Honda Civic
Kelley Blue Book Price: $12,312
"A darling of the middle class, and for a good reason," said Todd Bialaszewski of Junk Car Mechanics. Bialaszewski explains that a pre-2023 Honda Civic is generally listed by Kelley Blue Book for around $20,000 used. The 2018 model is very moderately priced, depending on where you live. Either way, a Honda Civic "offers fantastic fuel efficiency — think 30 MPG in the city and 38 MPG on the highway," said Bialaszewski.
"It's reliable," Bialaszewski added. "I've seen Civics roll into my shop with 200,000 miles on the odometer and still purring like a kitten. Plus, modern versions come packed with safety features like adaptive cruise control. It's like the Swiss Army knife of cars — good at everything."
Make Your Money Work for You
4. 2017 Toyota Corolla
Kelley Blue Book Price: $13,779
Bialaszewski describes a Toyota Corolla as "a solid bet." 
"With a used retail price usually hanging around $18,000, it's a deal," Bialaszewski said of several models made in the last decade, noting the fuel efficiency of the 2017 Corolla: 30 MPG city and 40 MPG highway. 
"The Corolla is as stubborn as a mule when breaking down. In my 15 years, I've seldom seen a Corolla that didn't live up to its reputation for reliability," Bialaszewski noted.
5. 2019 Mazda CX-5
Kelley Blue Book Price: $16,813
According to Bialaszewski, a Mazda CX-5 gives families room and style without breaking the bank. It's an affordable option to not only buy, but also fill up at the gas station and not add much wear and tear in the process.
"It's pretty fuel-efficient for an SUV — 25 MPG in the city and 31 MPG on the highway," Bialaszewski said. "I once had a client whose CX-5 survived a pretty brutal winter with zero issues; they came in for a checkup, and the thing was almost as good as new."
6. 2017 Toyota RAV4
Kelley Blue Book Price: $18,337
"The 2017 RAV4 has a powerful 2.5-liter, four-cylinder engine that delivers a smooth and responsive driving experience," said Joyce Gutierrez, automotive expert from 4WheelOnline, pointing out that, "Not only does this engine provide an enjoyable ride, but it also offers impressive fuel efficiency with an EPA rating of 26/23 city/highway MPG."
Gutierrez notes how the 2017 Toyota RAV4 comes equipped with the Safety Sense package, ensuring optimal protection for the driver and passengers to give families peace of mind.
Make Your Money Work for You
"This advanced safety system includes precollision warning, lane departure alert, dynamic radar cruise control and automatic high beams," Gutierrez added. "With these cutting-edge technologies in place, you can have peace of mind knowing you are driving a vehicle prioritizing safety."
7. 2018 Honda CR-V
Kelley Blue Book Price: $21,371
Bialaszewski calls the Honda CR-V "the Civic's beefier cousin," saying it offers 28 MPG city and 34 MPG highway. 
"A buddy of mine owns a CR-V, and he practically lives in it on weekends, taking his kids to soccer games and whatnot," Bialaszewski said. "That thing's got room and then some."
8. 2021 Honda Accord
Kelley Blue Book Price: $24,700
Gutierrez describes the 2021 Honda Accord as "an ideal family car due to its impressive features and capabilities." With a city 30/highway 38/combined 33 MPG, it is easy to see why families would love this car.
Gutierrez adds that a notable aspect of this model is the "spaciousness, offering a generous 16.7 cubic feet of trunk space, ensuring ample room for a growing family's necessities. To enhance the overall driving experience, the 2021 Honda Accord is equipped with an advanced 8-inch touchscreen infotainment system."
More From GOBankingRates