Car Market Now Favors Buyers — Here's What's Changed in 2023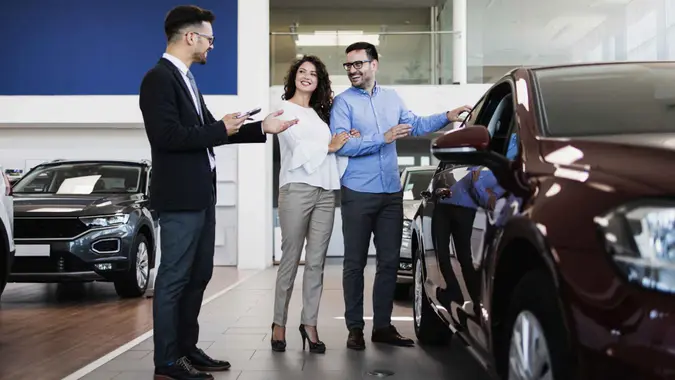 DuxX / Getty Images/iStockphoto
Prices on Ford and Tesla electric vehicles dropped by up to 20% this summer, GOBankingRates previously reported. Prices for regular gas cars now look to be following suit, indicating a "return to normal" for new car shoppers after years of low inventory and inflated prices.
A new report released by Cox Automotive, reported by Autotrader, indicates that car inventory is returning to normal, pre-pandemic numbers. With this healthy supply comes price cuts from dealers.
A few key elements had to fall into place to bring car prices back to affordable levels for consumers.
First, supply had to rise, meaning the silicon chip shortage and other supply chain issues had to abate. New inventory on dealer lots has risen to a 56-day supply compared to supplies in the teens throughout much of 2022.
With plenty of inventory on the lots, dealers are looking to move cars. And that means a return of incentives and discounts. Cox Automotive reported that dealers now offer discounts and incentives worth roughly 4.4% of the average transaction price. That's nearly double last year's incentives but less high than in 2019 when new car buyers could find deals that would shave 10% off their transaction price.
Credit is also beginning to loosen, which means better approval rates for new car loans, smaller down payments and longer terms. Longer loan terms could mean people can afford a pricier car with lower monthly payments.
Make Your Money Work for You
All of this bodes well for buyers looking to take advantage of end-of-the-year car sales. October, November, and December are traditionally the best months to score a deal on a new car. With more inventory than in years, dealers will seek to clear lots to make room for 2024 models.
More From GOBankingRates