Car Owners Need To Be Financially Prepared for These Supply Chain Issues, Expert Says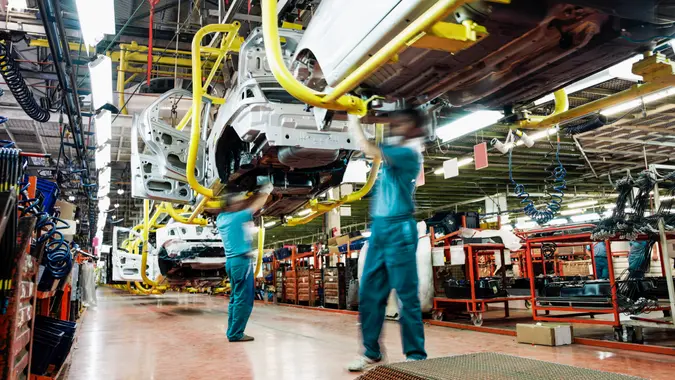 gerenme / iStock.com
Supply chain issues are nothing new, as pandemic-era shutdowns continue to have a ripple effect. Unfortunately for car buyers, these supply disruptions can have an issue on your bottom line when it comes to how much you have to pay for your vehicle.
GOBankingRates spoke with David Meniane, CEO of CarParts.com, about the current and upcoming supply chain issues that can affect car buyers and owners, and what to do to be prepared.
Which Supply Issues Are Affecting Car Buyers and Owners?
Meniane said there are three main supply issues that could lead to higher car and car part prices.
"There is still a shortage of semiconductors and persistent supply chain issues have impacted the number of new cars available," he said. "There are also concerns about the increase in raw materials costs, which puts financial pressure on manufacturers to raise the prices for their customers. Escalating prices of raw materials, like steel and aluminum, may increase manufacturing costs, affecting the pricing of replacement parts for car owners."
In addition, there is a labor shortage, which can also affect costs.
"Many manufacturers are suffering from labor shortages — even outside of the United Auto Workers strike," Meniane said. "Shortages in skilled labor can impact manufacturing capacity by slowing down the production of parts and contributing to supply chain challenges. When labor shortages impact a company's production, inventory will typically decrease, which will raise prices for consumers."
Make Your Money Work for You
How To Financially Prepare for Higher Costs Resulting From Supply Shortages
While the costs of cars and their replacement parts are expected to increase, there are proactive steps car buyers and owners can take to keep costs down.
"When prices become steeper, car owners should be as proactive as possible when navigating rising vehicle prices," Meniane said. "This can be accomplished through comparison shopping, considering aftermarket parts and negotiating repairs before making a payment. People can also stay informed about recalls and known issues, along with exploring flexible financing and insurance options, to be prepared and strategic in the face of supply chain issues and labor shortages that impact the automotive industry."
Another way to keep costs down in the long term is to be proactive about car maintenance.
"Often overlooked is prioritizing regular maintenance," Meniane said. "Low tire pressure, for example, is one way that drivers lose money and expose themselves to even greater costs. Under-inflated tires create additional friction and will force an engine to work harder to maintain speed. This reduces a car's gas mileage, forcing it to burn fuel inefficiently and you to refill your tank more frequently than you should have to. Also, under-inflated tires do not respond promptly to brakes, which makes a car more prone to dangerous and costly accidents."
With the high cost of replacement parts, you may consider utilizing flexible payment options. However, you should plan ahead to ensure you will be able to make all payments on time to avoid fees.
Make Your Money Work for You
"People do not want to repair or replace headlights, brake pads or catalytic converters, but it's something they must do to maintain the safety and functionality of their vehicle," Meniane said. To alleviate this unexpected and time-sensitive financial burden, drivers can look for service and part providers who offer 'buy now pay later' (BNPL) options. BNPL can be a helpful financial tool that spreads out the cost of their repair, part or service over multiple payments, which is crucial in a time where their dollars are already stretched extremely thin."
More From GOBankingRates