I'm a Car Salesperson: Here Are 6 Ways To Save Money at the Dealership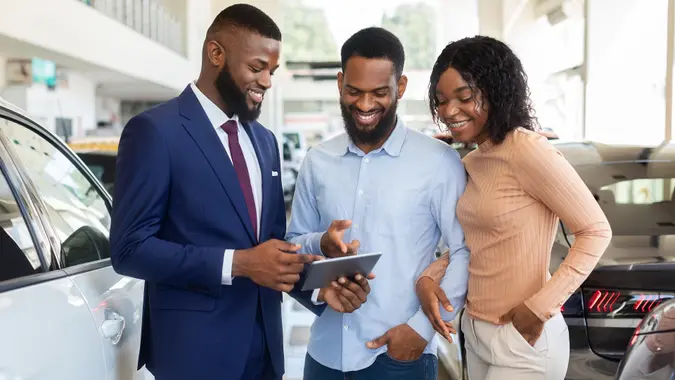 Prostock-Studio / iStock.com
For the past couple of years, car dealers have been able to successfully sell the vehicles on their lots well above sticker price because of low inventory and lack of competition. However, the tide has turned. As of March, inventory is up and dealer incentive and savings programs are back. That means there's finally an opportunity to get a good deal on a vehicle.
To get some insider tips, GOBankingRates turned to the advice of a 23-year veteran in the car sales industry, Mike Davenport, owner of Mike's Car Store. Davenport has been on social media since 2010, teaching people how to negotiate car deals and wade through red tape.
Before you start car shopping, check out these six ways to save money at the dealership, courtesy of Davenport.
Plan To Buy Local
Davenport said that you should start by finding a vehicle at a local dealership that you're interested in buying. Next, look at other dealerships up to 100 or so miles from your area and find three to five more vehicles of the same make and model with the same equipment.
He said to save the data you gather on each of those vehicles, so you can use it as a negotiating tool at your local dealership. 
Get the Salesperson Interested in Landing Your Business
Next, according to Davenport, you should have a conversation with a salesperson or the sales manager at the local dealership that has the vehicle you want. He said you should say to the salesperson, "I want to keep my business local — do you want me to keep my business local?" Davenport said the reason for this question is to get a "yes." 
Make Your Money Work for You
"They're always going to say yes," he said. "That's when you say 'awesome,' and you reiterate that you're going to do all of your vehicle service needs […] at the dealership."
Davenport said that's also the time to bring up the other dealers you researched that have comparable vehicles. He said to say, "Listen, I did look at a couple [of] other vehicles, and I like them just as much as I like yours, but you're local to me. Do you want me to keep my business local?"
He said that he knows you will be repeating yourself, but it's very good to get the salesperson or sales manager saying 'yes' over and over and over again. He said that dealerships are unwilling to lose potential buyers because they know you'll probably never come back once you walk away. 
Never Tell a Dealership You're Paying Cash
Davenport said you should never tell the salesperson that you're paying cash for the vehicle you want to buy because it will lessen your chances of getting the best deal possible. Dealers might reduce the purchase price of the car if they think they can make up the difference in financing. But if you say you are paying cash — or even going through your bank for financing — that option is unavailable to them.
If you have been pre-approved for financing through your bank, and you want to disclose that fact, you can tell the salesperson that you might be interested in financing through the dealer, Davenport said. That will leave the dealer with the hope that it can make some money through financing, and it might be willing to discount the purchase price of the car to get your business. 
Make Your Money Work for You
Trade In Your Vehicle
Davenport recommends getting trade-in offers from several different dealerships, which can help you negotiate the best price for your trade-in vehicle. However, he cautioned that you should avoid trading in your car at dealers that have no interest in the make and model. For example, he said,  if you have a Toyota Corolla, don't expect to get the best value for your trade-in at a Lexus dealership because it will likely give you the lowest amount possible and resell it at an auction to recoup what it paid for it. 
 He also said to consider listing your vehicle on Facebook Marketplace for the highest trade-in value or the lowest private party offer and see if any dealerships contact you to earn your business.
Negotiate Each Part of the Deal Separately
Davenport said to get the best deal, you have to negotiate each thing separately."You do not interlace them," he said. "You stay focused like a laser beam […], and when you're happy with the price of the car, you move on to the trade. When you're happy with the trade, you move on to financing — and after that is when you know you've got a great deal."
Hire a Car-Buying Advocate
If you don't feel you're up to the task of negotiating each part of the deal separately, Davenport said a car-buying advocate will do all the legwork for you, including locating the car you want and negotiating the best deal. The only thing you'll have to do, he said, is sign the papers. 
You will have to pay a fee to a car-buying advocate. One service, Car Buyer's Advocate, charges $500 plus $100 for each trade to negotiate the best deal. However, some services charge between $1,000-$2,000 or $100-$200 per hour.
Car Buyer's Advocate states that people can lose $2,000-$10,000 when buying a car on their own, so a fee of $500 (or even a little more) might be well worth it. The company states that the average savings on a new car when using its service is 18% under MSRP. And the average savings on a used car is 25% under retail.
If you decide to hire a service to help you negotiate the best deal on a vehicle, make sure it's a car-buying advocate. Car-buying advocates charge a fee and offer services that work in your best interest. Car-buying services, however, are typically in cahoots with car dealerships and receive payments for generating leads. These services are not interested in helping you negotiate the best deal possible.  
More From GOBankingRates