4 Fees To Watch Out for When Buying a New Car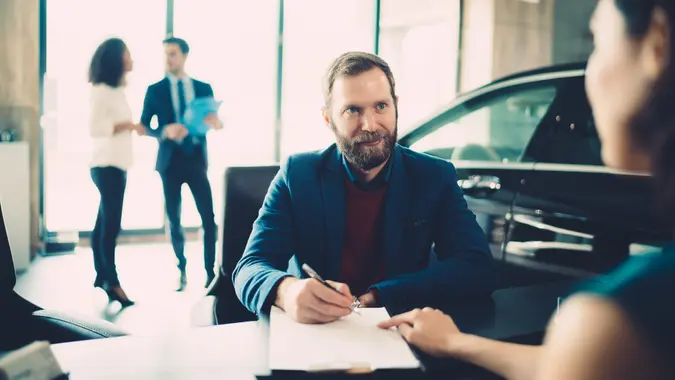 martin-dm / Getty Images
If you're on the hunt for a new car, you likely have a budget. But did you know that there are sneaky fees that can inflate the final cost?
Unfortunately, if you're buying a new car at a dealership, these extra charges may be masked as necessary expenses. Some of these fees possibly can be negotiated, while others might not have any wiggle room. To help you avoid getting taken for a ride, so to speak, here are four fees to watch out for when buying a new car.
Documentation Fees
Preparing documentation is part of the process of buying a car, but excessive fees totaling hundreds of dollars should be questioned.
"One of the biggest offenders is the documentation or doc fee, " said Jacob Carter, owner of Engine Rev Up. "This can range anywhere from $100 to over $1,000 in some states. Dealers will claim it covers costs for processing paperwork, but it's often pure profit padding. I once had a client get slapped with a $799 doc fee on a mid-size sedan! For that price, the dealer better have hired a team of lawyers to process the forms. Always negotiate this fee down or shop around if a dealer won't budge."
Dealer Preparation Fees
When it comes to dealer prep fees, don't be afraid to ask what it exactly entails — especially because it's a brand-new car. If it doesn't sound logical, contest it, recommends Consumer Reports.
Make Your Money Work for You
"Another fee to watch is the infamous dealer preparation or pre-delivery service fee," Carter said. "This can be a few hundred dollars for supposedly getting the car ready for you. But aren't new cars already prepared for delivery by the manufacturer? One time I saw a $500 pre-delivery fee for a car that still had plastic wrap on the seats and scam add-ons like nitrogen-filled tires. Don't fall for it!"
Destination Fees
As the name implies, this is the cost for shipping your car.
"This is the most expensive fee of all that you are likely to face when trying to buy a new car," said Abdur Rehman, founder of Hacks for Cars. "The fee is the freight charge to deliver your car which is around $800 to $1,800. And, no matter the distance — 10 miles or 1,000 miles, [whether] you pick up from the assembly line or the factory floor — the cost will be the same."
Market Adjustment Fees
Market adjustment fees are added on by the dealer when it believes that the demand for the vehicle is such that the MSRP is too low.
"Many dealerships are taking on "market adjustment" fees over the MSRP — these are not regulated and 100% negotiable," said money coach and personal finance expert Lisa Chastain. "These are one-time fees that you may or may not be aware of."
Other Costs To Consider When Buying a New Car
Here are some other costs to consider when buying a new car. 
Add-Ons
Things like rustproofing, fabric protection, etching or paint sealing don't come in the form of fees, but are presented as add-ons that the dealer will try to sell you. 
Make Your Money Work for You
"Etchings or paint sealants are another area dealers try to pad charges," said Carter. "They'll say sealants protect the paint, but modern finishes don't need these expensive extras. I once had a dealer try to charge $1,200 for an etching that was basically just the VIN etched into the glass. Total rip-off!"
Sales Taxes 
"First of all, sales taxes are not considered genuinely as a fee, but the customers take them into account as one to buy their new car," said Rehman. "For example, on a $30,000 vehicle, expect an additional $2,100 in sales tax, which isn't negotiable. 
"However, some tax incentives, such as those for electric vehicles, and deducting your trade-in value can help offset these costs. Notably, some states, like New Hampshire, Delaware, Oregon, Montana and Alaska, don't impose sales tax on vehicle purchases."
GAP (Guaranteed Asset Protection)
"This insurance protects the value of the car if you are to take out a loan for the vehicle," said Chastain. "It covers the gap between what your car is worth and what you owe if your car is totaled. This is helpful but not necessary for the purchase of the car."
Extended Warranty
"Most car dealerships will give you the option to pay for this coverage," Chastain said. "It will increase your monthly payment.  Look out for it in the fine print to make sure you understand the difference between your car payment with and without it."
The Takeaway
"The key is to read all paperwork carefully and be prepared to question these dubious fees," said Carter. "Don't be afraid to walk away from a deal if a dealer won't explain or remove excessive charges. Know what you should pay for the car itself and watch out for all the profit-driven extras."
Make Your Money Work for You
More From GOBankingRates