Ford Cuts Cost of Mustang Mach-E Weeks After Tesla Drops EV Prices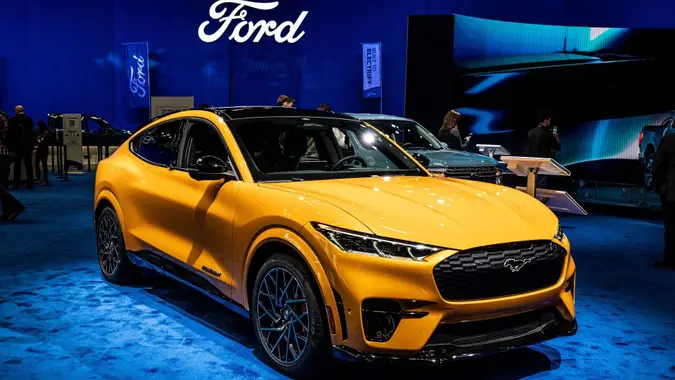 Michael Brochstein/SOPA Images/Shutterstock / Michael Brochstein/SOPA Images/Shutterstock
If you're in the market for an electric vehicle (EV), now might be the right time. Just a few weeks after Tesla cut its prices on some of its EVs, Ford Motor announced it was increasing production and cutting prices of its electric Mustang Mach-E crossover, to keep it "competitive in the marketplace," according to a press release.
Student Loan Forgiveness: Will You Qualify for $0 Payments Under Biden's New Plan?
Learn: 3 Ways Smart People Save Money When Filing Their Taxes
Do You Have a Tax Question? Ask a Tax Pro
"At @Ford, we want to make EVs more accessible, so we're increasing #MustangMachE production & reducing prices across the Mach-E lineup. Scaling will shorten customer wait times. And with higher production, we're reducing costs, which allows us [sic] share these savings with customers," CEO Jim Farley tweeted Jan. 30.
Ford said that the price cuts range from $600 to $5,900, according to the release.
Make Your Money Work for You
In comparison, Tesla announced earlier this month that the Model Y LR price will be cut by $13,000, which would amount to a $20,500 reduction with the EV tax break, as GOBankingRates previously reported.
"We are not going to cede ground to anyone. We are producing more EVs to reduce customer wait times, offering competitive pricing and working to create an ownership experience that is second to none," Marin Gjaja, Chief Customer Officer, Ford Model e, said in the release.
Wedbush Securities analyst Dan Ives said that the "EV price war has officially begun" and he expects similar moves over the coming weeks from a host of EV players "from Detroit to Germany to China."
"There is a window of opportunity to gain share in the burgeoning EV market in our opinion and 2023 is a pivotal year that will establish the winners and losers in this EV landscape with Tesla high on top of the mountain," Ives wrote in a note. "However, now Ford and we believe GM will have to sacrifice margins to gain increased volumes at a crucial time. In a nutshell, they are not going to lose EV customers on price, especially now with EV tax credits on the table."
Make Your Money Work for You
Take Our Poll: How Much of a Tax Refund Do You Expect in 2023?
Ives wrote that Tesla is seeing demand double more than production since the price cuts were announced globally.
"We believe Ford and Farley are making the right strategic moves cutting prices and ultimately investors need to see the forest through the trees on these actions with the EV transformation now hitting its next gear of growth globally," he wrote.
More From GOBankingRates
Make Your Money Work for You