Tesla Drops Price of Model Y LR by $13K — How Much Will You Pay After Clean Energy Credits?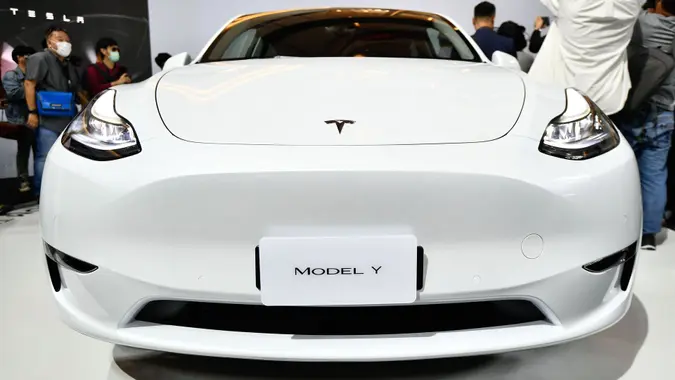 Vachira Vachira/NurPhoto/Shutterstock / Vachira Vachira/NurPhoto/Shutterstock
Tesla recently cut its car prices in the U.S. and Europe by up to a whopping 20% on certain models, some of which can qualify for the clean energy tax credit — that is, if they are delivered before March 2023.
See: States Whose Economies Are Failing vs. States Whose Economies Are Thriving
Read: How To Invest In Precious Metals To Protect Your Retirement
Find: 25 Sneaky Car Dealership Tricks To Avoid at All Costs
The electric vehicle (EV) company announced that the Model Y LR price will be cut by $13,000, which would amount to a $20,500 reduction with the EV tax break.
Regarding the $7,500 federal tax credit, Tesla said on its website that "certain new Model 3 and Model Y vehicles qualify for a federal tax credit for eligible buyers. This credit amount is in effect for deliveries until March 2023."
MarketWatch reported that the price for a long range all-wheel drive Model Y was dropped to $52,990 from $65,990, a 19.7% reduction, while the Model Y performance model was reduced by 18.6% — to $56,990 — from $69,990.
Make Your Money Work for You
EV Tax Credit Details Promised by March 2023
EVs need to meet certain requirements to qualify for the tax incentives (of up to $7,500) under the Inflation Reduction Act (IRA). However, in January the Biden administration stated that the guidance on some incentive eligibility — such as the sourcing of EV critical minerals and battery components — would be delayed until March.
In turn, some EVs which might not meet these requirements can still be eligible, at least until March.
Since Jan. 1, income-qualified households are able to receive a tax credit of up to $7,500 for new vehicles, as long as the EV is assembled in North America and has a battery that meets certain sourcing requirements. The vehicle must be for your own personal use (not for resale) and your adjusted gross income may not exceed $300,000 for married couples filing jointly, $225,000 for heads of household, and $150,000 for all other filers.
Another reason why some Tesla EVs can now qualify for the tax breaks is that, thanks to the price cuts, they no longer exceed the price cap requirement. The price cap is $80,000 for vans, sport utility vehicles and pickup trucks, and $55,000 for other vehicles.
Analyst Insight: Tesla's Fortunes May Improve With Price Cut
Wedbush Securities analyst Dan Ives wrote in a Jan. 13 note that the company, which "just announced on its website some significant price cuts in the U.S. and Europe ranging from 6% to 20% sticker reductions for Model 3/Y and various performance models," has "margin flexibility to make aggressive moves like this to gain further market share in this EV arms race."
Make Your Money Work for You
"We also note that Model Y will benefit from EV tax credits likely in 2023 now with these cuts which should be a further tailwind," Ives wrote, adding that these price cuts could spur demand and deliveries by 12%-15% globally in 2023.
Take Our Poll: How Do You Think the Economy Will Perform in 2023?
More: Here's How Much You'd Save on Gas With a Tesla and Other Electric Cars
There are also additional new features of the tax credits that are enabling some carmakers — such as Tesla — to again be eligible for tax incentives. Under the new law, the cap halting tax credits after 200,000 vehicles were sold has also been removed.
More From GOBankingRates
Make Your Money Work for You