8 Foreign Cars To Stay Away From Buying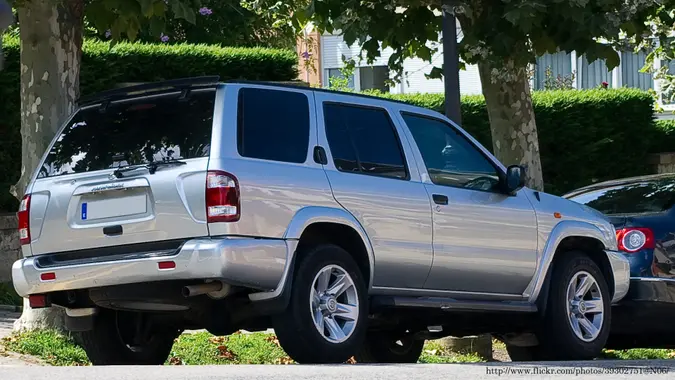 Spanish Coches / Wikimedia Commons
When shopping for a new car, it's tempting to be drawn to popular foreign brands known for their reputations for performance, luxury, value and style. However, experts advise caution with certain models that have developed notorious track records.
While a flashy exterior or badge cachet may turn heads, it is wise to look under the hood, scrutinize reliability reports and listen to the experts before making a purchase.
Prospective buyers would be prudent to steer clear of the following foreign cars that have been repeatedly criticized by industry experts and owners alike. From chronic transmission problems to exorbitant maintenance costs, these rides come with some heavy baggage that outweighs any superficial appeal. Test drives and independent inspections are strongly recommended before signing on the dotted line.
Also see six new cars to stay away from buying.
Nissan Pathfinder
This midsize SUV has faced criticism for transmission problems, especially with the continuously variable transmission (CVT). Owners have reported overheating, lack of durability and the need for expensive repairs or replacements.
Automotive expert Er. Ankit Dhadwal, founder and CEO of Mount Shine, said, "Many owners complained that their CVTs overheated and weren't very durable. Consumers expressed concern over the need for expensive transmission replacements or maintenance so frequently."
Toyota C-HR
Subcompact SUVs are often smart choices for daily driving in crowded urban areas. On the surface, the Toyota C-HR appears to offer many advantages in this vehicle class. But, according to expert assessments, the C-HR is actually one of the poorest options among subcompact SUVs currently on the market.
Make Your Money Work for You
According to Matas Buzelis, automotive expert at carVertical, "The C-HR stands out as one of the worst subcompact SUVs available. When we set aside the car's somewhat ambiguous design and focus solely on its attributes, it becomes evident that the C-HR lacks any distinct advantages. Build quality, interior space, dynamics, handling and comfort all fall short. The C-HR is, at best, a subpar option."
Jaguar X-Type
The X-Type has been criticized for below-average reliability and costly maintenance compared to rivals like BMW and Mercedes-Benz. Owners cite more frequent mechanical issues and high labor and parts expenses.
As Dhadwal noted, "The likelihood of high repair costs was one of the main justifications for exercising caution with the X-Type. The price of labor and genuine Jaguar parts may dramatically increase maintenance and repair costs."
Audi Q5 55 TFSI e
Experts noted this plug-in hybrid SUV is unnecessarily complex and expensive compared to gas-only versions of the Q5.
Buzelis said, "Currently, the most affordable version of the Q5 55 TFSI e starts at around $57,000, which is approximately $11,000 more than a version with the same four-cylinder engine that offers similar performance without the added complexity.
"When you pair it with a plug-in hybrid powertrain, it becomes unnecessarily complex and expensive. Furthermore, when the hybrid's battery depletes, recharging is not a fast and efficient process."
Fiat 500
Though beloved for its style, the 500 has been plagued by electrical issues, including problems with lighting, power windows and infotainment. Transmission complaints and doubts about long-term durability are also common.
Make Your Money Work for You
According to Dhadwal, "Electrical components were a frequent source of Fiat 500 complaints. Some owners reported issues with the lighting, power windows, bad clutch plate, faulty fuel-injector seats and infotainment systems, which might be aggravating and expensive to remedy."
Mitsubishi Mirage
This budget subcompact is notorious for poor performance, noisy cabin, choppy ride quality and lack of features compared to the competition. Acceleration is notably underpowered.
"Highway merging and passing maneuvers may feel uneasy due to the engine's lack of power," Dhadwal explained. "The Mirage's poor performance is one of its biggest criticisms, as it has troubles with its front brakes; also, the airbags do not deploy as expected."
Nissan Juke
While the Nissan Juke has a unique design, there are some practical drawbacks to consider for long-term ownership. 
According to James McNally, the managing director of Self-Drive Vehicle Hire, "The Juke's design includes a sloping roofline which gives it a sporty and dynamic appearance, but this design choice reduces the available headroom for passengers in the rear seats. Taller individuals in particular may find it uncomfortable to sit in the back due to the restricted headspace."
Cargo space is also tighter than many rival SUVs. 
Honda Civic (2012)
The 2012 Honda Civic is one model year that's best avoided.
According to Blake Shaw, automotive expert of the All About Wheels blog, "This Civic model year is notorious for problems with interior accessories and brake systems. Quite a few owners have complained about premature tire wear, too."
Problems with the 2012 Civic's interior trim peeling or cracking early in the vehicle's life are frequently reported. Given this model year's notoriety for various defects and lower-than-average reliability, consumers are wise to look at other options in the used car market. The 2012 Civic's issues outweigh its positive attributes for most buyers.
More From GOBankingRates