Gas Prices Head Lower After Holiday Spike, But Have They Already Hit Bottom?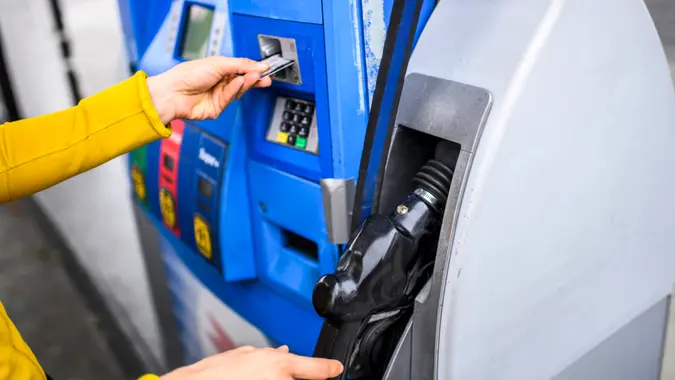 Extreme Media / Getty Images
Gas prices have begun to tick lower in the United States following a brief spike caused by heavy holiday travel and frigid weather, but the trend might be short-lived.
Explore: GOBankingRates' Best Credit Cards for 2023
Find: How To Get Free Gift Cards From Your Everyday Purchases
Avoid: 25 Sneaky Car Dealership Tricks To Avoid at All Costs
The average gasoline price nationally fell to $3.267 a gallon as of Jan. 11, 2023, according to AAA. That was down slightly from $3.270 the previous day. Although the price is higher than a week earlier, it is below prices from a month ago and a year ago.
In a news release on Monday, AAA projected that the recent surge in gas prices "may be ending." As recently as Christmas Eve the average was only $3.09 a gallon, but then it shot up during the final week of 2022 and the first week of 2023.
The biggest price gains last week took place in Ohio (up by 22 cents a gallon), Colorado (17 cents), Wyoming (16 cents), Indiana (16 cents) and Iowa (15 cents).
Make Your Money Work for You
"As we head toward February, pump prices will likely dip, barring any jolt in the global oil market," AAA Spokesperson Andrew Gross said in a statement. "But it is likely that the national average prices we saw heading into Christmas may have been the lows for this winter."
Although winter gas prices might not dip as low as they were before Christmas, the overall outlook for 2023 is mostly positive. In its latest forecast, the U.S. Energy Information Administration estimates that the average retail price this year will be $3.32 a gallon – well below the $3.97 average recorded in 2022.
GasBuddy offers a similar outlook in its forecast, projecting that the national average price of gas in 2023 will drop nearly 50 cents a gallon from the 2022 average of $3.49.
According to GasBuddy's forecast, the national gas price average "could cool" in early 2023 thanks to seasonally weak demand. However, prices are expected to rise again in late winter and then move closer to $4 a gallon in time for summer.
SNAP Benefits: How Long Do They Last?
Social Security: No Matter Your Age, Do Not Claim Benefits Until You Reach This Milestone
Make Your Money Work for You
"Barring unexpected challenges, prices in 2023 should return to normal seasonal fluctuations, rising in the spring, and dropping after Labor Day into the fall," the GasBuddy report said.
The highest gasoline prices are forecast for June, with an estimated peak of up to $4.19 a gallon on average.
More From GOBankingRates
Make Your Money Work for You