8 Gas Rewards Programs To Offset Rising Fuel Prices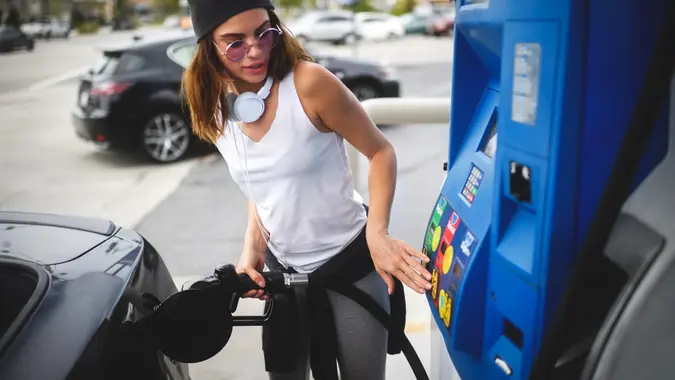 EXTREME-PHOTOGRAPHER / iStock.com
With inflation and high gas prices, we all want to shave expenses where we can. Clipping digital coupons and using rewards linked to our spending at drugstores, grocery stores and more can put money back in your pocket.
If you've never paid much attention to the rewards you could be receiving for fuel and food purchases, now's the time to do so in order to help offset rising gas prices. By signing up for fuel rewards programs offered by both gas stations and supermarkets, savings at the pump will be on the way.
Here's a look at some of the top fuel rewards programs. All are free to join.
Earning Gas Rewards When You Buy Fuel
Which gas stations have the best rewards program? Which fuel rewards app is best? That depends on how many points you receive per gallon of gas you buy, the opportunity to use bonus points, your earnings on convenience store items and, finally, how you can receive a discount on gasoline. Each of these gas stations has a rewards program to help you build savings at the pump.
BPme Rewards
If you fuel up at BP or Amoco stations, you'll save money immediately after signing up for BPme Rewards. For the first month, you'll get 5 cents off every gallon. And to maintain that reward, spend $100 on gas during each calendar month. At today's gas prices, that might not be too hard to do. If you download the app, you also might find bonus offers.
That part of the program is free. For 99 cents a month, you can subscribe to the BPme Price Match, which searches for the best gas price in the area and automatically matches it when you enter your membership information at the pump.
Exxon Mobil Rewards+
Join Exxon Mobil Rewards+ to earn points when you buy gas or things in the convenience store or even get your car washed. You earn points worth 3 cents per gallon of gas and 2 cents for every dollar you spend on car washes or at the store. Once you reach 100 points, you'll get $1 off on gas. If you're a member of AARP, link your card to your account for greater savings. Additional bonuses are available to drivers whose car uses Synergy Supreme+ gas.
Make Your Money Work for You
Pilot Flying J myRewards Plus
While you might think of Pilot Flying J as a stop solely for truckers, plenty of noncommercial drivers rely on this chain for their gasoline needs. And join the Pilot Flying J myRewards Plus program now to save 10 cents per gallon of gas with your rewards number through Oct. 31. If you download the app, you'll find special offers, too, for beverages, food and merchandise. You can earn up to 4 points per gallon to start building rewards.
Speedway Speedy Rewards
Speedway offers Speedy Rewards, which helps you to earn discounts on gas, food and merchandise. You'll get 10 points for each gallon of gas you buy and 20 points per dollar on what you buy in the convenience store. Speedy Rewards members get bonus points on a variety of items, too.
You might be wondering, "How can I get a discount on gasoline?" At Speedway, it takes 1,750 points for a discount of 10 cents per gallon, good for one fill-up of up to 25 gallons. For 25 cents off a gallon, you'll need 4,375 points. If you save 8,750 points, you'll save 50 cents per gallon.
Earning Gas Rewards When You Buy Groceries
Grocery stores from coast to coast have gotten into the gas rewards business, too, offering points as you buy groceries or even prescriptions. You can redeem those points for cents off at the gas pump. Some stores have their own gas pumps, while rewards earned through other programs are redeemable at affiliated gas stations. Read the fine print when you sign up for the program, including when points expire. At today's gas prices, you don't want to lose them.
Make Your Money Work for You
Giant Eagle
Giant Eagle operates more than 400 grocery stores, Market District stores and GetGo from Giant Eagle gas stations and convenience stores in western Pennsylvania, Ohio, north central West Virginia, Maryland and Indiana. Sign up for its Fuelperks+ program and you'll earn "perks" based on your spending: 1 perk for every $1 spent on groceries or gift cards; 2 for every gallon of gas, and 5 for any prescription. When you've accumulated 50 perks, exchange them for 20 cents off per gallon (up to 30 gallons) or 2% off your grocery order.
Safeway
The chain has 908 locations, primarily along both coasts as well as Alaska and Hawaii. Registering for its Safeway for U program gives you access to discounts on gas or groceries; it's your choice how you decide to redeem the points. You'll earn 1 point for every $1 you spend on groceries and 2 points per dollar for gift cards.
With every 100 points, you'll earn one reward. Each reward is good for 10 cents off a gallon at participating gas stations, up to 25 gallons.
The Kroger Co.
The Kroger Co. has a nationwide family of regional stores, which includes Ralphs, Fred Meyer, Dillons and Fry's. The Fuel Points program is the same from one store to the next, and your benefits go with you if you're traveling from coast to coast. Sign up for Fuel Points to earn 1 point for every $1 you spend through the Family of Stores Loyalty Program, and you'll also rack up points when you buy gift cards, fill a prescription or pick up some bling at Fred Meyer Jewelers.
Make Your Money Work for You
If you fill up at a fuel center in the Kroger chain, you can exchange 100 points for 10 cents off per gallon. Points are redeemable in 100-point increments, up to 1,000 points. That's $1 off per gallon for up to 35 gallons.
Tops
At grocery chain Tops, located in the Northeast, you'll earn 1 Tops GasPoint for every $1 you spend on groceries. But the store has a couple of twists on the typical program. First, look in Tops' weekly ad for opportunities to earn bonus GasPoints. Then, when you're in the store, redeem paper manufacturers' coupons. You'll get 10 points deposited into your account for each coupon you use, up to 10 per customer per day.
Are Fuel Rewards Worth It?
If you are a model of consistency when it comes to where you fill your tank and grab your groceries, the answer is a resounding yes. If you visit the same gas station and supermarket each week, then continue your patterns and cash in on the rewards. But if you think you might change where you do business just for the fuel rewards, do the math first.
Look, for example, at the rewards at Kroger stores. If you spend $500 a month on groceries, that translates to 50 cents a gallon in savings in gas. If your tank holds 25 gallons, you'll save $12.50 per month when you fill your tank.
Will shopping at a new store cost you more than your savings? That's what you need to calculate.
Takeaway

With inflation stretching our household budgets, the only way to try to get it close to balancing is to cut expenses. You could add funds back to the budget by saving money on gas through apps and fuel rewards programs.
Information is accurate as of Aug. 8, 2022.