Most Popular Cars in Every State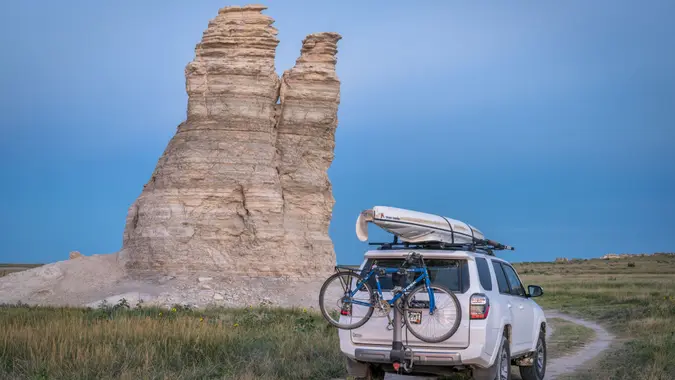 marekuliasz / Getty Images
From the rugged terrains of Montana to the bustling streets of New York, the United States' diverse landscapes and lifestyles translate to varied vehicular preferences across its states.
Let's explore the most popular cars across all 50 states:
Alabama: Hyundai Sonata
Known for its manufacturing plant, Alabamians have a soft spot for Hyundai's reliable mid-sized sedan.
Alaska: Subaru Outback
Its rugged capabilities handle Alaska's tough terrains and varying weather conditions.
Arizona: Toyota Camry
Reliable and efficient, the Camry suits the desert climate and urban areas of Phoenix and Tucson.
Arkansas: Chevrolet Silverado
Practical for both urban and rural areas, the Silverado is beloved for its durability.
California: Toyota Prius
The green revolution and urban living make hybrids like Prius a Californian favorite.
Colorado: Subaru Forester
AWD systems and mountain-ready features make it perfect for the Rockies.
Connecticut: Honda CR-V
Combines efficiency with the ability to handle New England winters.
Delaware: Ford Fusion
A practical choice for the state's mixed urban and rural settings.
Florida: Toyota Corolla
Popular for its fuel efficiency and reliability, it's a favorite for both retirees and younger drivers alike.
Georgia: Kia Optima
With a Kia plant in West Point, there's local pride for this reliable sedan.
Hawaii: Toyota Tacoma
Ideal for both city driving and navigating volcanic terrains.
Idaho: Ford F-Series
Given its rural landscapes, trucks like the F-Series are a common choice for their versatility.
Make Your Money Work for You
Illinois: Honda Civic
This compact car is practical for navigating Chicago streets and suburban roads.
Indiana: Chevrolet Malibu
American-made vehicles hold a particular appeal in the heartland.
Iowa: Chevy Equinox
A blend of practicality and midwestern sensibilities.
Kansas: Ford Escape
A compact SUV suitable for both urban and country roads.
Kentucky: Toyota Camry
With a manufacturing plant in Georgetown, locals take pride in this sedan.
Louisiana: GMC Sierra
Trucks suit the state's mix of city living and countryside.
Maine: Subaru Crosstrek
All-wheel drive is essential for New England's varying conditions.
Maryland: Honda Accord
A combination of reliability and comfort for the state's urban centers.
Massachusetts: Toyota RAV4
Versatility to handle both city commutes and weekend getaways.
Michigan: Ford Fusion
The home of Motor City shows love for its local productions.
Minnesota: Chevrolet Impala
Comfort and reliability for long drives and cold winters.
Mississippi: Nissan Altima
With a plant in Canton, there's a local touch to this popular sedan.
Missouri: Ford F-150
A balance of work and play, this truck is a top choice.
Montana: Ram 1500
Suited for the state's rugged terrains.
Nebraska: Chevrolet Silverado
Practical for both work and leisure.
Nevada: Honda CR-V
Fuel efficiency is vital for long desert drives.
New Hampshire: Subaru Legacy
Ready for all of New England's seasons.
New Jersey: Toyota Sienna
Family-friendly for suburban living.
New Mexico: Hyundai Santa Fe
Comfort meets desert driving.
Make Your Money Work for You
New York: Jeep Grand Cherokee
Suitable for upstate roads and city streets alike.
North Carolina: Honda Pilot
A reliable family SUV for various terrains.
North Dakota: GMC Terrain
Prepared for both cold winters and warm summers.
Ohio: Chevrolet Cruze
Compact and efficient for the state's urban centers.
Oklahoma: Toyota Tundra
A reliable truck for both city life and country living.
Oregon: Subaru Outback
Loved for its ability to handle both city streets and mountainous terrains.
Pennsylvania: Jeep Compass
Versatility is essential in the Keystone State.
Rhode Island: Volkswagen Jetta
Compact size suits the small state's roads.
South Carolina: BMW X3
With a plant in Spartanburg, locals have a fondness for this luxury SUV.
South Dakota: Ford Explorer
Adventure-ready for the state's varied landscapes.
Tennessee: Nissan Rogue
Manufactured in Smyrna, this SUV has local ties.
Texas: Chevy Silverado
Everything's bigger in Texas, including a love for trucks.
Utah: Subaru Forester
Ready for both mountain adventures and city commutes.
Vermont: Toyota Highlander
Reliable for the Green Mountain State's conditions.
Virginia: Toyota Avalon
Luxury meets practicality in this sedan.
Washington: Mazda CX-5
A blend of sportiness and practicality for the Pacific Northwest.
West Virginia: Ford Ranger
Compact yet rugged, ideal for the state's roads.
Wisconsin: Chevrolet Trax
Comfort meets winter-ready capabilities.
Wyoming: Dodge Ram
Suited for the state's open roads and rugged landscapes.
The cars we drive often reflect our environment and our needs. While preferences change with time and emerging technologies, it's fascinating to observe the cultural and geographical influences on our choices.
As the automotive landscape shifts toward electric and more eco-friendly options, it will be interesting to revisit these preferences in the years to come.
Editor's note: This article was produced via automated technology and then fine-tuned and verified for accuracy by a member of GOBankingRates' editorial team.
More From GOBankingRates