New Car Market: 9 Best Incentives on New Vehicles in October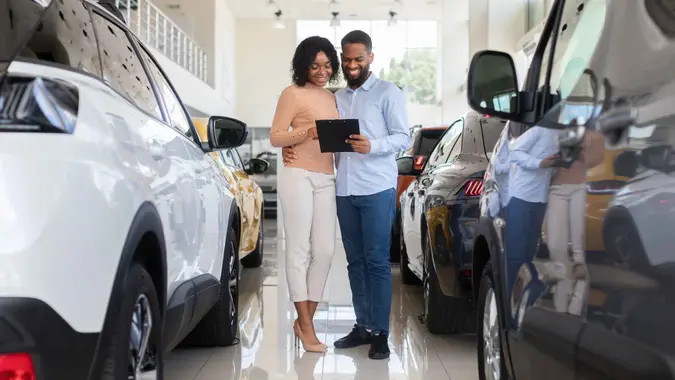 Prostock-Studio / Getty Images/iStockphoto
We have officially hit the first-best month of the year to buy a car. October to January is typically the best time to find deals, and many auto companies and dealerships like to start the car buying season off with a bang.
Manufacturers offer incentives at this time of year when vehicles reach the end of their product cycles and dealerships need to clear out for new models. You should always be on the lookout for financing deals, cash-back offers and lease incentives, but it's essential for car buyers in October.
All companies have deals and incentives this month, so do your research and compare brands, dealerships and broker sites. Here is a smattering of October's best incentives for new vehicles.
1. 2023 Hyundai Ioniq 5
MSRP: $41,450
Current Offer: 0.99% APR financing
Expires: Oct. 31, 2023
Kelley Blue Book (KBB) is bullish in the Ioniq 5, naming it its Best New Model of 2023 and Electric Vehicle Best Buy of 2023. Heavy on technology and carrying a great warranty, this offer is a winner if you want to switch to an electric drive and have the money to do so. The Ioniq is relatively cheap for an EV, but it's still an EV, so you'll still be paying over $40K.
2. 2023 Mazda CX-30
MSRP: $24,325
Current Offer: $2,799 down and $229/month for 36 months
Expires: Oct. 31, 2023
Depending on where you shop, you can wrangle this compact for under $20,000 as Mazda starts pushing its 2024s. If you see one cheap, grab it. The CX-30 drives very well, and as Car and Driver notes, "Uplevel models could even be said to compete with rivals such as the Audi Q3 and the BMW X1, even if their prices align more with similarly equipped versions of the Hyundai Kona and the Volkswagen Taos."
Make Your Money Work for You
3. 2023 Ram 1500
MSRP: $39,900
Current offer: 2.9% financing for 72 months on Big Horn and Laramie/$4,000 cash back
Expires: Oct. 31, 2023
The Ram 1500 is hugely popular with American truck buyers, and with an MSRP under $40,000 and great cash-back offers, now is a great time to get this modern yet traditional fave. Compared to others in the full-size pickup truck segment, "The Ram 1500 is the best driving and most comfortable pickup of the group," according to Car and Driver, who placed the 1500 in its 10 Best Trucks and SUVs for 2023 list.
4. 2023 Kia EV6
MSRP: $42,600
Current offer: 0.9% APR financing for 48 months/$5,000 cash back
Expires: 10/31/2023
Today's popular EVs have better battery tech, range and features, but Kia's EV6 is an excellent entry point to electric car ownership. The EV6 is a little pricier than other EV options (see the Ioniq 5 above), but the stylish Kia beats others with its tech-filled cabin, respectable range and up to 576 horsepower on some trims, per Motortrend.
5. 2024 Subaru Impreza
MSRP: $22,995
Current Offer: Lease of $2,569 down and $269/month for 36 months
Expires: Oct. 31, 2023
All Impreza models for 2024 are hatchbacks, per KBB, which are still a popular option and such a great deal for many Americans. AWD is standard on the Impreza, as is Subaru's EyeSight safety tech suite, which includes automatic emergency braking, blind-spot monitoring and rear cross-traffic alert. This roomy car has great infotainment technology, too — an 11.6-inch touchscreen and wireless Apple CarPlay/Android Auto smartphone integration are new for 2024.
6. 2023 Dodge Challenger
MSRP: $30,545
Current offer: $2,000 cash back on SXT, GT and R/T models
Expires: Oct. 31, 2023
We've mentioned this one before, but it bears repeating. 2023 is the final year for the Challenger in its current form (it may be eventually replaced with an all-electric version). If you've been eyeing a Challenger, now might be a good time to buy one before they are discontinued. Sportier trims cost more, but you can score a base trim for over $30,000.
Make Your Money Work for You
7. 2023 Volkswagen Taos
MSRP: $24,155
Current offer: 3.9% APR financing (loan tern is 72 months)
Expires: Oct. 31, 2023
Smaller than the Tiguan but priced closer to the Jetta, Taos is Volkswagen's compact SUV with great mileage and oodles of space and standard features heavy on tech and safety features. "A lively turbo engine, European driving manners, and a spacious interior that belies its subcompact dimensions" puts the Taos in a class of its own, according to Kelley Blue Book.
8. 2023 Ford Mustang
MSRP: $38,345
Current offer: 0% APR financing for 36 months plus $3,000 cash back
Expires: Oct. 31, 2023
You can make this year one to remember by purchasing this legendary car. A Ford Mustang can be yours for under $40,000 (many sites have this one's MSPR listed at closer to $30K), but only if you're okay with 0% financing for 36 months and getting cash back. As Forbes notes, it's all about performance with the 'Stang. All models deliver the power most American drivers want, but the "V8-powered Mustangs exude a certain karmic synergy and aural glee guaranteed to make you grin day or night."
9. 2023 Mitsubishi Outlander
MSRP: $27,595
Current offer: 0.99 financing for 36 months
Expires: Oct. 31, 2023
While many sites have the Outlander sitting comfortably in the middle of its SUV class, most believe it's a major improvement on last year's model. As the best vehicle Mitsubishi sells in the U.S., It's "a miracle" compared to the rest of the company's lineup, according to Edmunds. The 0.99 financings will help, but Edmunds recommends SE trim. "It comes with many great features at an appealing price, such as wireless Apple CarPlay, navigation and Mitsubishi's Mi-Pilot Assist collection of driver assist systems," notes the car authority.
More From GOBankingRates