New Car Market: Buy These Models Going on Sale During Summer 2023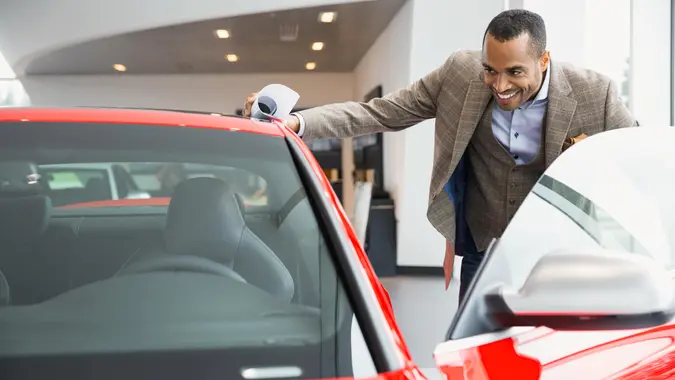 Hero Images / Getty Images/Hero Images
Thinking about shopping for a new car in summer 2023? Between May 1 and May 4, 2023, GOBankingRates polled 1,045 Americans to learn more about the last time they were in the market for a new car. Fifteen percent said they had been in the market within the last six months while 7% are looking right now.
Are there any new cars for sale worth shopping around for? If you're on the market to buy a new car this summer, consider test driving and purchasing one of these six models going on sale.
2023 Kia EV6
Neil Ferguson, certified mechanic and founder of Neil's Garage said the Kia EV6 will be going on sale this summer. He recommends this SUV with its extended range and various features as an affordable, practical electric vehicle (EV) choice.
Callum Russell, the owner of the electric car blog Charging At Home, said with the development of the EV industry and more competition, production has increased across all car manufacturers. "This is another reason why this model and so many others will be on sale in the summer, there are more and more new EVs hitting the market," said Russell.
Make Your Money Work for You
Take Our Poll: Are You Concerned About the Safety of Your Money in Your Bank Accounts?
2023 Hyundai Ioniq 5
Looking for a gas-powered new car for sale? Car shoppers may consider the Hyundai Elantra. Ferguson said it offers a similar range and features to the Kia EV6, but for a slightly lower price point. 
If you want to check out a used version of this model, Joe Giranda, director of sales and marketing at CFR Classic, recommends exploring the 2021 Hyundai Elantra.
"This model has an EPA-estimated 43 MPG on the highway, and features several driver assistance technologies, like forward collision warning and lane keeping assist," said Giranda. "This model actually earned excellent reviews for its reliability and affordability, as well as its comfortable interior and great performance."
2023 Toyota bZ4X
The Toyota bZ4X, a new electric SUV, may not be as flashy as some of the other EVs on the market. However, Ferguson recommends this new car model as a reliable and practical choice. 
Make Your Money Work for You
2023 Audi e-tron
With the 2024 Audi Q8 e-tron being released this year, Russell said this means the original Audi e-tron will be going on sale. 
Car shoppers, especially those with families, would be well advised to check out this large electric SUV/crossover vehicle, which is often described by customers as refined, spacious and comfortable. 
2023 Nissan LEAF
Drivers looking for an EV with reliable performance and a comfortable driving experience at an affordable price may look into the Nissan LEAF.
While Giranda said the model years 2020 to 2023 are all excellent, shoppers who want a used car may decide to purchase either the 2020 or 2021 model. Drivers planning to take longer trips are recommended by Giranda to check out the 2020 model which has a 40-kilowatt-hour battery. This battery offers up to 215 miles of range per charge.
Citroën e-C4
The Citroën e-C4 is a family-sized hatchback with a 50kWh lithium-ion battery. 
"With Citroën releasing a couple of new electric vehicles in 2023, this will cause slightly older models such as this one to drop in price," said Russell.
More From GOBankingRates
Make Your Money Work for You