Gas Prices Could 'Dip Further' Over the Summer, Says AAA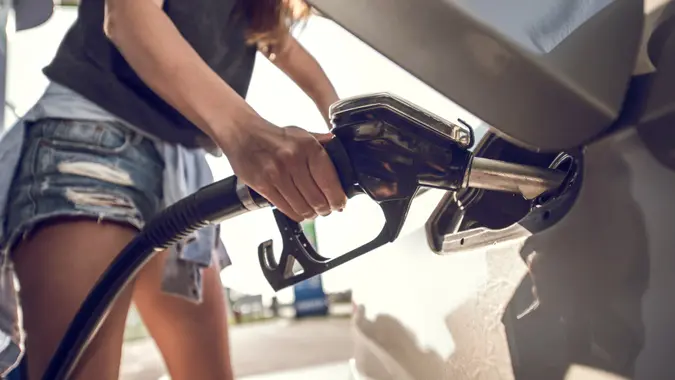 BraunS / Getty Images
The unofficial start of the summer has kicked in, and despite an increase in Americans hitting the road, the price of gas didn't budge. And while the trend might continue, AAA has pointed out that prices might even "dip further" this summer.
During Memorial Day weekend, AAA noted that the national average for a gallon of gas was still at $3.57 — the same price as the week prior — despite more than 37 million Americans choosing to drive to their holiday destinations.
"Although millions hit the road last weekend, gasoline demand fell," Andrew Gross, AAA spokesperson, said in a news release. "Meanwhile, the cost for a barrel of oil dropped below $70 per barrel. Pump prices could dip further as the start of summer approaches."
Citing data from the Energy Information Administration (EIA), AAA also noted that gas demand declined last week, halting price increases at the pump. The current national average of $3.57 is four cents less than a month ago, and $1.10 less than a year ago, according to AAA data.
In a move that might temper this good news, however, following the Organization of the Petroleum Exporting Countries and its partners (OPEC+) June 4 meeting, Saudi Arabia announced it would cut production.
"The Kingdom will implement an additional voluntary cut in its production of crude oil, amounting to one million barrels per day, starting in July for a month that can be extended, so that the Kingdom's production becomes 9 million barrel per day, and the Kingdom's total voluntary cut will be 1.5 million barrels per day," according to a Saudi Arabia Energy Ministry statement.
Make Your Money Work for You
The ministry further said that the "additional voluntary cut comes to reinforce the precautionary efforts made by OPEC+ countries with the aim of supporting the stability and balance of oil markets."
The Associated Press reported that this new cut will likely push up oil prices in the short term, but the impact after that would depend on whether Saudi Arabia decides to extend it.
"Gas is not going to become cheaper," Jorge Leon, senior vice president of oil markets research at Rystad Energy, told the Associated Press. "If anything, it will become marginally more expensive."
More From GOBankingRates